Posted on June 27, 2021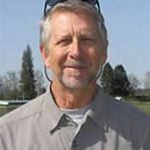 By Steve Ritchie, SuperWest Sports
D
espite the extreme heat, Saturday was an historic day at the 2021 U.S. Olympic Trials at Hayward Field in Eugene, with with records falling, and highlights coming in rapid succession.

• DeAnna Price set a new American record in the hammer and then broke her own record three more times in what has to be one of the best series of throws ever.
• Grant Holloway missed tying the world record in the semifinals of the 110 Hurdles by .01 seconds, then cruised to an impressive win in the final.
• Rai Benjamin, formerly of UCLA and USC, ran the second-best time ever in the 400 Hurdles, missing Kevin Young's world record by just .05 seconds.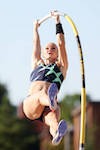 • Katie Nageotte won the Pole Vault at 16-2¾/4.95, just two inches shy of the American record.
• Gabby Thomas became the world's second-fastest woman ever in the 200 at 21.61.
That was a lot for one day. But it wasn't all.
There was also Allyson Felix falling just short of adding another Olympic 200 qualifier to her lengthy list of achievements, though she will be competing in the 400 in Tokyo, and likely in the 4 x 400 relay as well.
After the 200 final, an emotional Felix took the microphone to bid farewell to the fans in Hayward and thank them for all the support over her illustrious career which apparently will end after Tokyo.
We also saw a tremendous display of championship distance running by Emily Sisson, who won the women's 10K in a meet record 31:03.82.
The race was thankfully moved to a 10:00 am start due to the heat; however, it was already 86 degrees at that hour and probably 95 or more on the track for the 41 women who started the race.
Amazingly, only four did not finish.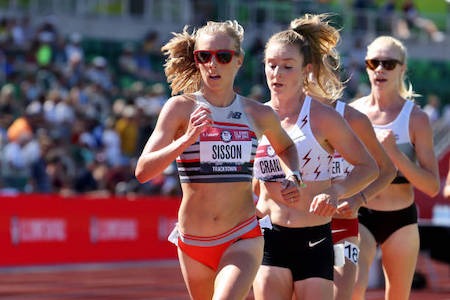 Sisson had a disappointment when she failed to qualify for the U.S. team in the marathon back in February 2020 and said later that the marathon trials had "broken" her physically and emotionally.
It took her a long time to rebuild her strength, but she proved on Saturday how strong she is, as she basically led from the one mile mark and destroyed the field with her relentless pace.
One more highlight on a day of many was the emergence of a new star in an event that sorely needs one.
University of Texas junior Tara Davis won the NCAA long jump title earlier this month and broke the collegiate record with a mark of 23-5 at the Texas Relays.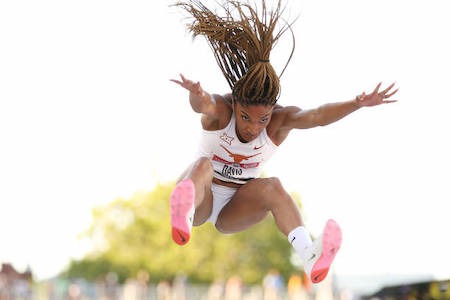 Davis finished second to four-time world champion and former Olympic champion Brittney Reese, who has indicated her retirement from the sport is near.
Davis may or may not live up to Reese's accomplishments, but one thing is certain: This young lady puts on a show when she competes.
Her coach recently remarked that he thinks Davis was dropped into a bowl of coffee as a baby because of her off-the-chart energy.
One second Davis is dancing and waving her cowboy hat, the next she is getting the crowd to clap in support of her competitors.
She sprawls out on the track after a poor jump. She bounds down the track flashing a million dollar smile after a good one. She bounces over to her coach for an animated conversation. She coaches the crowd on the rhythm of their clapping on her approach.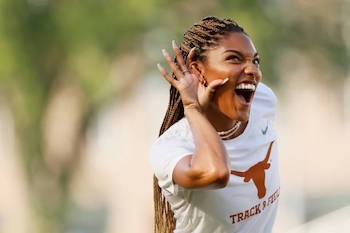 Most of all, she engages the crowd in the event. And she jumps very, very well.
On Saturday all her jumps were over 22 feet, and two were over 23 feet. No one else in the talented field came close to that except Reese, who still holds the slight edge. For now.
My advice is to make a note to yourself to find out when the women's long jump will happen at the Olympic Games and add it to your calendar.
You'll find a rundown of Pac-12 athletes in action on Saturday below.
And in case you missed them, here are links to my Conference Preview as well as my Conference reports from Day One, Day Two, Day Three, Day Four, Day Seven, and Day Eight (athletes were off on days Five and Six).

Men's 110 Hurdles — ASU Sun Devil Jamar Marshall had his second PB of the meet at 13.38, but it wasn't quite fast enough to get him in the finals.
Marshall was the 10th fastest overall, and had an outstanding performance at the Trials.
WSU's Sam Brixey, who was advanced to the semifinals after a snafu with the starting blocks, finished at 13.99, 17th place overall, and did not advance to the final.
Men's 400 Hurdles — USC'S Samuel Cameron finished seventh in the final with a time of 49.27, not quite as fast as his time in the semifinals, where he posted the third-fastest time overall.

Women's 400 Hurdles — Trojan Anna Cockrell improved her time by nearly two seconds from the first round, running a solid 55.10 to finish third in her semi race and qualify automatically for the final on Sunday.
Her time was the fifth-fastest overall, an impressive feat considering this was her fifth race of the trials.
Arizona Wildcat Shannon Meisberger ran 57.22 to finish fifth in her semi and 10th overall. Meisberger did not qualify for the final.
Women's Javelin — Stanford's Virginia Miller had her best throw on her first attempt, 175-10/53.59, a mark that gave her sixth place in the competition.
Miller was ranked 11th after the qualifying round so she moved up significantly with that throw, her best of the day by far.

Women's Hammer — ULCA Bruin Alyssa Wilson had a rough start, with fouls on her first two attempts.
In danger of being eliminated from the three final throws, Wilson threw 223-5/68.11 which moved her into sixth place and gave her the additional throws.
She improved to 226-6/69.04 on her final attempt but remained in sixth place.
---
—More from Steve Ritchie—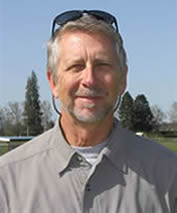 Latest posts by Steve Ritchie
(see all)