Posted on June 26, 2021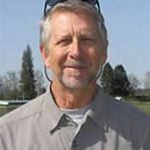 By Steve Ritchie, SuperWest Sports
T
he men's 1500 meters is one of the most anticipated events at the 2021 U.S. Olympic Track & Field Trials, and so far, it has lived up to its billing. Friday's two semifinal races gave us a little preview of what should be a very entertaining final.
The first semi went out moderately fast, but not fast enough to give anyone a real shot at running under 3:35.

The top six runners came to the finish in one tightly-packed group, separated by just .22 seconds, with wily veteran Craig Engels and Notre Dame's young Yared Nguse the first ones to cross the line.
The second semi went out much slower, with master tactician Matthew Centrowitz controlling the race from the front, and the pace lagging until the last lap.
Centrowitz seemed at ease. Then he put on a show.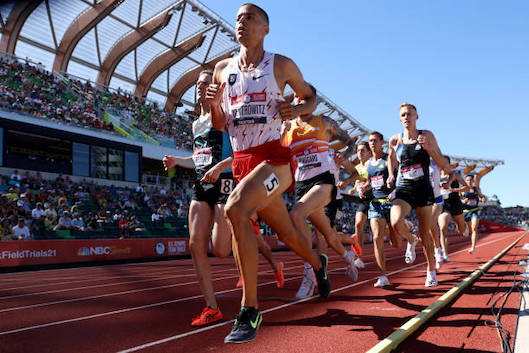 Halfway down the homestretch sprint, "Centro" and Oregon's Cole Hocker had broken away from the field and ran shoulder to shoulder, former UO star versus current UO star.
Over the last 40 meters, with both runners safely in the final, Centrowitz turned to stare at Hocker, who continued to look straight ahead. Then Centro said something to Hocker, who finally turned to look at him.
Centro laughed just before they crossed the line, and Hocker seemed to smile slightly.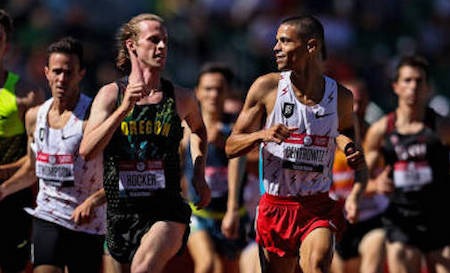 Friendly sportsmanship or a challenge to a rival?
Hard to say since neither spoke to the media afterwards. But earlier in the year there was a bit of a twitter brouhaha between Centrowitz and another current UO runner.
More drama for Sunday—as if more were needed.
The final will feature a pair of upstarts in Hocker and Nguse challenging a pair of established veterans in seven-time US champion and 2016 Olympic gold medalist Centrowitz and former U.S. champion Engels.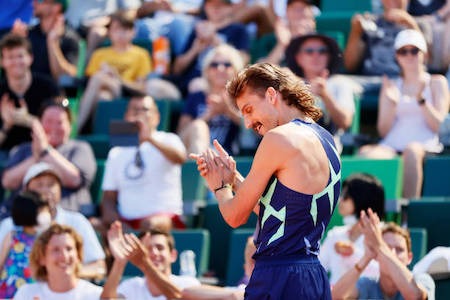 Will it be a slow pace with a mad dash for the finish in the last 200? With six of the finalists not in possession of the Olympic standard time of 3:35.00, it would be to their advantage to have a fast pace in order to get the standard.
But who will take on that thankless task?
The situation will be further complicated by Sunday's weather forecast in Eugene, which calls for a hellish 106 degrees around race time. Who will be more suited to running fast in those conditions? So many questions to answer.
Washington State's Paul Ryan finished seventh in the second semi, finishing in 3:44.60, and did not advance to the final.
You'll find a rundown of Pac-12 athletes in action on Friday below.
And in case you missed them, here are links to my Conference Preview as well as my Conference reports from Day One, Day Two, Day Three, Day Four, and Day Seven (athletes were off on days Five and Six).
Men's 3K Steeplechase — UO's Jackson Mestler was one of three collegians in the 12-man final. Mestler ran a respectable time of 8:36.58, but was never really in the hunt and finished 12th.
Men's Long Jump — UCLA senior Harrison Schrage finished 18th in the qualifying round with a best jump of 25-0/7.62. He did not advance to the final.
Men's 110 Hurdles — Jamar Marshall of ASU ran a PB of 13.47 and qualified on time for the semis. Marshall was the 10th fastest overall in the first round. His teammate Kentre Patterson had a time of 13.77 (24th fastest overall) and did not advance.

Sam Brixey of Washington State ran in a heat that was recalled five times, and one of those recalled starts led to a DQ of Brixey.
However, as was apparent to most people in the stadium and watching on TV, there were technical issues with one or more starting blocks, and Brixey's disqualification was eventually overturned and he was advanced to the semifinals.
Men's High Jump — Three Pac-12 athletes competed in the opening round, but Earnest Sears of USC was the only one to qualify for the finals. Sears cleared 7-2¼/2.19, which put him in a tie for seventh place.
Ben Milligan of Oregon cleared the first height but went out at 7-2¼, while Justice Summerset of Arizona was eliminated at the opening height.

Men's 400 Hurdles — Southern Cal's Samuel Cameron had a great performance with the third-fastest qualifying time, 49.01, which put him into the finals where he will have a very good chance to finish top three and make the U.S. squad.
Jonathan Harvey of Oregon ran well, too, but was the fastest non-qualifier at 49.53. While his time was .16 seconds behind the final qualifier, Harvey did get a consolation prize: he set a new school record in his last race as a Duck.
Women's 800 — Sage Hurta of Colorado, now running for ON Athletics, was in fifth place in her semifinal race when she came into the home stretch. It appeared that Hurta's foot made contact with a foot of the runner ahead of her, Hanna Green, and Hurta tumbled hard to the ground.
It looked bad in real time and it turns out it was—she tweeted on Friday evening that she had suffered a broken wrist. Green did not qualify for the finals, but was advanced after a protest.
As of Friday evening, Hurta's camp was claiming Green was at fault and pushing for Hurta to be reinstated in the final.
Women's 400 Hurdles — Anna Cockrell of USC qualified for the next round with a time of 56.83, second in her heat and seventh overall.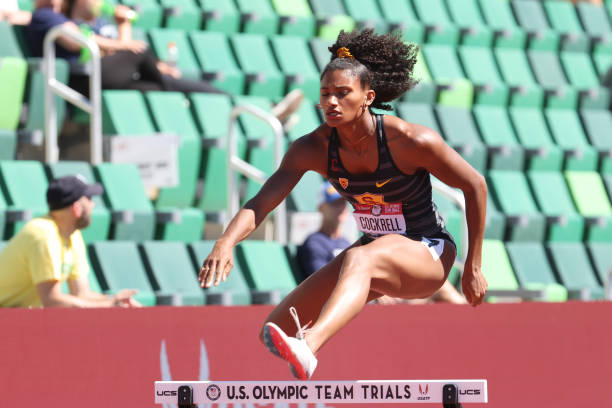 Shannon Meisberger of Arizona also qualified for the semifinals by running 57.51, the 11th fastest time overall. Eriana Henderson of Colorado did not make it through to the semis after running 58.55, 22nd fastest overall.
Women's Javelin — Virginia Miller of Stanford had a best throw of 161-3/49.15 in the prelims and qualified for the finals with the 11th best mark.
Women's 200 – USC's Angie Anneleus had a time of 22.78 in the semifinals and did not advance to the finals.
---
—More from Steve Ritchie—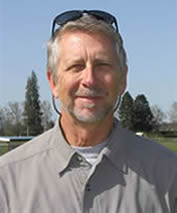 Latest posts by Steve Ritchie
(see all)