Posted on June 21, 2021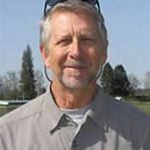 By Steve Ritchie, SuperWest Sports
T
he Olympic Track & Field Trials started with a world record on Day One, but the thrills and chills keep on coming.
Day Three was the best yet, as it saw legend Allyson Felix make her fifth Olympic team with a come-from-behind finish to claim second place in the 400 meters.
She becomes only the second woman to make five Olympic teams.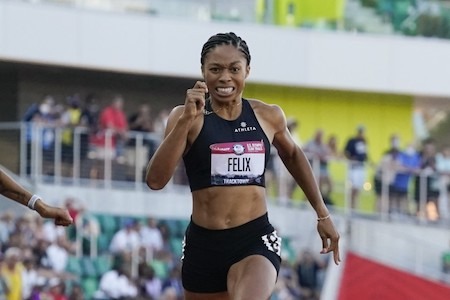 Most Pac-12 track fans know that Felix attended USC but never competed for the Trojans since she joined the professional ranks at age 18.
The enthusiastic support Felix enjoyed from the Hayward crowd might lead one to think she was a former Duck, but no, she has just visited Eugene a lot!
Oregon's Micah Williams and UCLA's Shae Anderson, who did spend her freshman year at Oregon, turned in superlative performances on Sunday at the Trials.
Anderson, who runs both the 400 and the 400 hurdles, was ranked just 14th in the 400 coming in but made it to the 400 finals with strong races in the first round and the semifinals.
She ran her best 400 ever in the finals, finishing in eighth with a personal best time of 50.84 and making the 4 x 400 relay pool for Tokyo.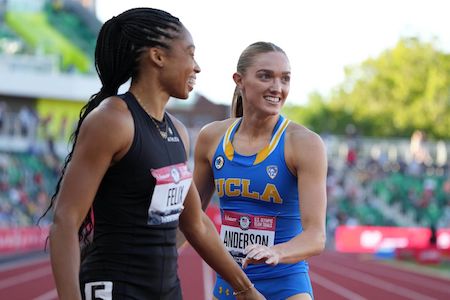 That doesn't mean she will necessarily run in the relay in Tokyo, but she could be selected by the U.S. coaches to run in a preliminary round and she is officially a part of the U.S. team.
Anderson is also entered and ranked seventh in the 400 hurdles, which begin on Friday.
Williams finished fourth in his semifinal race in 10.02 and made it to the finals as the fastest man to finish outside the top three, who automatically qualify.
In the finals, Williams faced the fastest field yet assembled in 2021.
He had his usual good start and was even with the eventual top three of Trayvon Bromel, Ronnie Baker, and Fred Kerley early in the race.
Williams finished the race better than he ever has, recording a wind-legal 9.91, breaking the Oregon school record of 9.93 set by Cravon Gillespie at the 2019 NCAA Championships, while establishing the fifth-best time ever for a college athlete.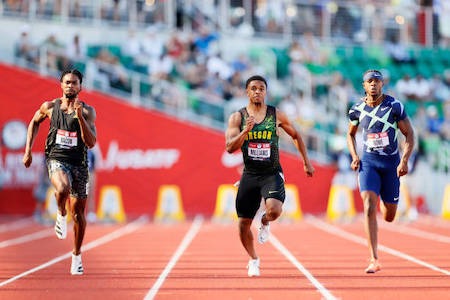 "I'm in shock," the Oregon freshman said. "I really made the U.S. team as a 19-year-old. I can't believe this happened. I wanted to get top three, but I'm on the team, which is really exciting."
Like Anderson, Williams will be on the U.S. team as a member of the 4 x 100 relay pool. With his explosive start, Williams has a good chance to run the leadoff leg for the U.S., at least in the preliminary round.

USC hurdler Anna Cockrell also made the finals in the 100 hurdles and finished fifth.
Cockrell did not get out of the blocks well, which was a problem for her in each of her Trials races, and she was not able to close as well as she did in the first round or the semis.
She placed fifth in 12.58, but was just .11 seconds behind winner Keni Harrison in an extremely tight finish. Cockrell will also compete in the 400 hurdles at the Trials, as did Anderson.
Pac-12 athletes also competed on Sunday in two other events. Here's a run down of  their performances. And in case you missed them, here are links to my Conference Preview as well as Conference results from Day One and Day Two.
Hammer Throw — Arizona's Israel Oloyede placed 11th in the Hammer finals with a throw of 223-9/68.21, which is over 15 feet off his best.
Oloyede fouled twice on his three throws in the competition, which was won by Rudy Winkler, who set a new American record of 271-4/82.71.
3000 Steeplechase — Katie Rainsberger of the University of Washington placed fourth in her heat in 9:33.38 and automatically advanced to the final on Thursday.
Madison Boreman of Colorado and Kaylee Mitchell of Oregon State placed 21st and 32nd overall, respectively, and did not advance to the final.
For more Olympic Trials coverage, visit our friends at Track & Field News.
---
—More from Steve Ritchie—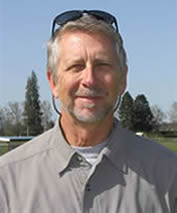 Latest posts by Steve Ritchie
(see all)