Posted on June 20, 2021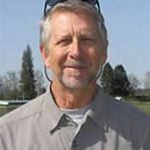 By Steve Ritchie, SuperWest Sports
A
Trojan, Bruin, Duck, and two Cardinal came through with flying colors on the second day of the U.S. Track & Field Olympic Trials, making it to the finals of their events.
Isaiah Jewett and Shae Anderson secured places in the finals of the men's 800 on Monday and women's 400 on Sunday, respectively.
Stanford's Julia Heymach advanced to the 1500 final, while Oregon's Isaiah Griffith and Stanford's Keyshawn King claimed spots in the triple jump final. Both finals are scheduled for Monday.

Jewett is most comfortable when he is in the lead, and in Saturday's semi he led for nearly 600 meters before letting up in the last fiew strides. With the top three finishers automatically qualifying for the finals, Jewett was never in danger of falling out of third place.
His time was the third-fastest overall—1:46.18—and Jewett has to be feeling confident about his chances, even though the men's 800 field is full of talented runners and as deep as it has ever been.
Donavan Brazier and Bryce Hoppel are the favorites to grab spots on the Olympic Team, and vet Clayton Murphy has looked good here.
But, so far, Jewett has been a master tactician in his two races, and with his outstanding 400 speed, he will be a real threat in the finals.
Shae Anderson secured her spot in the 400 finals with an impressive third-place finish in a loaded semifinal race, which included one of the all-time greats, Allyson Felix.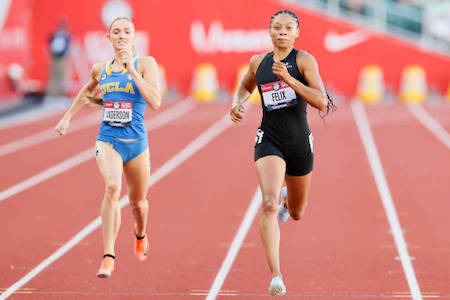 Anderson finished just behind Felix in 51.27 and just ahead of 2017 world champ (and former Oregon star) Phyllis Francis.
It would be a massive upset for Anderson to finish in the top three; she has already exceeded expectations by making the finals.
If she were to finish in the top six she would be considered as a member of the 4 x 400 relay pool.
Two other Pac-12 stars got their first taste of Trials action and looked very good.
Anna Cockrell of USC had a rough start in her 100 meter hurdle prelim, but she recovered quickly and took over the race at the midway point.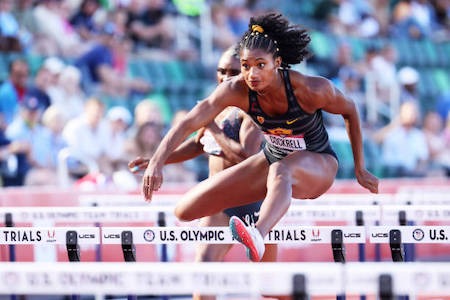 Cockrell finished first in 12.63 seconds, which was the fourth-fastest time of all four heats. The semis and finals of the 100 hurdles will both be on Sunday evening.
Micah Williams preliminary 100 heat was like a hall of fame reunion.
Justin Gatlin, Trayvon Bromell, Michael Rodgers and Jaylen Bacon were all in his heat, but the Oregon freshman kept his poise and his confidence, beating Rodgers and Bacon to claim third place in a wind-aided time of 9.95 seconds.
It was the fifth-fastest time recorded in the first round on Saturday.
Williams admitted to being "a little nervous," but said being on his home track helped.
"It's a blessing. I wouldn't be here without God giving me these talents, so it's a blessing to be able to run in front of this crowd here at Oregon."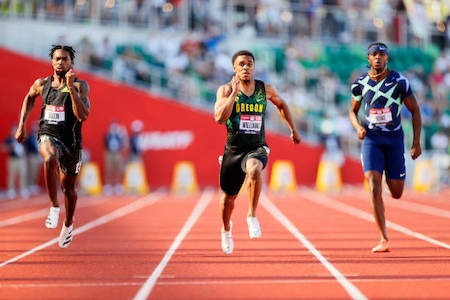 The 100 semis and finals will also take place on Sunday.
Other Pac-12 athletes were also in action on Saturday. Here's a run down of  their performances. In case you missed them, here are links to my Conference Preview and Day One Results.
Day Two Pac-12 Results
Women's 1500 – Stanford's Julia Heymach moved up from 10th to 7th on the last lap and made it to the 1500 finals on Monday. Heymach looked to be out of it, but with a strong last lap she snuck into the finals on time as the 12th and last qualifier.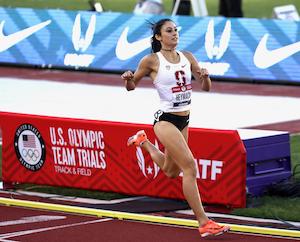 Heymach ran a personal best of 4:09.65. Her Cardinal teammate, Ella Donaghu was also in the 1500 semis but finished ninth in her heat and did not advance.
Women's 100 – USC senior TeeTee Terry has had a great season, but did not make the 100 finals. She ran 11.04 and finished fifth in her semifinal race.
Women's Discus Throw – UCLA junior Alyssa Wilson placed eighth in the discus finals with a throw of 189-1/57.63.
Wilson was the highest-finishing collegian in the event.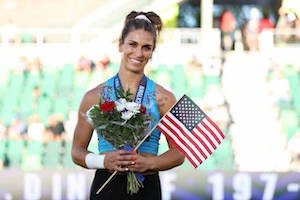 Former Stanford star Valarie Allman won the discus competition with a toss of 229-5, just under her meet record of 229-8, set in Friday's qualifying round.
Men's Triple Jump – Oregon's Isaiah Griffith and Stanford's Keyshawn King made the finals. Griffith was eighth with a mark of 53-3¾ in his one attempt, and King was the final qualifier in 12th with a 52-4 leap.
For more Olympic Trials coverage, visit our friends at Track & Field News.
---
—More from Steve Ritchie—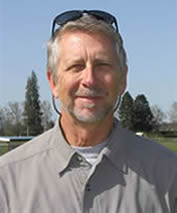 Latest posts by Steve Ritchie
(see all)