Posted on June 25, 2021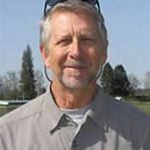 By Steve Ritchie, SuperWest Sports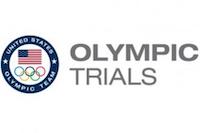 Seventeen current Pac-12 athletes and countless former Pac-12 stars were in action at the U.S. Olympic Track & Field Trials on Thursday. But one stood out from all the rest on a busy day of qualifying action.
UCLA junior thrower Alyssa Wilson took a big step toward securing a spot on the U.S. Olympic team on Thursday.
Wilson had three throws in Hammer qualifying, and all three were past her previous personal best of 231-9, set more than two years ago in April 2019, with her best mark putting her solidly into second place.
Wilson opened with a toss of 232-10, then had a massive throw of 241-11, more than 10 feet further than her old PB, and finished with a throw of 233-5. Even more important than the personal best was surpassing the Olympic standard of 237-10.

The Hammer Final will be held on Saturday at 4:05 pm, and Wilson has to be hoping she stays in the groove when the final starts, as marks from qualifying do not carry over to the finals.
But her performance was truly a breakthrough competition for Wilson, who also throws shot, discus and the indoor weight throw for the Bruins.
An acclaimed high school thrower, Wilson appeared to have taken a step back this spring in her development. As a freshman, she was fourth at the NCAA Championships in the Hammer, and improved on that as a sophomore in 2019 when she took third at NCAAs.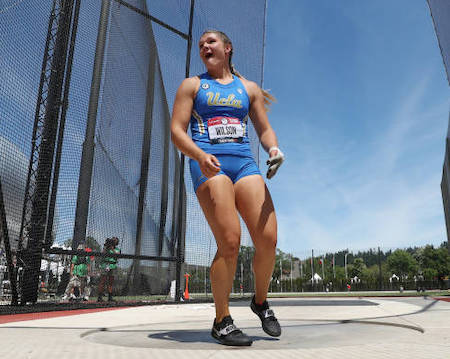 But just two weeks ago at Hayward Field, she finished 10th in the 2021 NCAA Championships with a best of 218-3.
I did not list Wilson as one of the Pac-12 athletes who could make the Olympic team in my preview, nor was she picked top three on other formcharts. Wilson still has a ways to go, but she certainly has the attention of hammer fans now.
You'll find a rundown of other Pac-12 results on Thursday below.
In case you missed them, here are links to my Conference Preview as well as my Conference reports from Day One , Day Two, Day Three, and Day Four.
Women's 800 meters – Colorado's Sage Hurta recorded a personal best in the first round, 2:00.08, and moved on to the semis tomorrow.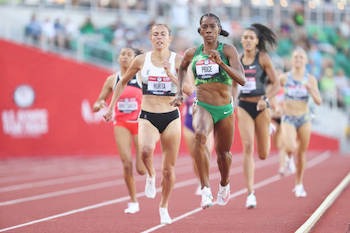 Hurta looked in control all the way, a good sign for the next round. The 800 team will be tough to make but she can't be counted out.
Women's Shot – Samantha Noennig of Arizona made it through prelims to the finals as the number nine qualifier with a put of 57-11.
Unfortunately, she did not throw as well in the finals as she finished 12th with a best mark of 54-9¼.
Women's Steeplechase – Washington's Katie Rainsberger finished 10th in the finals with a PB of 9:30.18. Rainsberger made the transition to the steeplechase this season and it has really paid off for her.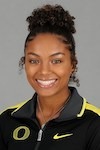 Women's Long Jump – Oregon had two jumpers in the qualifying round, Alysah Hickey and Rhesa Foster, but neither one recorded a legal jump in the competition and did not advance to the finals.
Women's 200 – USC's Angie Annelus had the 15th fastest qualifying time (22.76) and qualified for the semifinal round tomorrow. Stanford freshman Alexa Rossum ran 23.26, the 21st overall fastest time and did not advance.
Men's 400 Hurdles – All three Pac-12 entrants were put in the same heat. It worked out well for USC's Cameron Samuel, who won the heat with a time of 49.89, and Oregon's Johnathan Harvey, who was right behind Samuel in second with 49.95.
Washington's Cass Elliott finished out of qualifying with a 51.19.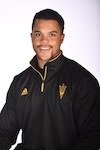 Men's Discus – The biggest shock of the day had to be Arizona State's Turner Washington not making the final.
I predicted Washington would make top three but he finished all the way back in 17th place, throwing 192-5, well under his best of 217-4, set earlier this season at Hayward Field.
The leading throw of qualifying was just 205-4. Elijah Mason of Washington finished ahead of Washington in 13th but just missed qualifying by one place. Mason's best was 194-6.
Men's 1500 – The first round of the 1500 eliminated only five runners, cutting the field from 29 to 24. Seems odd to me, but at least all three Pac-12 runners made it through the round.
Cole Hocker of UO won his heat and had the seventh-fastest qualifying time, 3:39.72. His teammate Jack Yearian took fifth in the same heat with a 3:40.19, the 13th fastest time.
Washington State's Paul Ryan also took fifth in his heat, the final qualifying spot, with a time of 3:45.86, the 23rd fastest time in the heats.
Men's 5000 – Oregon senior Cooper Teare easily qualified for the 5000 final with a time of 13:43.78, the 10th fastest qualifying time. Colorado senior Eduardo Herrera also made it to the final as the 16th and final qualifier in 13:45.33.
For more Olympic Trials coverage, visit our friends at Track & Field News.
---
—More from Steve Ritchie—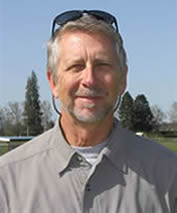 Latest posts by Steve Ritchie
(see all)