Posted on June 22, 2021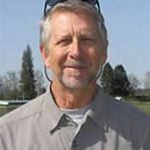 By Steve Ritchie, SuperWest Sports
P
ac-12 track and field athletes have competed in nearly every event held so far in the US Olympic Trials, but until Monday none of them had claimed a Top Three finish to secure a non-relay spot on the US team.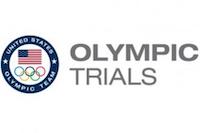 USC senior Isaiah Jewett changed that on Monday in the 800 final.
Charging into the lead early and pushing the pace throughout is the toughest way to run the 800 in a championship race.
It's easier by far to lay off the pace a little, and save energy for the final, all-out sprint to the finish, but that's not Jewett's style.
Jewett went to the lead on the backstretch of the first lap. At the 200 meter mark, he noticeably increased the pace, daring his competitors to stay with him.
As he completed the first lap in a very quick 50.61, Jewett started to open a sizable gap between him and the rest of the field. On the backstretch the lead grew to ten meters.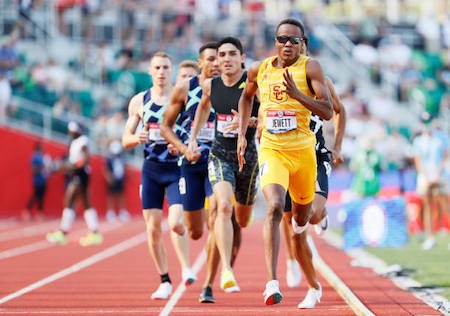 Behind him, race favorites Donavan Brazier, Bryce Hoppel, and Clayton Murphy were jockeying for position and started to close the gap with 200 meters to go.
It looked like Jewett might be caught sooner rather than later.
"I blanked out," Jewett said. "I was in my own world. And I just kept pushing. Coach (Quincy) Watts—I have two coaches—just told me when the pain comes, that's when you know greatness is about to occur. Push through it, whether (you) win or lose. And you'll learn something."
Murphy and Hoppel were in full sprint by the middle of the final curve, and passed Brazier, the American record holder and world champion. Brazier began to struggle and would fall all the way to last.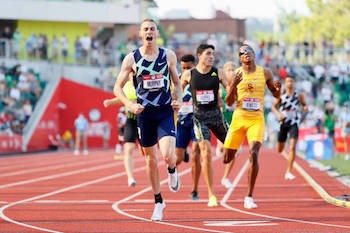 Murphy, who took the Bronze medal in the 800 at the Rio Olympics, kept closing on Jewett and finally passed him 40 meters before the line.
Though he slowed, Jewett kept his form and his composure, holding off Hoppel to take second in a personal best time of 1:43.85. Murphy finished in 1:43.17, the fastest time in the world this year.
Jewett reflected on his special race, saying, "(Making the team) means the world. I was out there just trying to have fun. The fact that I could make this team and run alongside amazing people is truly a blessing. There's no other moment like this."
Another Pac-12 runner finished her season in impressive fashion. Stanford senior Julia Heymach bounced back from a disappointing fall right before the finish in her NCAA 1500 race and made Monday's final at the Trials.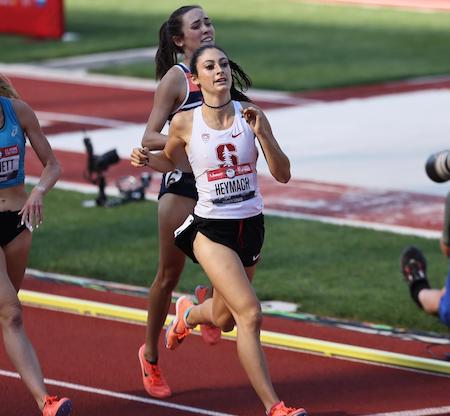 Heymach ran back in the pack in a very fast race won by Elle Purrier St. Pierre in 3:58.03, and at one point was in last place.
But she ran a 48.84 second last 300 meters and moved all the way up to sixth place. Heymach's time of 4:04.84 was a five-second personal best.
Pac-12 athletes also competed on Sunday in two other events. Here's a run down of  their performances. And in case you missed them, here are links to my Conference Preview as well as Conference results from Day One , Day Two, and Day Three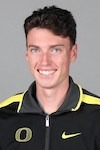 3K Steeplechase — Jackson Mestler of Oregon was in seventh place when he got to the water on the final lap. The runners immediately in front of him made contact and both fell into the water. Mestler neatly jumped over the fallen runners and took advantage of their misfortune. His fifth place finish got him into the finals of the steeplechase later this week.
Triple Jump — Oregon's Isaiah Griffith was in sixth place with three jumps left, just seven inches out of a berth on the US team. But he aggravated an injury on that jump and was unable to continue in the competition. Griffith ended up seventh with a best of 54-1/16.48. Stanford's Keyshawn King finished in 12th place with a mark of 50-2/15.29.
For more Olympic Trials coverage, visit our friends at Track & Field News.
---
—More from Steve Ritchie—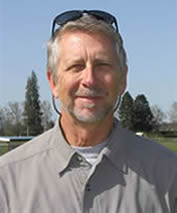 Latest posts by Steve Ritchie
(see all)