Spencer McLaughlin contributes Pac-12 videos to SuperWest Sports.
He is also the TV Voice of the @SUUThunderbirds and the host of @LockedOnDucks and Locked on Pac-12 (@LO_Pac12).
Visit his YouTube page and Follow & Subscribe to the Podcast on the following platforms:
🎧Apple Podcast: https://rb.gy/pznife
🎧Spotify: https://rb.gy/gynqqx
🎧Audacy: https://rb.gy/i6wzhk
🎧Stitcher: https://rb.gy/hjrssl
You can reach McLaughlin on Twitter at @Smalls_55.
Follow the Locked on Pac-12 show on Twitter: https://twitter.com/LO_Pac12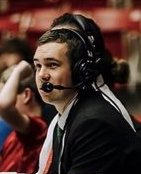 Latest posts by Spencer McLaughlin
(see all)