Posted on September 7, 2022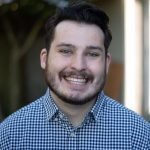 By Cody Schoeler, SuperWest Sports
F
inally. The NFL has returned and the 2022 season is set up to be as glorious as ever.

And with a combined five teams in the top eight of the Super Bowl odds, the AFC and NFC West divisions will be at the center of the season again.
From the reigning champs the Rams to the probable chumps the Seahawks, eyes will certainly be on each of the eight teams from those two divisions.
With two potentially tight division races coming up this year, it will be important for each team to start out as strong as possible.
That makes a win in week one even more imperative.
Whether it is against the preseason Super Bowl favorites such as the Bills or a team whose season is essentially over before it starts, such as the Chicago Bears, each team in the west will be looking to start the season 1-0, although not every team will be able to.
My previews and picks, as well as the picks of our other writers, appear below.


Buffalo Bills at Los Angeles Rams
Thursday, September 8
5:20 p.m. PT, NBC
H
ow poetic is it that the Rams are kicking off the 2022 season just 207 days after they ended the 2021 season on top?
And once again Los Angeles will be tasked with taking on a premier team from the AFC.
The Bills have a ton of hype entering this season and are actually favored to win this game despite the fact that it is in Los Angeles.
Quarterback Josh Allen is a huge part of that. He is one of the game's top players at the position and is looking to improve upon his great season in 2021, possibly to an MVP level.
He will have a tough task in front of him with defensive tackle Aaron Donald, the best defensive player in the game, and cornerback Jalen Ramsey, arguably the best lockdown guy in the league.
The Rams also added middle linebacker Bobby Wagner to shore up one of the weaknesses from last year so he will bring a much-needed sense of security to the middle of the defense.
This is also going to be a matchup of two of the best wide receivers in the sport, although they won't actually match up against each other.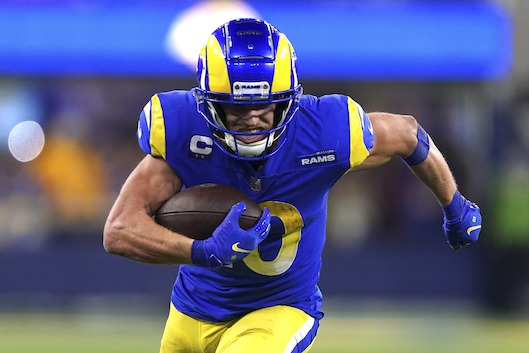 Rams' wide receiver Cooper Kupp is coming off one of the best seasons a wide receiver has ever produced.
Bills' wide receiver Stefon Diggs has developed an excellent connection with Allen and has been at the top of his game ever since being traded from Minnesota.
The key to this game will be how the Rams' offense holds up against a very stout Bills' defense.
Los Angeles' run game is a bit of a question mark with uncertainty surrounding both running backs Cam Akers and Darrell Henderson.
Quarterback Matthew Stafford also has dealt with an elbow injury throughout the offseason that could create some issues if it carries over into the season.
Both of these teams figure to be amongst the best in the league this year so it is unfortunate that one of them will have to take a loss to start the year.
But it is very fortunate for the fans that they get to witness such a great matchup in week one.
The Bills are the better team on paper, though not by much, so they will probably earn a tough-fought win in what could end up being a Super Bowl LVII preview.
San Francisco 49ers at Chicago Bears
Sunday, September 11
10:00 a.m., FOX
The Rams are probably very jealous of who the Niners drew in their first game of the season because the Bears are far from the same level of teams as the Bills.
There will still be plenty of intrigue surrounding this game because it will mark the start of quarterback Trey Lance's first season as a starter.
The second-year signal-caller will be the deciding factor in how good San Francisco is in 2022 so this game will be a good indicator of what to expect going forward.
Lance has the potential to be one of the most dynamic quarterbacks in the game with his blend of arm talent and athletic ability.
And with elite playmakers around him, such as tight end George Kittle, running back Elijah Mitchell, and wide receivers Deebo Samuel and Brandon Aiyuk, this offense has the chance to be special.
The Bears also have a second-year quarterback in Justin Fields, but he finds himself in a much different situation than Lance.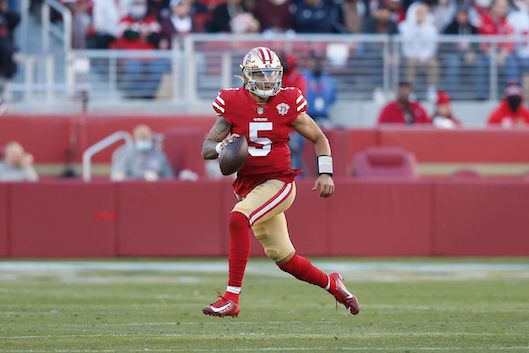 Fields' rookie year was largely a disaster and led to the firing of head coach Matt Nagy. Now, former Colts' defensive coordinator Matt Eberflus takes over with the hope of righting the ship.
There is not nearly as much talent surrounding Fields as his fellow 2021 draftee. Wide receiver Darnell Mooney and running back David Montgomery are both very solid players but are not comparable to the 49ers' weapons.
Ultimately, the Bears' offense won't be able to get enough done against the San Francisco defense to make this a game.
With excellent players such as defensive end Nick Bosa and linebacker Fred Warner patrolling the Niners' defense, they can easily shut down the Bears' offense.
Even if Lance does struggle to start out the season, which he shouldn't against a lackluster Chicago defense, San Francisco just has too much talent to drop this game against the Bears.
Las Vegas Raiders at Los Angeles Chargers
Sunday, September 11
1:25 p.m. PT, CBS
W
hat better way to begin the very intriguing AFC West division race than a week one matchup between the Chargers and the Raiders?
You may remember the game these two squads played to end the season last year with some very questionable game-management strategies on display from Los Angeles head coach Brandon Staley.
It is unlikely that Staley is the biggest story coming out of the game this time because quarterback Justin Herbert is set up to light the Raiders' defense.
He threw for 605 yards and six touchdowns in last year's two games against Las Vegas so he is no stranger to having success against them.
The Raiders did attempt to strengthen the defense in the offseason, adding outside linebacker Chandler Jones to form a premier pass rush with defensive end Maxx Crosby.
Those two will need to put Herbert under significant pressure all game if they want to slow him down but may have trouble going up against a formidable Chargers' offensive line led by second-year left tackle Rashawn Slater.
The offensive line is just one aspect of the Chargers' offense that could end up being the most productive in the league.
Herbert has plenty of weapons at his disposal with dynamic running back Austin Ekeler, explosive wide receivers Keenan Allen and Mike Williams, and athletic tight end Gerald Everett all primed for great seasons.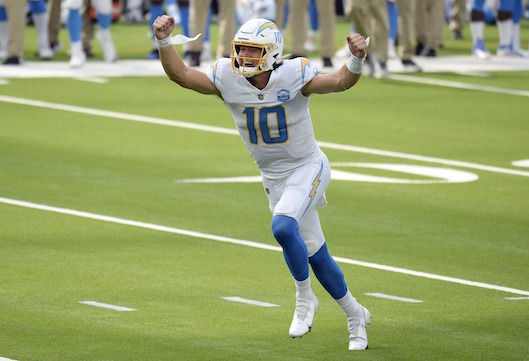 The Raiders are not stranger to playmakers on the offensive side of the ball, though.
They made one of the biggest moves of the offseason when they traded for wide receiver Davante Adams in order to reunite him with college teammate quarterback Derek Carr.
Adams will join prolific tight end Darren Waller and one of the best route-runners in the league in wide receiver Hunter Renfrow.
Those three will provide Carr with enough offensive firepower to put together a career year in new head coach Josh McDaniels' offensive system.
Just like with Herbert, getting pressure on Carr will be the key to slowing down the Raiders' offense. But unlike Herbert, Carr does not have a great offensive line in front of him.
Las Vegas's unit may be one of the worst in the entire league and isn't going to get any better following the release of former first-round pick Alex Leatherwood.
That should lead to defensive end Joey Bosa and the newly acquired outside linebacker Khalil Mack making Carr's day miserable.
Those two should frequently be in the backfield to pressure Carr as well as shut down running back Josh Jacobs and the run game.
Even when Carr does get time to throw, he may have a tough time finding open receivers with cornerback J.C. Jackson and safety Derwin James patrolling the secondary for the Chargers.
The game should end up being a close one due to the two teams' familiarity with each other, but if everything goes right for the Chargers then they will end up on top.
Kansas City Chiefs at Arizona Cardinals
Sunday, September 11
1:25 p.m PT, CBS
C
ardinals' head coach is well-known for getting his team out to hot starts but will have a tall task with this Week One game.
The Chiefs have been the most dominant team in the league since quarterback Patrick Mahomes took over, making four straight AFC Championship Games.
They are on the hunt for number five and starting out with a win over Arizona, a 2021 playoff team, would be ideal.
The Chiefs will look much different this year without star wide receiver Tyreek Hill, who was traded to Miami in the offseason. But with tight end Travis Kelce still in place, the Kansas City offense should still be one of the best.
The biggest question heading into the season will be how the wide receiver position shakes out.
How the Chiefs use wide receivers JuJu Smith-Schuster, Marquez Valdes-Scantling, Mecole Hardman, and rookie Skyy Moore will go a long way toward establishing their offensive identity this year.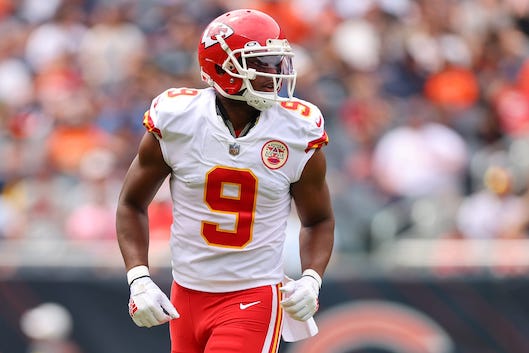 They will get to test drive the new offense against an Arizona defense that finished in the middle of the pack last year in passing yards allowed per attempt.
The defense will feature a few different pieces after outside linebacker Chandler Jones and linebacker Jordan Hicks both left in free agency.
Kansas City will provide a good test for young linebackers Isaiah Simmons and Zaven Collins, whose improvements this year will be integral to a successful defense.
If those two look good in Week One then it would be a good sign for safety Budda Baker, defensive end J.J. Watt, and the rest of the defense.
The Chiefs' defense will also be tested by a very good Cardinals offense.
Quarterback Kyler Murray is one of the most dangerous players in the game at the position, with the ability to make incredible plays with both his arm and his legs.
Although he will be without wide receiver DeAndre Hopkins, who will miss the first six games while serving a suspension, Murray will not be short on weapons.
Arizona added wide receiver Marquise Brown, Murray's former college teammate, to go along with reliable tight end Zach Ertz and dynamic wide receiver Rondale Moore.
Running back James Conner will also be back after a great season last year to provide an efficient run game.
The Chiefs have the talent on defense to be a great unit but struggled to do so last year. Defensive tackle Chris Jones is one of the best interior pass-rushers in the sport but he didn't get nearly enough support in 2021.
Rookie defensive end George Karlaftis and defensive end Frank Clark, who is looking to have a bounce-back season, will hope to change that in 2022.
Kansas City will have to replace safety Tyrann Mathieu on the backend but safeties Juan Thornhill and Justin Reid, a big free-agent singing, should be able to provide some solid play in the secondary.
This game figures to feature a ton of points with both defenses likely working through some things early in the season.
With two elite quarterbacks such as Mahomes and Murray duking it out, this game has the potential to steal the show on Sunday.
In the prospective shootout, the Chiefs will have the upper hand because their offense is the better unit.
Even with the questions at receiver, Kansas City will still be able to put up some points, specifically enough points to beat Arizona.
Denver Broncos at Seattle Seahawks
Monday, September 12
5:15 p.m. PT, ESPN
T
here are a few games that are must-see during Week One because of the on-field product and while this game is not one of those, it may be the most intriguing matchup of the entire week.
Quarterback Russell Wilson will not only be making his Denver debut but he will be doing so in Seattle, where he played the previous ten years of his career.
All eyes will be on Wilson as he takes on his former team and begins his tenure on his new team with a win.
The Broncos' offense will also be worth watching to see how new head coach Nathaniel Hackett uses Wilson and the rest of the weapons.
Will he let his quarterback air it out to wide receivers Courtland Sutton and Jerry Jeudy? Or will he lean on the rushing attack and running backs Javonte Williams and Melvin Gordon?
This game is going to set the tone for the rest of Denver's season and possibly the entire length of Wilson's stint with the team, which will be quite a long time given his recent contract extension.
Luckily for the Broncos, they get to go up against a Seattle defense that probably won't be too much of a challenge.
The Seahawks are very clearly in a rebuilding stage, which was made clear by the decision to release veteran linebacker Bobby Wagner.
Although the Seattle defense does have plenty of productive pieces in place, such as safeties Quandre Diggs and Jamal Adams, the unit does not figure to be too formidable.
The corners may have an especially difficult time against an elite quarterback such as Wilson.
There is still plenty of uncertainty regarding who will man those spots on the defense so Wilson could have a field day throwing on those unproven guys.
Quarterback Geno Smith, on the other hand, will not have as much success for the Seahawks.
He won the job after outplaying quarterback Drew Lock in the preseason, although he didn't exactly blow away the competition.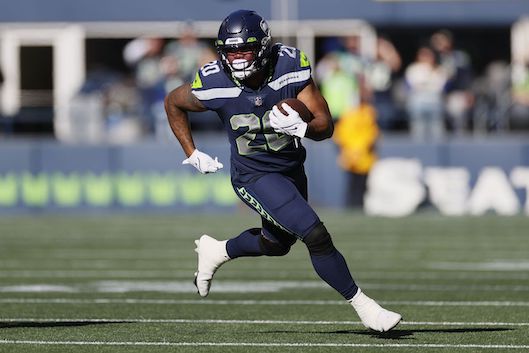 Seattle may rely on the run game, which is typical for head coach Pete Carroll, which would lead to a lot of touches for running back Rashaad Penny.
It would be smart for Seattle to avoid throwing the ball too much, even with great wide receivers D.K. Metcalf and Tyler Lockett on the team.
But with safety Justin Simmons and cornerback Pat Surtain II in the Denver secondary, Smith will likely have a hard time finding completions.
Outside linebacker Bradley Chubb will also be a player worth monitoring in his first season taking over for the departed Von Miller as the go-to pass-rusher.
How Chubb fares against Seattle's duo of rookie tackles Charles Cross and Abraham Lucas will be a good indicator for the future of both sides of that matchup.
For as good of a story as it would be for the Seahawks to spoil Wilson's return, the odds of that happening are quite slim. Denver is the much better team and Wilson will surely be out for revenge with a great game.
This game could end up being closer than expected if Seattle comes out motivated to get the better of Wilson but with a lack of talent, especially at quarterback, the Seahawks are just too overmatched in this one.
Game Picks from our SuperWest Writers
---
—More from Cody Schoeler—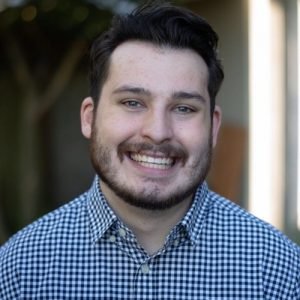 Latest posts by Cody Schoeler
(see all)