Posted on July 31, 2022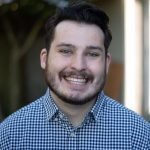 By Cody Schoeler for SuperWest Sports
T
he Denver Broncos have massively altered their Super Bowl odds in the past couple of months. And how does a team do that exactly?

Just by acquiring one of the best quarterbacks in the game, which is exactly what Denver did when they traded for quarterback Russell Wilson.
I still think Wilson is a fringe top-five quarterback despite his struggles in recent seasons. The Broncos clearly agree with me on that front, as they sent out multiple players and high picks in order to bring in the veteran signal-caller.
Wilson instantaneously changed the outlook of Denver's 2022 season.
Before the trade, they were a plucky team that had a chance to make the playoffs if the defense could carry them. Now they are a team that has genuine Super Bowl aspirations, although the road to get there is very tough.
Wilson isn't going to catch much of a break this season, going from what was arguably the toughest division in football last season, the NFC West, to what will easily be the best division in the sport this year, the AFC West.
The Broncos will definitely have high expectations, and Wilson will certainly feel them. He is the big-name quarterback that the team spent a lot of assets to get, he needs to win right away.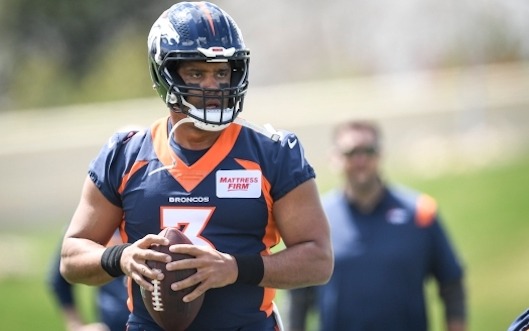 Even if Denver doesn't win a Super Bowl this year, which they probably won't, they have to at least be a competitive team in the division and the conference for the Wilson move to pay off right away.
Wilson is surely going to miss throwing to the likes of wide receivers Tyler Lockett and DK Metcalf, but the crop of offensive talent in Denver is plenty talented enough for Wilson to be successful.
Wilson was always at his best when he had the support of a good ground game, which is something he should enjoy in Denver. While the Broncos' running game wasn't anything special statistically in 2021, there is no doubt that they will be able to produce in that area this season.
The largest reason to believe that is the presence of second-year running back Javonte Williams. The second-round pick from the 2021 draft had a very promising rookie year despite having to share the backfield with talented veteran running back Melvin Gordon.
The two backs both had exactly 203 carries last season and Gordon ran for 15 more yards (918 to 903). The duo could be an effective committee in 2022 but it will more than likely be Williams' backfield.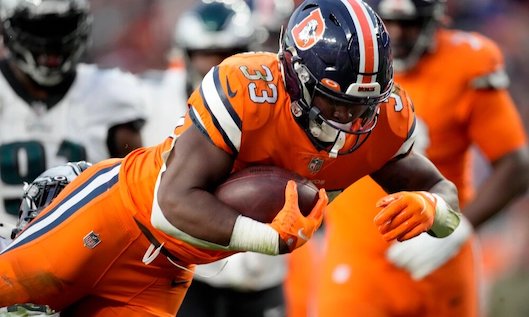 He not only has more potential and higher upside but he is also the more well-rounded back at the moment, proving himself as the more efficient pass-catcher.
Williams's production this year will ultimately come down to how involved Gordon will be. As long as Williams at least sees more work than the veteran, which seems very likely to happen, then there is no reason that he couldn't have his first 1,000-yard season in just his second year.
When Denver does dial up a passing play, which they will surely do more after having the ninth-fewest passing attempts in 2021, there will be plenty of options for Wilson to go to.
This could finally be the season that wide receiver Jerry Jeudy breaks out. It seems like we have been hearing about the immense potential of Jeudy for years now, yet he hasn't come anywhere near to realizing that potential.
He had the worse of his two professional seasons in 2021, playing in just 10 games while racking up 467 yards and no touchdowns.
A lot of Jeudy's struggles can be chalked up to inconsistent quarterback play, which is obviously not a problem now, but he is going to have to show some major improvement this season or else his selection will start looking worse and worse.
While the Broncos' quarterbacks have certainly not been great recently, other receivers haven't experienced as much difficulty as Jeudy. One of those players is wide receiver Tim Patrick, who may be the most underrated wideout in the league.
Patrick has led the team in receiving touchdowns in each of the past two seasons. He also has been the only receiver that has remained available and producing at a consistent level.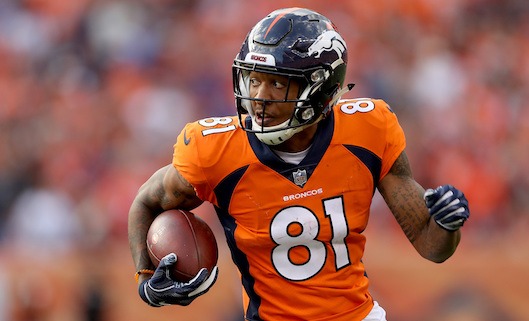 There is a lot of hype surrounding Jeudy and fellow wide receiver Courtland Sutton, but Patrick may actually be the best in the group.
The only spot on the offense that is a downgrade from last season is tight end but that is because the Broncos included tight end Noah Fant in the trade for Wilson.
Fant was a bright spot on the offense and looked like a potential franchise tight end, but Denver is not regretting the move.
There are also a couple of young tight ends ready to step up and replace Fant, which makes his loss much easier to swallow.
This year's starter will likely be tight end Albert Okwuegbunam, a former fourth-round draft pick going into his third season. Another option would be rookie third-rounder Greg Dulcich, who also has decent potential.
No matter who ends up winning the starting job, look for Denver to use both tight ends effectively. Both players are athletic enough to line up in different spots on the offense and the team can use two tight end sets to help bolster the run game.
Although it may look like a weakness now, the tight end spot will be a strength of this team for years to come.
Wilson is also experiencing an upgrade at offensive line, with Denver bringing back four players that started over half the games last season on the line.
Denver's offensive line was only average at best last season but that is still better than the troubling line that Wilson had in Seattle.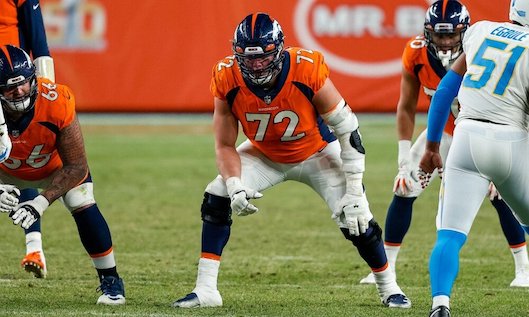 Tackle Garrett Bolles, guards Dalton Risner and Quinn Meinerz, and center Lloyd Cushenberry should all be settled into their roles this year. And if one of them is not starting it will be because someone better beat them out, which only improves the line.
The last spot, right tackle, is up for grabs but with those four players already locked in that spot can be a little uncertain and it won't do too much harm.
The story of the Broncos' defense has been told through the outside linebackers in recent years, but that is mainly because they had a generational player in Von Miller at the position. Miller was traded during the season last year, which definitely took a toll on the position and the entire defense.
That move officially signaled that it was time for outside linebacker Bradley Chubb to take over. Unfortunately, he did not do that at all, registering zero sacks in seven games.
Chubb has shown flashes in the past, such as recording 12 sacks as a rookie and making the Pro-Bowl in 2020, but now he must do so without Miller on the other side.
This season could be a make-or-break year for Chubb.
If he regains his form from earlier seasons then the team will have no problem having him as one of the faces of the defense moving forward. But if he struggles again, then it could mean that Chubb is not good enough to be the Number One pass rusher on a team.
Chubb will be getting reinforcements to make up for the loss of Miller.
The Broncos signed outside linebacker Randy Gregory, who was one of the most desirable pass rushers in free agency. They also have rookie outside linebacker Nik Bonitto, who they drafted with one of the picks they got in the Miller trade.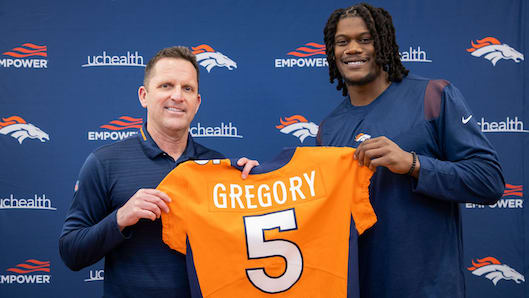 Denver was also in need of reinforcements on the defensive line, where they had to make up for the loss of productive defensive end Shelby Harris, who was also shipped to Seattle in the Wilson deal.
They added defensive tackle D.J. Jones in free agency, who will be able to strengthen up the interior of the defensive line. Jones will join forces with defensive linemen Mike Purcell, Dre'Mont Jones, and DeShawn Williams to form what should be at least a solid unit.
Regardless of what happens with the front seven, the secondary should be able to hold the defense up at times. The Broncos were one of the better defenses against the pass last year, allowing the eighth-fewest passing yards and fifth-fewest passing touchdowns.
The leader of the secondary, and the defense as a whole, is safety Justin Simmons. There is a reason why he is one of the highest-paid safeties in the game, and at a time was the highest paid.
The reason is that he is really good. Simmons grabbed a team-high five interceptions last year while also finishing second on the team in tackles.
The only Bronco who had more tackles than him: fellow safety Kareem Jackson. Jackson is another very underrated player on the Broncos but in his case, it is because he is a veteran that has been around for a while.
He signed in Denver in 2019 and has played some of his best football since. Don't let the age fool you, Jackson can still ball.
While the safeties are certainly the best part of the secondary, second-year cornerback Patrick Surtain is the most entertaining.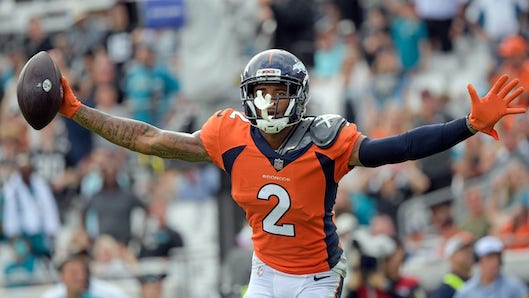 He proved himself right away as a legitimate number one corner as a rookie last year going up against some of the best receivers in the league.
He had one of the best rookie cornerback seasons in recent memory and only lost out on Defensive Rookie of the Year because of some freak named Micah Parsons in Dallas.
Surtain's instantaneous success has made it easier on the rest of the corners as it has placed less pressure on them. Unfortunately two of those corners, Kyle Fuller and Bryce Callahan, left the team.
The Broncos still have cornerback Ronald Darby, who started all 11 games he played last year and has had success in his career. They also signed cornerback K'Waun Williams in free agency after he became one of the best nickel corners in the league in San Francisco.
There are also younger players behind them such as rookie Damarri Mathis and third-year player Michael Ojemudia.
The Broncos could end up being a really good team this year and are only a few individual player improvements on defense away from being great. I don't see any way that this is not a team with a winning record barring an injury to Wilson.
The unfortunate thing is they are going to play in a stacked division that may very well put three teams into the playoffs, and could possibly send all four.

Someone has to finish last in that division, and while I don't foresee it being Denver it is not outside of the realm of possibility.
I think Denver gets to 10 wins and makes it into the playoffs but not without a little bit of intrigue at the end of the season. This team would definitely have another win or two in another division where at least one of the teams is not competitive.
But the Broncos do get a bit of luck from having some easy teams on their schedule.
With games against the Seahawks, Texans, Jets, Jaguars, and Panthers (and with the first four coming in the first half of the season) it should give them five wins with little difficulty.
Obviously, getting through the slate of divisional games will be tough but they should have stocked up enough wins that they only have to go 3-3 in the division to have a successful season.
---
—More from Cody Schoeler—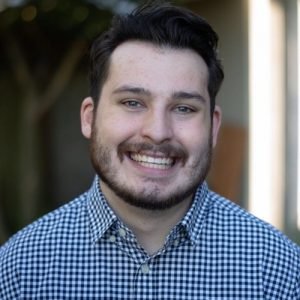 Latest posts by Cody Schoeler
(see all)