Posted on October 6, 2022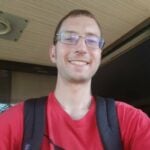 By Nick Bartlett, SuperWest Sports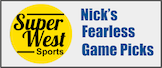 Wise is the bettor who consults Nick's No-Nonsense Betting Tips before logging on to his sportsbook.
Need proof?
I went 7-2 in my Week Five picks of SuperWest games.
Combine that with my 8-1 in Week Four, 10-2 in Week Three, 9-2 in Week Two, and 11-2 in Week One, and I'm 45-9 on the season.
Impressive (if I may say so myself). That's a formidable 83% success rate. Invest your profits wisely, my friend!
Yes, yes, I know—I wasn't perfect. Again. So where did I go wrong with my two bad picks this time?
In case anybody was wondering, we now know just how important Jake Haener is to his Fresno State team. Without him, the Bulldogs couldn't even hold off a basketball school, losing to UConn.
I doubt anyone saw that coming.
As for picking Washington over UCLA, well, I wasn't the only one drinking the purple Husky Kool-Aid. Credit the Bruins for proving us all wrong.
Can they do it again this week against the Utes? Read on. It's time to make my Week Five picks.
As always, my selections come with incredibly accurate game scores and just enough commentary to keep me from drinking too much coffee here in my favorite coffee shop in the beautiful Shoreline district of Seattle.
Utah at UCLA
Saturday, October 8
12:30 p.m., PT, FOX
U
CLA's coming off the best performance of their season and arguably the Chip Kelly era, but this is the one that really matters.
If the Bruins can beat the Utes on Saturday, they've arrived. A loss puts them in that weird middle-of-the-pack place they were in last year.
The Utes need to physically impose themselves early. Don't let UCLA get any hope, smash their souls.
Utah men are good at smashing things.
Utes by seven.
Final Score: Utah 31, UCLA 24
Washington at Arizona State
Saturday, October 8
1:00 p.m., PT, Pac-12
A
rizona State actually played well against the Trojans, just not in the second half.
For ASU to have a chance this week they need to start fast. They also cannot get outmuscled by Washington in the trenches.
For UW, it's a chance for redemption in the desert. Unfortunately, the Huskies haven't won there since 2001, having lost seven straight in Tempe. And the heat of a 12:30 pm kickoff favors the Devils.
Still, the Huskies got embarrassed on national TV last weekend, and Kalen DeBoer isn't having that again.
The Sun Devils are looking better but they started from the bottom.
UW by 21.
Final Score: Washington 38, Arizona State 17
BYU at Notre Dame
Saturday, October 8
4:30 p.m., PT, NBC
T
he logical choice is BYU. The historical choice is Notre Dame. Which is more important?
For this matchup, we'll start with the logic.
The Cougars are a Top 20 team with a future NFL quarterback and one of the best young coaches in the game.
Notre Dame should have the talent to compete with BYU but they're unproven.
After all, they opened the season 0-2, including a loss to Marshall, before bouncing back with two straight wins.
Let's make that three.
ND by three.
Final Score: Notre Dame 27, BYU 24
Washington State at USC
Saturday, October 8
4:30 p.m., PT, FOX
T
his is gonna be a popular upset pick this week.
Washington State enters this matchup 4-1, having outplayed Oregon for most of the contest until they, well, Coug'd it.
WSU is hard-hitting, fast, and fields a good quarterback.
The Trojans need to prove they're better than the Oregon State game.
They were locked down by the Beavers and squeaked by with two winning plays in the fourth quarter.
The Cougs had their chance against the Ducks and blew it at home, L.A. doesn't give second chances.
Trojans by seven.
Final Score: USC 31, Washington State 24
Oregon at Arizona
Saturday, October 8
6:00 p.m., PT, Pac-12
T
here's a lot of hype around Arizona entering this matchup, and there should be.
But it all ends here.
Oregon's the perfect opponent for the Wildcats. The Ducks will eat them up front, cover their wideouts, and Nix their confidence.
Bo Nix is also starting to find his rhythm, which makes UO cool again.
Arizona had their fun, but the one-handed catches stop today.
Giggity-giddity, Quacks cruise.
Final Score: Oregon 42, Arizona 20
Boise State at Fresno State
Saturday, October 8
6:45 p.m., PT, FS1
I
f Jake Haener doesn't play, it's a blowout.
OK, I guess I can give you a little more.
Boise State's defense is top-shelf this season, allowing only 19 PPG, and that stat would probably be better if their offense could actually stay on the field.
For Fresno State, last week's loss may prove misleading. The Bulldogs were without six starters including three preseason All-Mountain West picks.
But shoot, you still can't lose to the Huskies.
I guess I must be a Coug.
Broncos by 14.
Final Score: Boise State 31, Fresno State 17
Hawaii at San Diego State
Saturday, October 8
7:30 p.m., PT, CBS Sports
I
f San Diego State doesn't win this game their program has fallen off.
A lot
.
Even though Hawaii may be my favorite forever team, they're trash this season. The Golden Rainbows' only victory came against Duquesne.
Who's Duquesne?
For SDSU, it's "just win baby." Even Braxton Burmeister should be able to pull this one out.
I don't know what a win means for the rest of their season but the Aztecs get it done on Saturday.
Aztecs win comfortably.
Final Score: San Diego State 30, Hawaii 14
Oregon State at Stanford
Saturday, October 8
8:00 p.m., PT, ESPN
O
regon State is the far better team but they could still lose this game.
Stanford quarterback Tanner McKee is no slouch, and if the Beavers don't figure out something at the signal caller position, this could turn out to be a nail-biter.
The only problem is the Cardinal don't remember how to win.
For that reason, I'm picking OSU by 13.
Final Score: Oregon State 30, Stanford 17
---
—More from Nick Bartlett—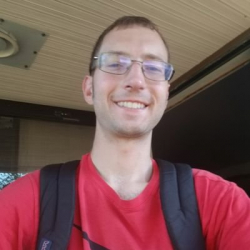 Latest posts by Nick Bartlett
(see all)