Posted on September 23, 2022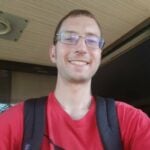 By Nick Bartlett, SuperWest Sports
W
ise is the bettor who consults
Nick's No-Nonsense Betting Tips
before logging on to his sportsbook.
Need proof?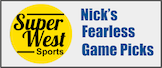 I went 10-2 in my Week Three picks of SuperWest games. Combine that with my  11-2 record from Week One and my 9-2 selections from Week Two, and I'm 30-6 on the season.
Impressive (if I may say so myself). That's a formidable 83% success rate. Invest your profits wisely, my friend!
Yes, yes, I know—I wasn't perfect. Again. So where did I go wrong with my two bad picks this time?
First of all, not many fans, betters, or bookies saw Washington beating Michigan State.
I mean, a team that went 4-8 last season upsetting one of the top teams from last year as easily as it had dispatched two early cupcakes in Husky Stadium? Com-on, man.
As for the second loss, predicting ASU to lose to Eastern Michigan would have been like predicting Herm Edwards was going to get fired a couple of days after the game.
Come to think of it, I probably should have predicted that.
But enough rehashing. It's time to make my Week Four picks.
As always, my selections come with incredibly accurate game scores and just enough commentary to keep me from eating too many Cheetos in my home office here in the beautiful Shoreline district of Seattle.
Boise State at UTEP
Friday, September 23
6:00 pm PT, CBS Sports Network
B
oise State is a team that is beginning to find itself after a tough loss to open the season.
The Broncos reeled off two sizable victories in a row and they'll look to continue the trend against UTEP.
The BSU defense is vicious, which should force the Miner offense to stay underground.
If UTEP wins, it's huge. But it ain't happening.
Broncos by 17.
Final Score: Boise State 31, UTEP 14
UCLA at Colorado
Saturday, September 24
11:00 am PT, Pac-12 Network
I
don't even feel like being mean to Colorado anymore. Their program is desolate, lost, and depressing all in one.
Last week, quarterback J.T. Shrout was 4-11 and only threw for 24 yards. We'll stop there.
As for the Bruins, they're coming off a near-upset loss to South Alabama. If it wasn't for kicker Nicholas Barr-Mira they would've lost to the Jaguars.
Yeah, I had to look up the mascot.
Bottom line: Bruins win, and any chance of them hibernating disappeared because of the lurking cats.
UCLA by a lot.
Final Score: UCLA 42, Colorado 14
Toledo at San Diego State
Saturday, September 24
12:30 pm PT, FS1
I
t feels like San Diego State is a team people have written off, and they shouldn't.
The Aztecs are still a formidable foe. They just happened to have lost to some good opponents.
Toledo's alright, but SDSU's gotta beat them. If the Aztecs lose this contest then their program's fallen off.
Hey, it's cool to live in San Diego, but it's even cooler when SDSU's winning.
Aztecs by 17.
Final Score: San Diego State 30, Toledo 13
No. 15 Oregon at Washington State
Saturday, September 24
1:00 pm PT, FOX
T
he Cougs feel like a popular pick.
They have a fearsome defensive line, a humble coach, and a promising young signal caller.
All of this has gotten them out the gates to a 3-0 start as one of the Pac-12's best early-season surprises.
As for the Ducks, they got their reputation wiped (or so it seemed) by Georgia, only to regain it against BYU.
If Oregon wants this season to be a success it cannot lose on the Palouse.
The crimson-and-gray Cougs are forreal, but so we're the blue-and-white ones last week.
The Ducks had their accident in the kitty pool, but now they're trained.
Quacks by 10.
Final Score: Oregon 30, Washington State 20
Arizona at California
Saturday, September 24
2:30 pm PT, Pac-12 Network
I
want to pick Arizona, but I can't.
The Wildcats will likely have a letdown after a tough win against NDSU. That, combined with an unproven defense, could prove too much to overcome.
As for Cal, they've just got to do something.
The Bears have been sitting on that lower-mid-tier cusp throughout Justin Wilcox's entire tenure. If they lose to Arizona, they're staying right there.
It's about time Cal bosses up, and they will.
GB (no, not Green Bay, Golden Bears) by three.
Final score: Cal 23, Arizona 20
No. 7 USC at Oregon State
Saturday, September 24
6:30 pm PT, Pac-12 Network
O
regon State's a popular pick, but let's be real.
This year's USC team is loaded with talent at every offensive position. For the Beavs to keep up just feels unrealistic.
However, this is a night game at Reser Stadium, and OSU fans haven't forgotten about who put them in the potential position of possibly having to join the Mountain West (by bolting to the Big Ten).
Testosterone shall run high, and so will the Trojans.
SC by 11.
Final Score: USC 35, Oregon State 24
Wyoming at No. 19 BYU
Saturday, September 24
7:15 pm PT, ESPN2
B
YU was tired, beaten up, and worn down from an emotional victory against Oregon.
This won't happen twice.
Cougars by 18.
Final Score: BYU 35, Wyoming 17
Stanford at No. 18 Washington
Saturday, September 24
7:30 pm PT, FS1
S
tanford has beaten Washington in three of their last five meetings. Can they do it again?
Probably not.
The Cardinal program has taken a tumble the last five seasons, and they are not fixing it against the Huskies.
Stanford quarterback Tanner McKee may be good, but no one else is close to his level for the Tree.
UW has just gotta keep things going.
From a talent perspective, the Huskies are the better team, and the threat of a third-straight loss against the Cardinal should keep them focused.
UW ain't slipping,
Barks by 18.
Final Score: Washington 35, Stanford 17
No. 13 Utah at Arizona State
Saturday, September 24
7:30 pm PT, ESPN
A
t least Arizona State can say they have a new coach. As for anything else, well, that's kind of like a mirage.
The Sun Devils lost to Eastern Michigan last week, they're 1-2, and their new leader was last a head coach at the high school varsity level.
Utah just needs to show up and not get heatstroke. (The temperatures set for around 95 degrees at kickoff.)
I think the Utes can handle it.
Utah wins by plenty.
Final Score: Utah 42, Arizona State 17
---
—More from Nick Bartlett—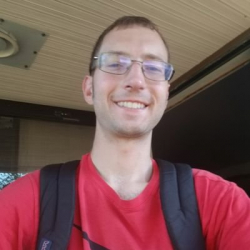 Latest posts by Nick Bartlett
(see all)