Posted on September 29, 2022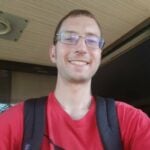 By Nick Bartlett, SuperWest Sports
W
ise is the bettor who consults
Nick's No-Nonsense Betting Tips
before logging on to his sportsbook.
Need proof?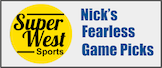 I went 8-1 in my Week Four picks of SuperWest games.
Combine that with my 10-2 in Week Three, my 9-2 in Week Two, and my 11-2 in Week One, and I'm 38-7 on the season.
Impressive (if I may say so myself). That's a formidable 84% success rate. Invest your profits wisely, my friend!
Yes, yes, I know—I wasn't perfect. Again. So where did I go wrong with my one bad pick this time?
Apparently, the Boise State bus got sidetracked and didn't show up at the UTEP contest in time to play the full game. And despite my best efforts, I can't yet control all the buses here in the SuperWest . . .
Seriously, though, BSU losing to the Miners seemed so unlikely, an upset never even occurred to me.
But enough excuse-making. It's time to make my Week Five picks.
As always, my selections come with incredibly accurate game scores and just enough commentary to keep me from running out of pickles here in my kitchen in the beautiful Shoreline district of Seattle.
(By the way, have you ever tried drinking the juice that's left in the jar? Great source of electrolytes. Drink before bed to help prevent a hangover.)
Utah State at BYU
Thursday, September 29
5:00 p.m., ESPN
B
YU's the best team that many don't respect.
After a humiliating loss at Oregon, they quietly bounced back with a comfortable win over Wyoming.
Against Utah State, it's really not a matter of talent. After all, the Cougars were able to handle Baylor without their top two receivers.
It's a matter of a soon-to-be-defunct rivalry, and they need to not get cocky. They won't. Kalani Sitake will have his group ready.
Sitake's a whiz and I'm driving with him.
Cougs by 21.
Final Score: BYU 38-17
San Diego State at Boise State
Friday, September 30
5:00 p.m., FS1
R
umor has it Hank Bachmeier entered the transfer portal (or plans to, once it reopens). This means Boise State's probably going to be good again.
As far as this game's concerned, someone's gotta score the ball. The Broncos only scored ten points against UTEP last week.
The Aztecs exploded for seventeen against Toledo.
Bachmeier transferred just in time.
BSU by seven.
Final Score: Boise State 27-20
Washington at UCLA
Friday, September 30
7:30 p.m., ESPN
H
ave you heard of a toss-up? Well we got an ol' rodeo Friday night.
The Huskies roll into L.A. fresh off of a tree lighting last weekend. Michael Penix Jr. could be the Pac-12 Player of the Year by season's end and there's no better place to showcase his abilities than L.A.
For the Bruins, it's Dorian Thompson-Robinson or shut up. DTR needs to win this game. That's it, he's a senior, time to get it done.
But he won't.
Dawgs by seven.
Final Score: Washington 35-28
Oregon State at Utah
Saturday, October 1
11:00 a.m., Pac-12
T
he Beavers had their chance last week and Chance Nolan threw it away. This week, they'll need to pray.
The Utes are still playing for everything and they're at home. Expect vicious, physical, and violent football.
Even with the absence of Brant Kuithe, Utah should prove to be the better team.
And if they don't, Nolan will throw it away anyways.
Utes win comfortably.
Final Score: Utah 30-17
Fresno State at UConn
Saturday, October 1
12:30 p.m., CBS Sports Network
C
onnecticut plays football? I mean it makes sense, but it doesn't feel right. UConn is a
basketball
school.
But then again Fresno State is without Jake Haener this week, so nothing's as it should be.
Does this mean the east coast Huskies have a chance? No, but hey there's still a game to be played. A game that the Bulldogs need to win.
Even with FSU missing three key players they should envelop Connecticut.
We ain't hooping here.
Dawgs by 11.
Final Score: Fresno State 28-17
Cal at WSU
Saturday, October 1
2:30 p.m., Pac-12
T
he Cougars are much improved from last year, but so is California.
The Golden Bears have a new quarterback this season, and so does Washington State.
So what's the difference?
The difference is the Cougar defensive line. The Cougs should be able to pressure Jack Plummer throughout the game, forcing him into key turnovers.
WSU was good enough to beat Oregon last week but decided to Coug it. They're not gonna do this twice, or at least they shouldn't, right?
WSU by eleven.
Final Score: Washington State 35-24
Colorado at Arizona
Saturday, October 1
6:30 p.m., Pac-12
E
very week I preview Colorado I say the same thing, why is Karl Dorrell still the Head Coach? If all CU wants is a safe face to represent the program they could do it for a lot cheaper.
The Buffaloes are broken, depressing, and uncompetitive. They need help.
For Arizona, the loss to Cal could benefit them this week. The Wildcats are a solid team that should avoid the trap-game trap.
Dorrell could also learn a thing or two about a rebuild from Jedd Fisch.
Cats by 20.
Final Score: Arizona 35-14
Arizona State at USC
Saturday, October 1
7:30 p.m., ESPN
U
SC survived against Oregon State, but barely. Luckily for them, they face an FCS opponent this week in Arizona State.
Enough with the "states."
This game should be a blowout and SC should light it up. The Trojans are a top ten team and ASU's struggling.
In the famous words of Herm Edwards, "C'mon man."
I'm not gonna waste your time.
Trojans win.
Final Score: USC 42-14
Stanford at Oregon
Saturday, October 1
8:00 p.m., FS1
G
ood luck Stanford, I mean what else is there really to say at this point?
The loss to Washington last week confirms what we already knew, it's over.
The Cardinal program isn't in a state of flux anymore; they're just a weak Power 5 team. A team that can't compete with the likes of Oregon.
The Ducks just need to match Stanford's physicality and let their skill-position players take over.
Oregon ain't getting Punk'd, not at home.
Ducks eat the tree.
Final Score: Oregon 38-14
---
—More from Nick Bartlett—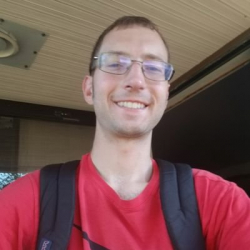 Latest posts by Nick Bartlett
(see all)