Posted on April 18, 2020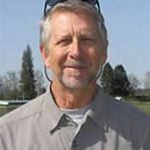 By Steve Ritchie, SuperWest Sports
e shift our Track & Field GOAT selections to the Pac-12's newest members, the University of Utah and the University of Colorado, which joined the conference in the 2011-12 school year. All four of these "Greatest Athletes" selections competed well before the Utes and the Buffs joined the Conference of Champions. 
Utah dropped their men's track and field and cross country programs in 2006, and there seems to be little momentum to reinstate either sport. (Like Oregon State, the Utah men's track and field records and performance lists have been erased from the university's website.) The Utah women have struggled to make an impact in the Pac-12, but are coming off their most successful cross country season, having placed third in the conference. 
Colorado, on the other hand, is a national power in distance running for both sexes, and has won eight NCAA cross country titles (men and women) in the last two decades. 

If you missed the first three installments of this series, you'll find links to them at the bottom of the page. Whether you agree or disagree with my Greatest of All Time selections, your feedback is welcome. You can reach me at sritchie@mtangel.net. 
—Colorado Men—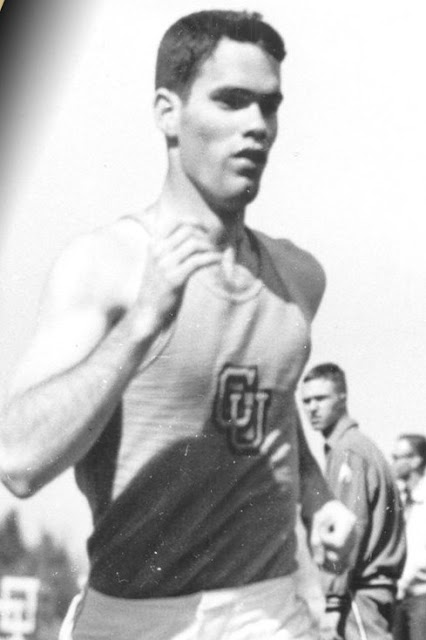 Bill Toomey
Decathlon/400 Hurdles/Long Jump (1957-61) 
Bill Toomey gets the nod over a host of Buff distance runners, notably Adam Goucher, who won four NCAA titles, and Alan Culpepper, who won seven U.S. titles at various distances and made two Olympic teams. Toomey, though, is the only Colorado athlete in history to win an Olympic gold medal in an individual event. It came in the decathlon in Mexico City in 1968. 
When Toomey arrived in Boulder, he was a good all-around track and field athlete, but he had no idea what the decathlon even was. As soon as his coach enlightened him on the two-day, ten event competition, Toomey began checking scoring tables to see how his times and marks compared. Not so good at first, but, after attending the 1964 Olympics as a fan, Toomey began lifting weights and trained obsessively for the 1968 Games. 

The altitude in Boulder also gave him an assist, preparing him for the 1500 meters at Mexico City's 7,500 foot elevation. He pulled away from his rivals to win the 1500, securing the gold. He went on to win five U.S. decathlon titles and set world records in the decathlon and the pentathlon. Toomey won the Sullivan Award as the country's best amateur athlete in 1969.
Honorable Mention: Adam Goucher, Alan Culpepper, Dathan Ritzenhein, David Bolen, Jorge Torres, Don Campbell, Brent Vaughn, Cliff Branch, Daniel Reese.

—Colorado Women—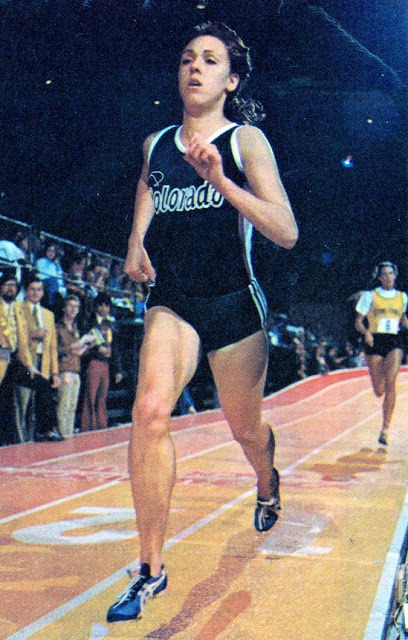 Mary Decker Slaney
Distance (1977-79)
Colorado's women distance runners during Coach Mark Wetmore's tenure are like a who's who of American distance running. Jenny (Barringer) Simpson set six NCAA records, three American records, and has one Olympic medal and three World Championship medals—including gold—in the 1500. Emma Coburn won gold at the 2017 World Championships and has eight U.S. steeple titles. Kara Goucher was the first American woman to medal in the 10,000 at the world meet.
But Mary Decker Slaney deserves the top spot. She burst on the track scene at the unlikely age of 14 in 1973 when she beat the best Soviet runners in an 800 in the US-USSR dual meet at Minsk. "Little Mary Decker," as the tiny pig-tailed sprite was quickly dubbed, set three world indoor records at the age of 15. 
Her career spanned 25 years, two of which were spent at Colorado before she turned professional. Slaney set 36 American records and 17 world records at distances from 800 to 10,000, and won double gold at the first World Championships in 1983. In 1982 she set world records at 800, 1500, Mile, 3000, 5000, and 10,000. Her indoor mile American record stood for 38 years, and her outdoor 1500 record remained intact for 32 years!
It wasn't always sunshine and roses for her, though. Slaney was plagued by stress fractures and achilles tendon issues, and she endured countless surgeries on her feet and lower legs. She never won an Olympic medal: In 1972 she was too young to compete at the Trials; in 1976 she was injured; in 1980 there was the U.S. boycott; and 1984 brought the famous fall at the LA Games when she got tangled up with barefoot Zola Budd in the 3000. 
Sadly, at the end of her incredible career, she tested positive for testosterone—which she adamantly denied and disputed—an ironic twist for Slaney, since she had faced down so many Soviet-bloc athletes whose doping regimens in the 1970s and 1980s have now been well-chronicled.
Honorable Mention: Jenny (Barringer) Simpson, Emma Coburn, Kara (Grgas-Wheeler) Goucher, Yvonne Scott, Donna Waller, Sara Vaughn, Sara (Gorton) Slattery, Shalaya Kipp.
—Utah Men—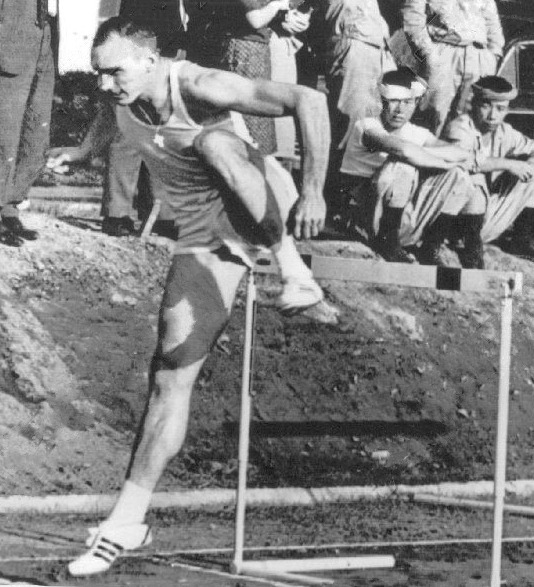 Blaine Lindgren
110 High Hurdles (1957-62)
An all-state football player in high school, Blaine Lindgren was a two-sport athlete his freshman year at Utah until his track coaches convinced him to drop football and focus on track. The decision paid off with a silver medal at the 1964 Tokyo Olympics and a gold medal at the 1963 Pan American Games. 
The silver medal was a source of controversy and disappointment for Lindgren, however. He led most of the Olympic final race over his teammate and fierce rival, Hayes Jones. But lines were painted on the track that had not been there for the preliminary heats, and Lindgren got confused about the finish line, causing him to lean too early. 

He still got to the tape first but Jones' torso crossed before his. After 45 minutes thinking he had won, Lindgren was told the decision was reversed and Jones got the gold medal, just before climbing on to the podium.  
Honorable Mention: Jeff Simonich, Scott Daniels, Jeff Pratley, Teren Jameson, Alma Richards.
—Utah Women—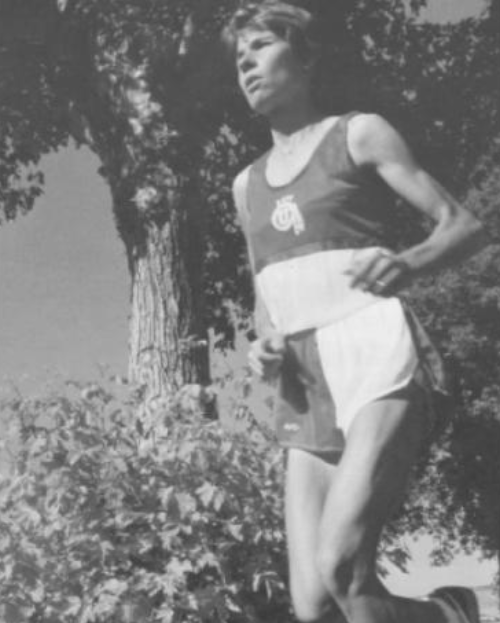 Jill Molen-Koeven
Distance (1980-84)
Prior to the first NCAA Women's Track & Field Championships, the Association for Intercollegiate Athletics for Women (AIAW) sponsored the women's championship events, including track and field and cross country. 
Jill Molen-Koeven was one of the favorites at the 1981 AIAW Cross Country Championships, but was tripped and fell shortly after the start of the race, according to accounts. The petite runner survived being trampled by the rest of the field, got to her feet and eventually moved past dozens of runners to finish fifth. 
The following spring Molen-Koeven won the AIAW 10,000 on the track to claim what remains the only national championship in track and field or cross country for a Ute. It should be mentioned, though, that 2018 Utah grad Grayson Murphy won world titles in Mountain Running and Half-Marathon Trail Running in 2019.  
Honorable Mention: Grayson Murphy, Amanda Mergaert, Brenda Allen, Carla Pittelkow.
---
---
—More from Steve Ritchie—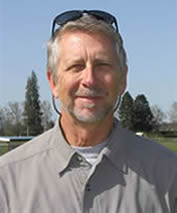 Latest posts by Steve Ritchie
(see all)