Posted on October 27, 2020


  By Dane Miller, SuperWest Sports
E
ach Pac-12 basketball arena has unique characteristics, advantages, and disadvantages, ranging from its capacity to the way it's structured and its history and tradition.
In this 12-part series, I look at what makes each facility unique, and recount some of the key moments and stats* in the Pac-12 Era. We continue in this ninth installment with Oregon State's Gill Coliseum.
Gill Coliseum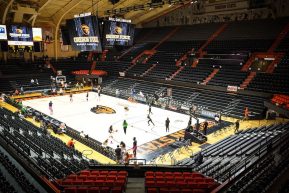 Built: 1949
Capacity: 9,301
Elevation: 230 feet
Overall Record: 101-48
Overall Conference Record: 45-38
Overall Nonconference Record: 56-10
B
uilt in 1949 and named after former head coach Slats Gill, Gill Coliseum is one of the oldest arenas in the Pac-12 Conference. The building has been a regional site for the CBI Tournament in 2012 and 2014, including an unusual semifinal matchup against conference opponent Washington State in 2012.
At the start of the Pac-12 Era, Craig Robinson led the program to nonconference victories over New Mexico State and TCU, but dropped shockers to Idaho, Towson, and Coppin State. Wayne Tinkle took over in 2014 and has led the Beavs' to .500 or better finishes in five of his six seasons.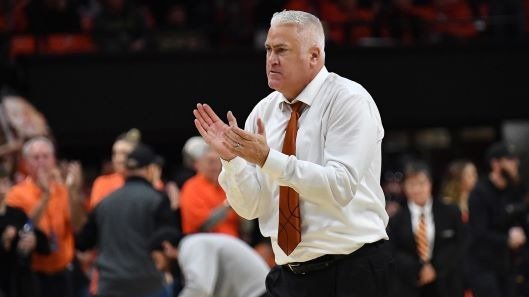 But the home crowd has similarly witnessed shocking defeats to Lamar, Savannah State, and Kent State under his tutelage.

Within the Conference, OSU's best win was over No. 7 Arizona in 2015, a Wildcat team that eventually made it to the Elite 8. Last season, Tinkle and company posted two respectable victories over No. 14 Oregon and No. 24 Arizona to go along with a win over Iowa State to start the year.
The three victories in 2019-20 were arguably the program's best resume-building wins in a single season since the Conference expanded in 2011-12.

In fact, all four of Oregon State's victories over ranked conference opponents have come during the Tinkle Era. And in 2016, the Beavers made their first NCAA Tournament appearance since 1990 after taking down No. 21 USC in Corvallis.

Only Arizona, Stanford, and Arizona State have winning records in the building, a testament to the student section's affect on opponents. The Beavers are also above .500 against Oregon, an accomplishment that not many teams in the Conference of Champions can match.
Though not quite an environment that opponents dread coming to, or one that players circle on the schedule each season, the arena, crowd, and home team are consistently liable to take advantage of overconfident visitors. Especially in the Tinkle Era.

But after nine seasons, there has yet to be a matchup between two ranked teams, and Oregon State hasn't taken the floor ranked in the Top 25. To get there, OSU can't afford any more losses to the likes of the Kent State's and Lamar's of the college basketball world in the 2020s.
Any stumbles in 2020-21 would put the program at further risk of getting left behind as the Pac-12 as a whole precipitously strengthens in the new decade.
Records vs. Top 25 and When Ranked
Record v. Top 25: 4-9
Record v. Top 25 When Unranked: 4-9
Record v. Top 25 When Ranked: 0-0
Record When Ranked: 0-0
Highest Home-Game Rankings
Highest Ranking for Home Game: Unranked
Victory over Highest Ranked Team: No. 7 Arizona (2015)
Highest Ranked Opponent: No. 2 UCLA (2016)
Noteworthy Wins
Noteworthy Conference Wins: No. 7 Arizona (2015); No. 14 Oregon (2020); No. 21 USC (2016); No. 24 Arizona (2020)
Noteworthy Nonconference Wins: New Mexico State (2012); TCU (2012 CBI); Mississippi State (2014); Nevada (2015); Iowa State (2019)
Blemish Losses
Idaho by 14 (2011)
Coppin State by 5 (2013)
Redford by 4 (2014 CBI)
Lamar by 3 (2016)
Savannah State by 3 (2016)
Kent State by 3 (2018)
Towson by 1 (2012)
Record of Pac-12 Teams at Gill Coliseum
Arizona: 5-2
Stanford: 5-2
Arizona State: 4-3
Oregon: 4-5
California: 3-4
Colorado: 3-4
UCLA: 3-5
USC: 3-5
Washington State: 3-5
Utah: 2-5
—Up Next—
Oregon's Matthew Knight Arena
—Previously—
Utah's John M. Huntsman Center
Arizona States's Desert financial Center
---
—More from Dane Miller—

Latest posts by Dane Miller
(see all)