Posted on September 28, 2020


  By Dane Miller, SuperWest Sports
E
ach Pac-12 basketball arena has unique characteristics, advantages, and disadvantages, ranging from its capacity to the way it's structured and its history and tradition.
In this 12-part series, I look at what makes each facility unique, and recount some of the key moments and stats* in the Pac-12 Era. We continue in this fourth installment with Arizona's McKale Center.
McKale Center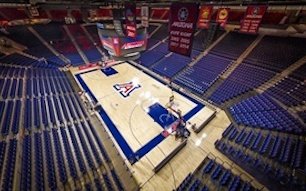 Built: 1973
Capacity: 14,655
Elevation: 2,450
Overall Record: 135-18
Overall Conference Record: 67-14
Overall Nonconference Record: 68-4
H
ome of the Arizona Wildcats, McKale Center is one of the most difficult buildings to win at in the entire country. The Cats have led the Pac-12 in attendance since 1984-85, a 34-year stretch that has no end in sight. From calendar year 2013 through calendar year 2018, Arizona went 96-6 in the 14,000+ seat arena. That stretch included a 49-game win streak from 2013-2016.
Since 2011-12, Sean Miller has guided his program to nonconference victories over No. 5 Florida, No. 9 Gonzaga, Michigan, Texas Tech, and UConn en route to a 68-4 nonconference mark. The four defeats came from No. 6 Gonzaga in 2019, Baylor in 2018, San Diego State in 2011, and Bucknell in the 2012 NIT.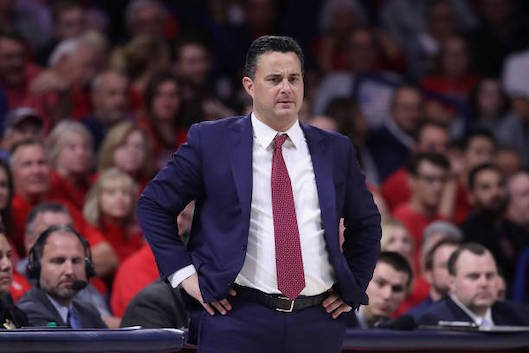 Within the Conference, the Cats are 67-14 including a victory over No. 3 Arizona State in 2017. Utah, USC, Stanford, Oregon State, and Colorado are winless in the building. And Arizona State, California, and Washington State have just a single victory.

UCLA and Oregon, however, have figured out how to win in the desert confine. Both the Bruins and Ducks are 4-3 during the Pac-12 Era, and the Wildcats have failed to beat either program when they enter the building ranked in the Top 25.
Washington has had similar success, posting a 3-4 mark during the period.
Still, when ranked in the Top 25, the Cats are a jaw-dropping 107-9 at McKale Center. Of the 153 games played in Tucson, Miller's squad was ranked in 116 of them (75%).
Arizona is the only team in the Pac-12 to take the floor at it's home arena ranked No. 1 in the nation during the Pac-12 Era. The Cats played 8 games from 2013-14 ranked as the top squad in the country, going 8-0 over that stretch.

The arena has been the site of 10 matchups between ranked teams. In those games, the Wildcats are 6-4 with the defeats coming at the hands of No. 5 UCLA in 2017, No. 6 Gonzaga in 2019, No. 14 Oregon in 2020, and No. 23 Oregon in 2016.

There has been just a single game against a Top 25 opponent when Arizona was unranked. Last season, Miller and company defeated No. 20 Colorado as an unranked program.
However, the absence of an Arizona victory over a ranked UCLA or Oregon team is a tell-tale sign of the recent trend in the two rivalries. The Cats have even dropped three games to unranked Bruin squads.

The 14-point loss to Washington State in 2019 is arguably the sole shocking defeat in the Era, though the 11-point loss to Bucknell in the 2012 NIT is similarly head-scratching.
Putting all that aside, there's no denying that McKale Center is one of the toughest, if not the toughest, road game for every team in the Pac-12. The hostile environment is notoriously unwelcoming to opposing fans, and the Cats historically back it up with victories.
Records vs. Top 25 and When Ranked
Record vs. Top 25: 7-4
Record vs. Top 25 When Unranked: 1-0
Record vs. Top 25 When Ranked: 6-4
Record When Ranked: 107-9
Highest Home-Game Rankings
Highest Ranking for Home Game: No. 1 (2013-2014)
Victory over Highest Ranked Team: No. 3 Arizona State (2017)
Highest Ranked Opponent: No. 3 Arizona State (2017)
Noteworthy Wins
Noteworthy Conference Wins: No. 3 Arizona State (2017); No. 8 Utah (2015); No. 20 Colorado (2020); No. 23 USC (2016); No. 25 California (2016)
Noteworthy Nonconference Wins: No. 5 Florida (2012); No. 9 Gonzaga (2014); Michigan (2014); Texas Tech (2013); UConn (2017); Missouri (2015); Illinois (2019); UNLV (2013, 2015)
Blemish Losses
Bucknell by 11 (2012 NIT)
Washington State by 14 (2019)
Record of Pac-12 Teams at McKale Center
Oregon: 4-3
UCLA : 4-3
Washington: 3-4
California: 1-6
Washington State: 1-6
Arizona State: 1-8
Stanford: 0-7
Oregon State: 0-7
USC: 0-7
Colorado: 0-8
Utah: 0-8
*Stats for Pac-12 Era only, courtesy sports-reference.com.
—Up Next—
USC's Galen Center
—Previously—
Utah's John M. Huntsman Center
Arizona States's Desert financial Center
---
—More from Dane Miller—

Latest posts by Dane Miller
(see all)