Posted on September 18, 2020


  By Dane Miller, SuperWest Sports
E
ach Pac-12 basketball arena has unique characteristics, advantages, and disadvantages, ranging from its capacity to the way it's structured and its history and tradition.
In this 12-part series, I look at what makes each facility unique, and recount some of the key moments and stats* in the Pac-12 Era, beginning with Utah's Huntsman Center.
John M. Huntsman Center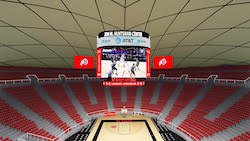 Built: 1969
Capacity: 15,000
Elevation: 4,780 feet
Overall Record: 118-34
Overall Conference Record: 55-26
Overall Nonconference Record: 63-8
W
ith a capacity of 15,000, the Huntsman Center is one of the largest college basketball arenas on the West Coast. The sheer number of fans able to attend games gives the Utes a leg up in close contests, when attendance is up, and the imposing student section can be credited with more than a few victories.
A defeat in the building is almost unheard of when the Runnin' Utes are ranked. Their 20-1 record as a Top 25 program is as impressive as it gets.
In 2015, Larry Krystkowiak's squad took the floor as the No. 9 team in the nation, a feat only a handful of schools in the Conference of Champions have accomplished in the Pac-12 Era. The Top 10 appearance highlighted a special year for the program, capped off by a Sweet 16 run in the NCAA Tournament.
The 2015 season is even more impressive considering the state of the team at the start of the Pac-12 Era, when Cal State Fullerton dropped a 31-point dose of reality on the Utes.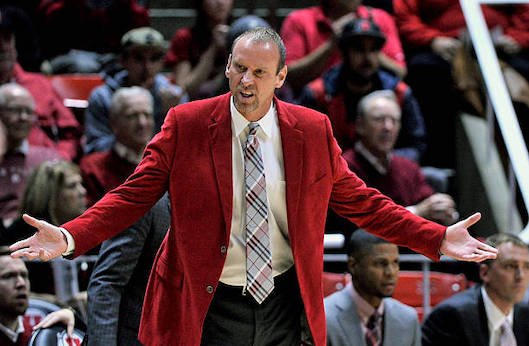 However, the success of the Kyle Kuzma years hasn't been sustained, as evidenced by a 4-11 record against Top 25 teams.

Programs are built on upset wins, and the Utes have just two victories over ranked opponents when taking the floor as an unranked squad. And while the wins over No. 8 Arizona and No. 8 Wichita State are impressive, the 26% win-percentage against Top 25 teams shows that the arena has yet to distinguish itself as an environment that strikes fear in ranked opponents.

That being said, Colorado, Stanford, and Washington State have struggled mightily in the environment. The three schools are combined 2-22 in the building.
Arizona State, Washington, USC, Oregon State, and California haven't fared much better, either, with the five programs going 10-26 in Salt Lake City, despite having quality teams over the years.
A statistical outlier is UCLA, holding a 3-4 mark against the Utes in Utah.

Still, Oregon and Arizona are a combined 11-3 at the Huntsman Center. The two blue-bloods of the Pac-12 have produced almost half of the home conference losses Utah has sustained. The 2015 matchup between No. 8 Arizona and No. 13 Utah, in particular, may have been the biggest game in the arena during the Pac-12 Era. The six-point Ute loss arguably halted the program's upswing.

Nonetheless, Utah's 2-1 record against the Top 25 in the arena, when also ranked, is indicative of the home court advantage the building provides. With respectable nonconference victories over No. 8 Wichita State, San Diego State, Minnesota, and several matchups with BYU, the Huntsman Center is a proven environment that can't be taken lightly.
Records vs. Top 25 and When Ranked
Record vs. Top 25: 4-11
Record vs. Top 25 When Unranked: 2-10
Record vs. Top 25 When Ranked: 2-1
Record When Ranked: 20-1
Highest Home-Game Rankings
Highest Ranking for Home Game: No. 9 (2015)
Victory over Highest Ranked Team: No. 8 Arizona (2016); No. 8 Wichita State (2014)
Highest Ranked Opponent: No. 4 Arizona (2014); No. 4 UCLA (2017); No. 4 Arizona State (2018); No. 4 Oregon (2020)
Noteworthy Wins
Noteworthy Conference Wins: No. 8 Arizona (2016); No. 19 Oregon (2013); No. 25 USC (2017)
Noteworthy Nonconference Wins: No. 8 Wichita State (2014); BYU (2013, 2015, 2019); San Diego State (2015); Minnesota (2019)
Blemish Loss
Cal State Fullerton by 31 (2011)
Record of Pac-12 Teams at the Huntsman Center
Oregon: 6-1
Arizona: 5-2
UCLA: 3-4
Arizona State: 2-5
California: 2-5
Oregon State: 2-5
USC: 2-5
Washington: 2-6
Stanford: 1-6
Colorado: 1-8
Washington State: 0-8
*Stats for Pac-12 Era only, courtesy sports-reference.com.
Up Next: The CU Events Center
---
—More from Dane Miller—

Latest posts by Dane Miller
(see all)