Posted on November 10, 2020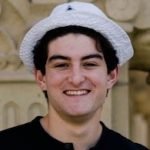 By Daniel Martinez-Krams of Dash Sports TV for SuperWest Sports
Stanford contains multitudes. 
In its loss, the Cardinal showed simultaneously why the program has been tarnished and why there is hope for the rest of the season. We saw massive improvement and a three-possession loss.
And we saw continuity in all the wrong places: critical players missing games.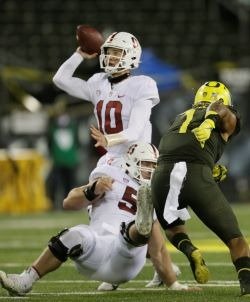 Stanford was without Davis Mills as the starting quarterback, but Jack West and Tanner McKee both looked like capable college quarterbacks. West, in particular, avenged nearly all his demons from the UCLA start last year.
Still, neither would be mistaken for the promise that Mills brought to the year. Neither established himself as the clear option next week, if Mills is unavailable. 
West knows the offense better and will allow Stanford to use close to its entire playbook. McKee has talent to burn, and  fired off a 46-yard bomb when he entered the game.

Shaw and offensive coordinator-quarterback coach Tavita Pritchard were never supposed to make a quarterback decision beyond naming a backup.  
And so it went nearly everywhere. 
The offensive line did not give up a sack. The defensive line did not get a sack. 
The defense picked up two turnovers, both from Levani Damuni. The offense was unable to turn either into points and Damuni missed time with an injury. Therefore, Spencer Jorgensen, who—just weeks ago—was a special teams star and a safety, became a scholarship inside linebacker.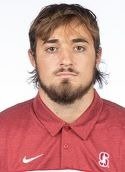 The beloved Jet Toner, whom Stanford will absolutely stick with, continued his perfect point-after streak, connecting on his 102nd and 103rd career. But he also missed four field goals. 
Simi Fehoko caught three passes for 88 yards. Michael Wilson showed why he is an elite possession receiver. Brycen Tremayne continued to ascend at an incredible pace. Tucker Fisk and Scooter Harrington both were determined to ensure that the Stanford tight end would continue to be a factor in the passing game.
Still, all told, the team had just 216 passing yards.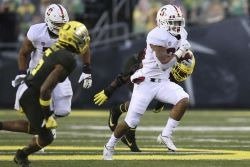 Only at running back did Stamford deliver a clear and decisive message: Austin Jones and Nathaniel Peat can play. Jones rushed for 100 yards, Peat went for 93 (including a 73 yard rush), and the run game got its swagger back. The offensive line was bullish.
All of the offseason talk of an improved running game, of returning to a balanced approach played out. 
But even here, the coaching staff inserted itself with play calling. At the goal line, after the offensive line had executed all game long, Stanford threw on four straight plays (including one offensive pass interference) and missed a field goal to come away without points. 
The game convinced me that Stanford is every bit as good as I thought in preseason. And every bit as bad.

I predicted, quite optimistically, that Stanford would win out after the Oregon game. And even now, that seems completely possible, with the remainder of the teams having considerably more holes than the Ducks. 
Of course, that was banking on Stanford having actually fixed the holes they said they had.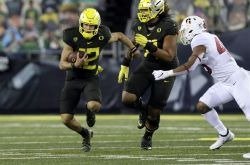 The secondary, the defensive line, and the entire defense got run down in the second half.
That was not supposed to happen. For years, the defense has had trouble with mobile quarterbacks, and has promised to get better. Yet Tyler Shough scampered for 85 rushing yards.
In the first half, the defense looked great. Holding Oregon to 14 points was on par for what was needed to win. But on third down, the Cardinal could not get off the field, allowing Oregon to convert on eight straight attempts. 

Stanford's next opponent, Colorado, gave up 42 points to UCLA and won. Last year, Colorado's defense had not held an opponent under 30 points in the nine games before facing Stanford's offense. Stanford scored 13 and lost on a field goal as time expired. 
Stanford is fully willing to contradict itself. But where Whitman had a sense of urgency, only time will tell if Stanford is ready for the future, fast approaching on Saturday. 
You can watch Martinez-Krams' related Cardinal Dash Sports Talk Show on Dash Sports TV, and read his other sports articles at the Stanford Daily.

---
—More from Daniel Martinez-Krams—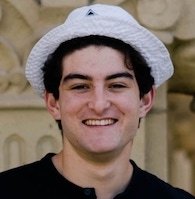 Latest posts by Daniel Martinez-Krams
(see all)