Posted on September 27, 2022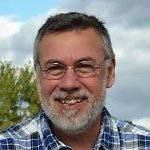 By Mik Dietlin, SuperWest Sports
Well into the second quarter of USC's rugged 17-14 win over Oregon State Saturday, the Beavers had been maintaining a precarious 7-3 lead they would eventually take into halftime.
"Where are all the touchdowns?" I thought, scratching my head trying to inject a little insight.
I grabbed the remote and hit the channel guide, thinking for a split second I may have been watching the wrong game. You never know what these streaming companies are capable of.
I thought a virtual game simulation feed of some kind was being beamed looking amazingly life-like. No, everything appeared normal. I was indeed experiencing reality, just not the reality I was expecting.
Not only that, through the magic of Pac-12 After Dark, that spooky sports broadcast still transmitting to desolate pockets of the country where tumbleweeds roll unencumbered, where business sense is nonsense and truth morphs into falsehood in the blink of an eye; well, this new reality in front of my very eyes created two opposing psychosomatic states in me.
On one side, I longed for the days of old—not so long ago now that I think about it—when Caleb Williams and his band of merry young men tossed the ball around the field without a care in the world, scoring at will, toying with their opposition's resistance.
Those effortless times seemed far away. What was coming through my screen produced a friction I was losing patience with.
A voice then spoke to me from the great beyond, where all voices in your head originate, a voice definitely not from Pac-12 After Dark, owing to the fact I had the TV sound muted. 
"Now is the perfect moment to see how well they handle adversity," it said. "Because buddy, they're drowning in it."
The voice had a calming effect. From that point until the end of the battle was a joy to watch.
In a game predicted by everyone to be a high-flying, high-scoring, take no prisoners, defense be damned, back and forth shoot out, the defenses showed up in a big way.
The three points amassed by the Trojans at halftime conjured thoughts of '67—not the "Summer of Love," but what I'll call "The Fall of My Discontent"—November 11th in Corvallis.
There, the No. 1 Trojans were shut down and then out, 3-0. Although they still managed to win a national championship that year, it ruined a perfect season.
And like Roy Smythe's whiny memoir of his small-town college football days in Texas overcoming challenges, I've whined about that game since.
We're at the mercy of what a sports television broadcast shows and tells us, but Williams couldn't find a lot of open receivers the whole evening.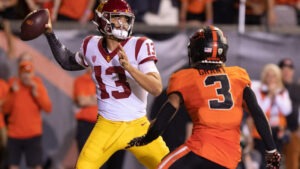 Replays revealed that he did miss a few of them. He's been scrambling too much these past few games out of necessity, and because the rush pressure at times is more imagined than real.
It was by far his worse game as a Trojan, and it shouldn't surprise us. The Beavers had all the confidence in the world and played like it.
Their defensive backs were nothing less than sensational, giving pass rushers enough time to break down the Trojans' pass protection, and in general, wreaking havoc from a distance.
I thought Lincoln Riley had an answer for this OSU stubbornness when he inserted Raleek Brown into the game. He's got the ability to render any stiff defense null and void with his elite shiftiness and speed.
But Brown never got the touches needed to find a rhythm and become productive.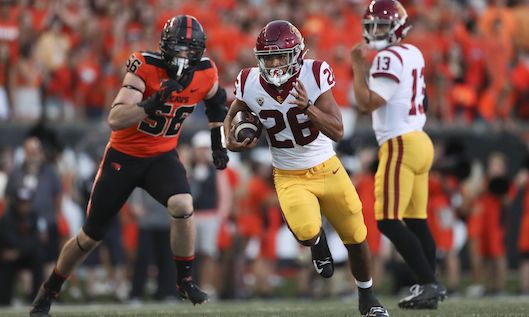 Travis Dye led the running game, and without his consistent second and third efforts, this may have been a different result. He almost committed the first USC turnover with a fumble, but the Trojans recovered.
He was more of a determined wrecking ball after that miscue. 
The real heroes, as were so fond of saying today, are the Trojan defenders. It's nice to see that a paltry two-turnover drought against FSU was just a temporary tease.
With four more takeaways—all interceptions—SC has 14 for the year and continues to lead the nation in turnover/takeaway ratio. 
The defense held a fantastic OSU offensive unit to 320 total yards and 14 points. This group has improved in the second half of every game so far, a real credit to Alex Grinch and his assistants.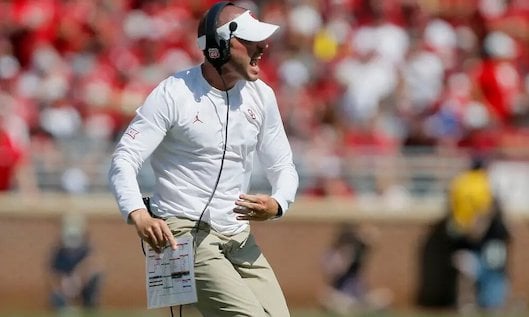 I hope we can put to bed the ridiculous narrative so often used in referring to SC's potential, "Sure, the offense is great, but I worry about their defense." 
We should no longer worry. Without their toughness and tenacity, the Trojans could be staring at 2-2 right now. It continues to bewilder how they keep rising to the occasion.
Both sides of the ball need fine-tuning. It's a never-ending pursuit, and this year's team has yet to reach its peak. But it's obvious they're progressing in various ways week-by-week.
Those positive intangibles of trust and an unyielding work ethic needed to develop a winning culture, once murky months ago, have come into focus and can now be relied upon by the players for support and guidance.  

Can a crowd of only 26,000 give the proper support needed to boost their team to victory? It depends on who's fans. Beaver fans certainly proved they could.
They made life mild insanity for the Trojan offense all night; false starts, delay of game calls, using time outs to prevent delay of game calls and eliminating their ability much of the time to relax and execute.
They were a total burden.
But the bedlam was nothing the Trojans couldn't overcome. That's the mark of a team that can win championships. 
---
—More from Mik Dietlin—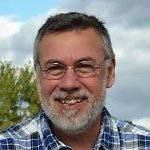 Latest posts by Mik Dietlin
(see all)