Posted on October 4, 2022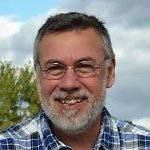 By Mik Dietlin, SuperWest Sports
Before we dive into the Trojans' 42-25 victory over Arizona State, I need to address a calamity that has stricken the USC program.
I want those SC sideline towel-waving imbeciles fired.
I have to assume they're being paid to act like rodeo clowns because quite frankly, no mature adult would behave like that just for the love of it.
Their cornball antics sprinting down the sidelines after Trojan ball carriers headed for a score, manically twirling gym towels after every positive play serves no purpose other than to annoy Trojan fans, and no doubt the rest of the country.
We can't even cite comic relief as a reason for their existence. At least with rodeo clowns there's the hope one will get flung out of the arena into the fifth row.
If nothing will be done to permanently remove these "people" from the bench area, then I have a suggestion that'll make their presence less urpy.
Have a hyperactive bull on the sideline running stride for stride with Timmy and the Towelettes. It'll add a strong element of danger to their stupid theatrics.
Might as well slap some clown paint on these guys to complete the experience. Football meets the rodeo. Now that's entertainment.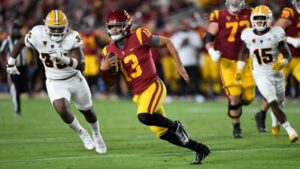 What jumps out the most about the ASU game is that there are very few quarterbacks in the nation, if any, on equal terms with Caleb Williams' skill set.
I have yet to see a performance as remarkable as what Williams displayed versus the Sun Devils.
I don't know where this game ends up if he doesn't elude rushers and convert first downs the way he did so often. His accuracy and velocity on the run were awe-inspiring.
He made sure his mediocre effort against Oregon State wouldn't happen two weeks in a row with an extremely focused showcase of his talents.
And he could have had an even better night statistically if it weren't for penalties, or if he received help from his offensive line. They owe him big time.
Without his strength and elusiveness, this game likely is decided by 7 points or less.
The interception he threw into double coverage in the end zone was a horrible read, and it probably cost the Trojans a touchdown. But we can easily forgive it because of how on-point he was the entire evening.
From a total team perspective, this might be as good as it gets for 2022.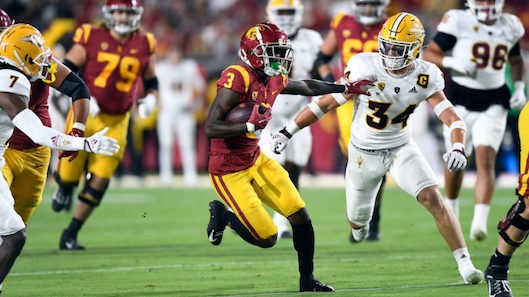 Every week the coaching staff harps about how everyone can coach and play better, yet the inconsistencies still occur too often for this team to advance to where they'd like to end up.
Which is an appearance in the Championship Game.
I don't see the defense progressing in the way Clemson's once anemic offense has this season.
You get the feeling a switch has been flipped in Death Valley. That offense is revving up. Consequently, the Tigers now look like a solid playoff contender.
At times during the first half, I felt as if remnants of Hurricane Clay were still causing damage. Tackling was optional, as was blocking an aggressive and effective ASU defensive front. 
The running game, other than Williams' deft scrambling, was non-existent.
Emotion is vital to success in any sport, maybe football most of all. You have to motivate yourself in any way possible for as long as possible to continue to hit and take hits. It's never easy. The great ones do it all the time.
I didn't see much motivation out of the Trojans in the first half. I did see a lot of going through the motions.
Fortunately, the coaching staff knows how to make halftime adjustments, and more importantly, get the players to implement them with desire.
This has happened in every game except Rice, where no adjustments were really needed. But you can lose games in the first half, as they nearly did against Oregon State.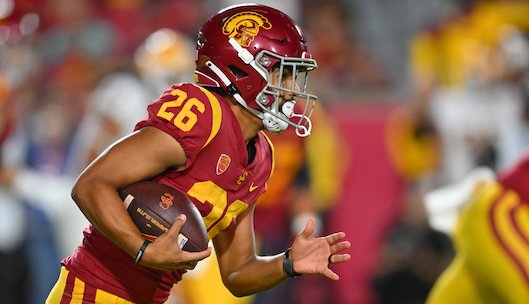 No one knows this better than Travis Dye.
You want players like Dye on your roster because they play every down like it's their last. They're influential and indispensable to team chemistry. They're true leaders.
Dye recognized the importance of leading once again after the game when he spoke to the media.
"Some people don't know what it's like to lose on this team," he said. "That can be a problem. But we're going to get it right. We're going to make sure our guys know that winning like this is very rare.
"The energy level was not where we need it to be, and that type of energy level will get us beat by better opponents coming up in a couple of weeks. So we really got to get this straight really fast."
Those better opponents are essentially the remainder of the schedule. There still is a big job to do regarding the development of hard, prolonged effort.
Until that DNA is ingrained within the entire team losing could happen any game.
Yes, the Trojans are 5-0. They should be 6-0 heading into Utah. They'll be 5-1 if they play execute against Washington State the way they did against ASU.
From here on out every game is for the conference title. Really, every practice is for the conference title.
That ought to be the mindset whether you're scrimmaging, or playing Rice or Utah or Oregon. We'll see in the coming weeks how that ideal translates to the field.
We now fully understand how unimpressive WSU's win over Wisconsin has become. At the time it felt big, like part of a Pac-12 resurgence to respectability.
The Pac-12 has improved significantly compared to the past several seasons, largely due to the abundance of quality quarterbacks.
WSU is one of those programs that has risen to the top half of the conference under head coach Jake Dickert.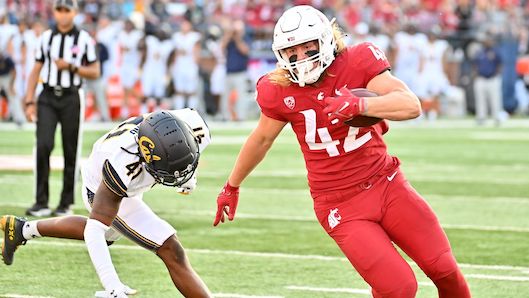 I'm not sure they're ready for the big time just yet though. They will come into the Coliseum Saturday ready to fight.
Except for the meltdown against Oregon, their defense has been stout.
They could magnify the sudden pass protection deficiencies of SC's offensive line the way ASU only hinted at. This game could finally be the shoot-out everyone thought the Trojans would be engaged in weekly. 
FINAL SCORE- USC 48, Washington State 40
---
—More from Mik Dietlin—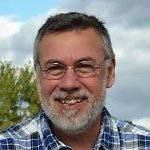 Latest posts by Mik Dietlin
(see all)