Posted on September 23, 2022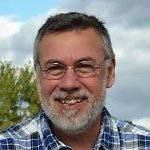 By Mik Dietlin, SuperWest Sports
I
f you thought prior to this season the Trojans would finish 9-3, a reasonable conclusion, you probably thought one of those losses would happen on the road against Oregon State.
But this Trojan team has to be significantly further ahead right now than anyone had a right to expect in late August. Therefore, every team on the schedule has to be looked at in a different light.
OSU brought head coach Jonathan Smith aboard in 2018 to see if he could resurrect a floundering program.
The hire made sense, Smith being an excellent former Beaver quarterback who led his team to one of the biggest wins Corvallis has ever seen, the legendary 41-9 stomping of 10th ranked Notre Dame in the 2000 Fiesta Bowl.
As far as I'm concerned, every person on the field that day helping to take apart the Irish, including cheerleaders, should be in the College Football Hall of Fame.
Into his fifth season at OSU, Smith's tenure rests in an imperceptible haze on the basis of a 19-28 record. The record is bad, but he's brought stability and identity to Beav Town, laying the foundation to hopefully a brighter future of piling up more wins than losses.
That identity centers around a tough running game. Smith understands he'll never out-recruit the flash-obsessed Quacks, so he offers recruits the exact opposite—a school for those young men wishing to play blood, sweat, and tears football.
The Beavers don't have to sell themselves as an SEC of the west coast program. They live it. They're the Anti-Quack Attack.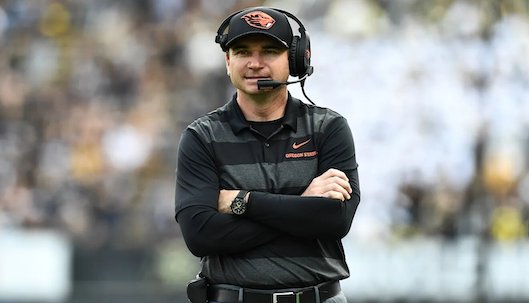 Smith's off to a promising start in 2022. It looks like it might be his best season in the gorgeous Willamette Valley.
But as long as Sheriff Knight runs Eugene, it's hard imagining the Beavers winning this perpetual Civil War.
Oregon State does have to match up, as best they can, with improving the university's sports infrastructure and facilities as well as all forms of student-athlete programs.
To this end, renovation of Reser Stadium began last January. They couldn't allow UO's Hayward Field renovation to stand without a response.
The design will include a beautiful student center just outside the stadium. The new four-story facility will provide whole-student care, including primary care, counseling, and laboratory services.
The 153 million renovation should be completed by the summer of 2023.
A nice crowd showed up in January to witness the older, west end of Reser Stadium get blown up, which is natural.
I enjoy a good implosion as much as the next guy, so I decided to take a peek online. It was rather underwhelming, like the Beavers' record post-Mike Riley.
Mark Rado, project superintendent of Hoffman Construction, explained to a local news outlet exactly how all this destruction was going down.
"Once the chargers go off, the implosion is supposed to intend to have the structure go straight down, and come to the west slightly," he said. "So the intent is not to explode… it's to implode and bring down, in a controlled fashion we'll say, right?"
I guess so. You're the superintendent. I viewed the "implosion" from many different angles, and there wasn't one inch of the stadium that moved west as advertised. For some reason, I found that disappointing.
The upper facade holding the press box didn't implode, it toppled straight back and away from the base of the structure. The entire west end appeared to just fall down and go boom.
Anyway, construction has dwindled attendance down to 26,000, from 43,300. How many of the 26,000 seats will be allotted to the visiting side?
I have no idea if a scant 26,000 fans can deliver the proper emotional impact needed to help their team. So, if any Bruin fans out there can offer some of their experience here, I'd be grateful.
Earlier this week Smith announced that talented tight end Luke Musgrave will be inactive on Saturday. That's a slug in the mouth to their offense.
Aside from being one of the best tight ends in the Conference, a lot of how the Beavs function offensively is predicated on Musgrave's superb all-around abilities.
Whether anyone steps up, in no small part will determine USC's margin of victory.
USC's run defense remains a concern. I've got a feeling it will be for a while.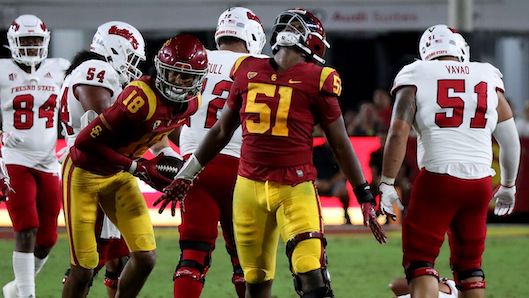 When the defense trots on the field to begin a series, Tuli Tuipulotu should tell the referee to just pick up the ball from wherever it is and move it to the Trojan 20-yard line.
That seems to be where all this "straining" starts. Oregon State isn't the ideal running attack to try and fix gap problems against, but in the grand scheme, it doesn't matter. No time like the present.
While watching the OSU-FSU game you got the impression both teams were evenly matched. As expected, FSU had difficulties controlling OSU's run game, and OSU had issues with FSU's passing attack.
Until FSU got in the red zone, that is.
Both FSU and OSU are well-balanced offensively, and both have pretty good athleticism on defense with play-makers that can cause problems.
You never got the feeling FSU and USC were evenly matched. I don't think OSU and USC are either.
The same pundits hyperventilating that SC was on upset alert against the Bulldogs are the same ones trying to convince the country that the Beavers can slay the dragon at home once again, as they did in '67, '06, and '08.
Not this year.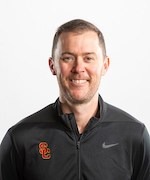 At some point this past week Lincoln Riley called a team meeting to show his players a feature documentary, last year's throttling by the Beavers at the Coliseum. Soda pop and popcorn were not offered.
Then he handed the presentation over to his guest speaker, DC Alex Grinch. Grinch specifically pointed out to his defense, in case they weren't adding up the rushing yardage OSU collected, that they ended with 322.
I'm sure he threatened them in some way. For instance, altering their job status, as punishment for having to show a rerun of that carnage to next year's defense.
The Trojans will struggle a bit in this game, perhaps a little more than against Fresno State. But it'll be all right. I don't believe in jinxes, so I'll predict a turnover or two. Hope I'm wrong.
Final Score: USC 38, Oregon State 24
---
—More from Mik Dietlin—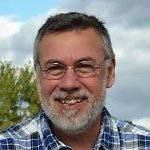 Latest posts by Mik Dietlin
(see all)