Posted on September 5, 2021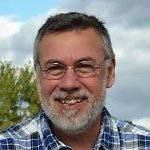 By Mik Dietlin, SuperWest Sports
N
ear the end of USC's 30-7 victory over San Jose State Saturday at the Coliseum, with the contest no longer in doubt, the Trojans aggressively marched toward the end zone with a sense of urgency unseen since the middle of the first quarter.
Well inside Spartan territory, all they really had to do was run clock and hop on the bus.
The running game had been a loyal ally most of the game, totaling 160 yards on 34 attempts, a 4.7 average. Not a scintillating number, but for the first time in I-don't-know-how-long, the offensive staff was noticeably committed to it's success.

Even if they had fumbled away possession, at 23-7, SJSU had to score two touchdowns plus a couple of two-point conversions in just under four minutes to stay in the game. Since SJS managed just one score the first 56 minutes, odds were high.
The game was over. But not for The Cat. 
All summer he'd been meowing how this offense could average 40 points a game, no problem. No one alive believes this except him. But the number '23' mocking him on the scoreboard ate him up—30 looks a lot better, and is much closer to 40 than 23.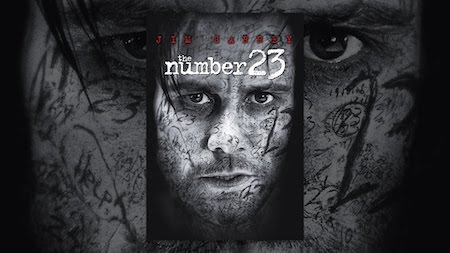 SJSU had no interest in using their remaining time outs, being far more interested in hopping on the bus. So rather than put a stamp on the game by playing power football, running on every down, the Trojans passed their way down the field.
Then Drake London, who had a remarkable 12 catches for 137 yards, caught his final pass of the day.
While fighting for additional yards, as usual, the Spartan defense was determined to halt his progress by any method necessary, even if it meant pretzeling him as he fell.
London got up shaky, hobbled off the field, and handed his helmet to the assistant in charge of keeping helmets away from players who aren't supposed to have them.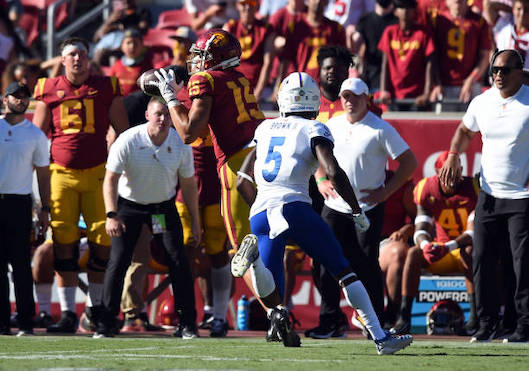 I wonder how much that job pays? Are there any other duties involved, like cleaning mud from cleats, or keeping the Gatorade bucket filled? I'm looking for easy part-time work after I retire in a few years.
London is going to be okay, thank God. I'm not going to be so irresponsible as to claim that in trying to fulfill an ego-driven desire, The Cat almost got USC's best player injured.
But I sure can suggest it.
Unless the Trojans develop a few more options in the passing game, they'll be lucky to average 30 points a game, and—God forbid—they will get London injured.
After Memphis portaler Tahj Washington's 29-yard touchdown grab on USC's second possession, it appeared he would instantly emerge as one of those options. Unfortunately he wasn't thrown to all that much afterward, catching only three more passes for 27 yards.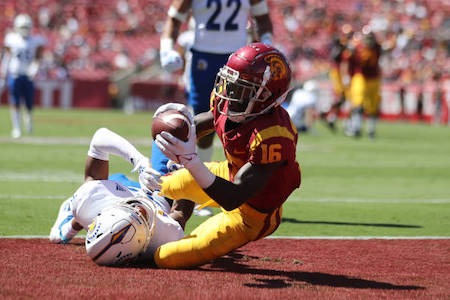 No doubt Washington can develop into a solid second option, but he and every other receiver not named London are going to have to get targeted a great deal more for that to happen.
In a stunning turn of events at this early stage, the Trojan passing game needs significantly more work than the running game, which is a testament to new offensive line coach Clay McGuire.
Finally, after years of ineptitude, someone may have taught that unit how to run block. SC converted three third downs on the ground, all of the attempts four yards or longer. I wouldn't have believed it unless I saw it.
Next adventure: mastering third-and-one conversions. And not by tossing the football 30 yards down the sideline. Still, despite slight improvements, the offensive line isn't creating enough of a push most of the time.
Familiar offensive habits reared their ugly head once again, such as the inability to score touchdowns in the red zone, and the always entertaining Houdini act of disappearing for large stretches of the game.
So vast was one stretch that during the fourth quarter, the Coliseum crowd directed their attention from the inaction on the field to minding their sun tans.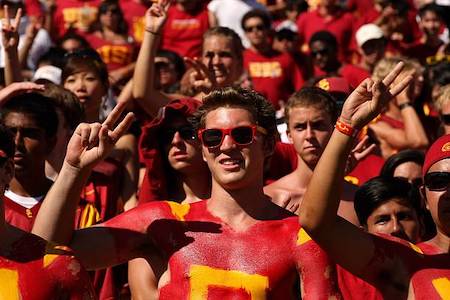 Yes, all was quiet on the western front until nickel back Greg Johnson picked off a Nick Starkel pass and sprinted 37 yards for a touchdown to slam the door with 11:50 remaining.
If that seems a little too early to slam the door, it speaks to the inability of the Spartan offense to get into scoring position.
The Trojan defense won this game, despite Drake Jackson seeing limited second-half action and Superman freshman Korey Foreman looking more like George Foreman.
Safety Calen Bullock was brilliant filling in for Isaiah Pola-Mao (health and safety), and Trojan corners smothered Spartan receivers all game.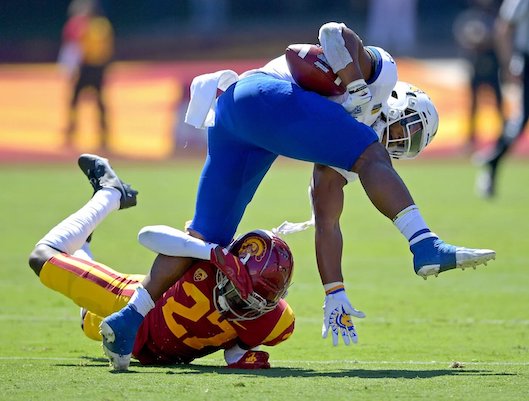 A stat that should be cause for celebration: SC went into the game determined to shut down San Jose State's rushing attack, and did just that, giving up only 68 yards.
The Trojans now face five straight conference opponents. We'll know who, what, and where this team is at the halfway mark.
In many ways, the SJSU game was typical of what we've been seeing for a long time. There were a few encouraging signs, but a significant body of work needs to be established to determine if they're mirages or something tangible and consistent.
Another positive aspect of the team's play is committing just four penalties for 35 yards. In tight games, those kind of numbers are invaluable—and this was a tight game. The 23-point margin tells a false narrative.

The biggest frustration, besides you-know-who, is watching the offense operate like a machine, driving effortlessly down the field, only to watch the machine go kapooie inside the opponent's 20.
There's a clear hesitancy to trust the run as the Trojans approach the goal line. The only way to become a better red-zone offense is to just run the damn ball when you should, and live with the consequences.
Whether you fail running or passing, it's three points either way.
So class…After the first week, what have we learned?
Not much.
It feels like this team will go as far as the defense takes it. And if defensive coordinator Todd Orlando can get his guys to apply more pressure to the quarterback, with the way the defensive backs can cover, we might learn to like it a lot.
---
—More from Mik Dietlin—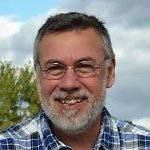 Latest posts by Mik Dietlin
(see all)