Posted on September 14, 2022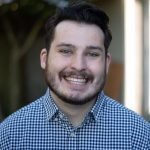 By Cody Schoeler, SuperWest Sports

The opening week of the NFL season was certainly a welcome sight. We got to see a ton of great games, some not-so-great games, and a ton of great performances.
But the first week also altered a lot of our perceptions we had of teams entering the season.
We think we have a good understanding of these teams from the preseason but until they actually take the field, everything is uncertain.
That is demonstrated by the fact that only two of the eight west teams are in the same spot in this power ranking that they were last week.
There will certainly be more changes in this list as the season progresses but for now, this is where each team stands one week into the season.
1. Kansas City Chiefs (1-0-0)
T
here aren't very many teams that looked as impressive in Week One as the Chiefs. They slaughtered the Cardinals 44-21 in a game that was not as close as the final score suggests.

Quarterback Patrick Mahomes was absolutely on fire, throwing for 360 yards and five touchdowns.
He didn't struggle at all without wide receiver Tyreek Hill as the stable of tight end Travis Kelce, running back Clyde Edwards-Helaire, and wide receivers JuJu Smith-Schuster and Marques Valdes-Scantling all looked great in the offense.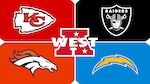 The Chiefs' defense also played well, holding the Cardinals to seven points through three quarters, but there will be more substantial challenges coming for that unit down the road (maybe even as soon as this week).
Overall, Kansas City had one of the best showings of all teams this week and has rightfully earned this spot atop the list.
2. Los Angeles Chargers (1-0-0)
T
he Chargers are one of the teams that stayed put in these rankings, earning the Number Two spot on the list.

They beat the Raiders by a score of 24-19, giving them a big division win to start the season.
But this was far from a flawless win for Los Angeles. The offense could have performed a bit better. Quarterback Justin Herbert played well, which is no surprise, and threw for 279 yards and three touchdowns.
The rest of the offense was solid but players such as running back Austin Ekeler and wide receiver Mike Williams were underwhelming.
Wide receiver Keenan Allen also left the game with an injury, which could be detrimental if he misses an extended period of time.

But the reason the Chargers remain near the top of this list is the new-and-improved defense. Even without their big free agent signing, cornerback J.C. Jackson, Los Angeles's defense played great.
The pass rush played exceptionally well, racking up six sacks, three of which came from new outside linebacker Khalil Mack.
The secondary will need to play better after getting torched by wide receiver Davante Adams but so far the Chargers have looked as good on the field as they did on paper.
3. Seattle Seahawks (1-0-0)
T
he Seahawks move way up the rankings by virtue of being one of the three west teams to start the season 1-0.

They did so in an entertaining fashion, beating former Seahawks' quarterback Russell Wilson and the Denver Broncos 17-16 in primetime on Monday Night Football.
Quarterback Geno Smith was the story of the game, playing surprisingly well as the starter. But the offense sputtered a bit in the second half and failed to score a single point.
The defense was able to maintain the lead thanks to two goal-line fumbles that may have been more a product of luck than anything else.

Outside linebacker Uchenna Nwosu played well off the edge all night and middle linebacker Jordyn Brooks looked good in his first game as the leader of the defense.
If the Seattle defense can play as well as it did on Monday then the Seahawks may be a much better team than many expected heading into the season.
4. Las Vegas Raiders (0-1-0)
O
f all the west teams that lost in week one, the Raiders looked the best in defeat. They played a close game against the Chargers but ultimately fell to them by a score of 24-19.

The bright side for Las Vegas was the connection between quarterback Derek Carr and wide receiver Davante Adams.
The two former college teammates looked like they never stopped playing together, connecting 10 times for 141 yards and a score.
Unfortunately, the weaknesses that were apparent about this team before the season presented themselves in the game too.

The offensive line looked outmatched against the Chargers' pass rush, giving up six sacks. Las Vegas was able to generate some success in the running game, though, allowing Josh Jacobs to gain 57 yards on ten carries.
The Raiders may look a lot better when they aren't playing a team as good as the Chargers but those are the teams they will have to beat if they want to go far this year.
5. Denver Broncos (0-1-0)
E
ven though the Broncos lost a closer game than the Raiders, they didn't look as impressive in their 17-16 loss.

Quarterback Russell Wilson needed some time to get on the same page with wide receivers Jerry Jeudy and Courtland Sutton but had decent success targeting both players.
The ground game also looked impressive, racking up 103 yards on a 5.2-yard-per-carry average.
The defense also showed some competency, especially from outside linebackers Bradley Chubb and Randy Gregory, who had some big plays against Seattle's rookie tackles.
But Denver did allow Seattle quarterback Geno Smith to get off to a near-flawless start before settling down and shutting them out in the second half.
If one guy is going to hold this team back in 2022 it may be head coach Nathaniel Hackett.

He is drawing a ton of criticism for how he managed the game down the stretch, including electing for a game-winning 64-yard field goal instead of letting Wilson try to convert a fourth-and-five.
The Broncos certainly have the talent to rise up these rankings but will have to look like a much more cohesive unit going forward in order to do so.
6. San Francisco 49ers (0-1-0)
T
he 49ers are by far the hardest team to judge after the first week.

On one hand, they lost 19-10 to a Chicago Bears team that figures to be pretty bad in 2022. Quarterback Trey Lance also was very underwhelming in his first game as the unquestioned starter.
On the other hand, this game was essentially played on a slip-'n'-slide and Lance was without tight end George Kittle, who is essential to the offense.

This game could end up being the warning sign that San Francisco is in for trouble this year. But more likely, this game ends up as a Week One anomaly and the team looks completely different in Week Two and beyond.
The 49ers still have a bunch of talent on both sides of the ball and will hopefully be playing in much better conditions for the other 16 games.
7. Los Angeles Rams (0-1-0)
L
ast week, the Rams checked in at Number One on this list as the defending Super Bowl champions.

All of that goodwill is now lost after the Rams' horrendous showing, a 31-10 loss to the Buffalo Bills to open the season.
Yes, the Bills are a very good team that entered the season as the Super Bowl favorites. But the Rams were also supposed to be a very good team that could compete for a repeat.
Quarterback Matthew Stafford looked like he wasn't aware the season was starting that week, throwing three interceptions.
It didn't help that new left tackle Joe Noteboom looked completely outmatched by the Bills' pass rush, especially outside linebacker Von Miller.
Wide receiver Cooper Kupp still managed to have a good game because he, like Thanos, is inevitable.

But were his 13 catches for 128 yards and a touchdown due to free-agent addition wide receiver Allen Robinson's inability to produce in his new role?
There are plenty of questions that this team must answer going forward.
The good news is that it is a long season and there is plenty of time for Los Angeles to work out its problems and look like a much better team as the season rolls on.
8. Arizona Cardinals (0-1-0)
T
he Cardinals will certainly not be ecstatic to find out that they are last on this list (because obviously, they pay very close attention to my rankings).

But that is what happens when you lose in the most lopsided game of the week.
Arizona's 44-21 loss to the Chiefs may not be as shocking as some of the other scores from the weekend but it definitely wasn't expected.
Both teams had some concerns heading into the game but only one team played like it.
Newly-extended quarterback Myler Murray didn't play his best game despite going up against a Kansas City defense that isn't necessarily stout.
He threw for 193 yards and two touchdowns and was also the leading rusher with 29 yards on five carries.

The Cardinals' defense also needs to play a lot better. They gave up 488 total yards and forced just one turnover, a fumble recovery by cornerback Byron Murphy.
Arizona will have a chance against a less formidable opponent this week to prove that they aren't deserving of the bottom spot on this list but, for now, that is where they reside.
---
—More from Cody Schoeler—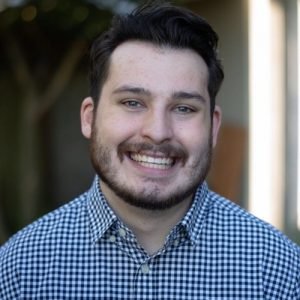 Latest posts by Cody Schoeler
(see all)