Posted on November 27, 2022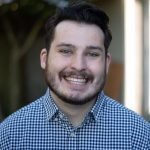 By Cody Schoeler, SuperWest Sports

Thanksgiving week means an extra day of football. Instead of just one Thursday Night Football game, we get three games taking up the majority of the holiday.
Unfortunately for fans of the west teams, none of those eight squads get the luxury of playing on Thursday. But they are competing in five contests on Sunday, so that should be fun.
Some teams will surely come out on Sunday ready to play and improve their standings in their division and conference.
Other teams will come out still in a food coma from eating too much turkey and pumpkin pie and will look sluggish and sloppy on the field.
Which teams will fall into which category? It's hard to tell right now. But that doesn't mean I won't attempt to do so.
Here are some quick previews for each of the five games involving west teams this week, hopefully, your favorite team will give you a reason to be thankful this weekend.
Broncos (3-7-0) at Panthers (3-8-0)
Sunday, November 27
10:00 a.m. PT, FOX
T
hings haven't been going too well for the Broncos.
They've lost six straight games in the United States, including last week's overtime loss to the Raiders that dropped them to last place in the AFC West.
Lucky for them, they're drawing an opponent this week that hasn't been playing too well either.
The Panthers announced this week that quarterback Sam Darnold would be starting for them, which will be his first start in over a year.
That should prove advantageous for the Denver defense, which is still holding up as one of the best in the league. They're allowing the third-fewest points in the league while the Panthers are scoring the eighth-fewest.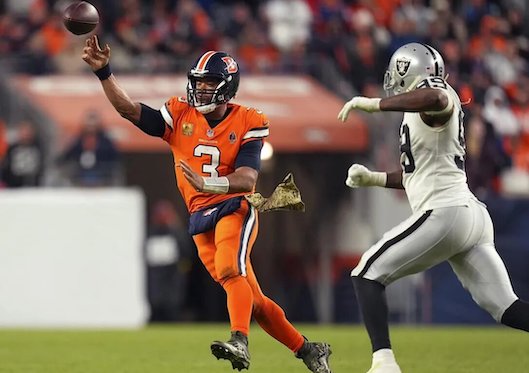 Darnold certainly will be the x-factor in the game. He has a chance to elevate the offense, which does have some pretty good weapons.
Of course, he could also experience some struggles against a good Broncos defense and fail to put up points.
Carolina won't need too many points to win, since Denver is averaging the fewest points per game and hasn't put up more than 23 points in a game.
Things are only getting worse for the Broncos, who released running back Melvin Gordon this week and have wide receiver Jerry Jeudy dealing with an injury.
There won't be very many points scored in this matchup, that's for sure.
If quarterback Russell Wilson can demonstrate more of the flashes of his upside that he's been showing recently, then the Broncos should have a really good chance to earn a win.
But if the same issues continue to plague this team, then it's hard to have confidence in them beating anybody, even this Panthers team.
Raiders (3-7-0) at Seahawks (6-4-0)
Sunday, November 27
1:05 p.m. PT, CBS
T
he Seahawks weren't able to continue their winning ways two weeks away in Germany, but now they are back in the United States and coming off a bye week looking for a win.
They'll have a decent chance to get one, going up against a Raiders squad that has been underwhelming this year.
Las Vegas was projected to have far more wins by now than the three that they do have. Meanwhile, Seattle has already surpassed their preseason win projections in most places.
If quarterback Geno Smith and the Seahawks' offense can bounce back, then they should have a productive day on Sunday. The Raiders have been particularly poor on defense, especially against the pass.
Las Vegas is allowing the highest opponent quarterback rating and is in the bottom 10 in yards per game allowed.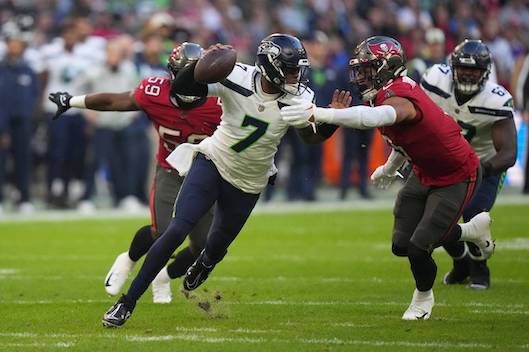 The Seahawks have one of the wide receiver duos in D.K. Metcalf and Tyler Lockett, who should be able to give the Raiders' secondary a lot of issues.
But neither of those two will be the best wide receiver in the matchup. That is because the Raiders have Davante Adams, who is once again playing like one of the best pass-catchers in the sport.
Adams has been the main fulcrum of the Raiders' offense recently, especially with running back Josh Jacobs slowing down a bit.
The Seahawks are a capable pass defense, but with rookie cornerback Tariq Woolen leading the way, they could get torched by Adams.
Las Vegas will likely need quarterback Derek Carr to have one of his better games to keep up with the high-scoring Seattle offense.
If Carr fails to outplay Smith, then it's hard to envision a way in which the Raiders can win the game.
Chargers (5-5-0) at Cardinals (4-7-0)
Sunday, November 27
1:05 p.m. PT, CBS
T
he good news for the Cardinals is that quarterback Kyler Murray looks slated to be back under center this week after missing two games.
The bad news for them is that Murray's return may not be enough to get them the win against the Chargers.
Los Angeles has not had their best season by any means. But they have shown that they can hang in there with the top teams in the league when they are playing their best.
The Chargers still have the sixth-most passing yards per game this year, despite being only 14th in points per game. Most of that success is due to star quarterback Justin Herbert, who may get even better now with wide receiver Keenan Allen back from injury.
The Cardinals, on the other hand, have the 16th-most passing yards per game, even with Murray and some star pass-catchers such as wide receiver DeAndre Hopkins and tight end Zach Ertz, who was just placed on the IR.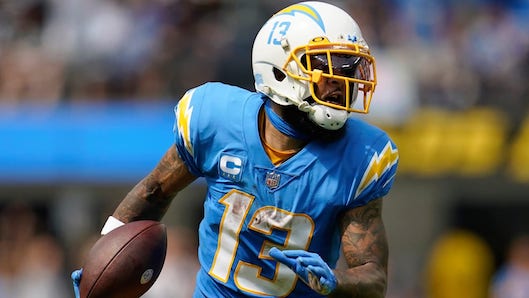 This game will probably be decided through the air, although Chargers' running back Austin Ekeler is one of the best backs in the league.
But both teams are similarly ineffective at stopping the pass. The Chargers are allowing the 10th-most passing yards per attempt, with the Cardinals not too far behind at 12th.
Los Angeles does have a slight advantage in the pass-rush department, where it has a 6.2 percent sack rate compared to Arizona's 4.6 sack rate.
That is where it pays off to have outside linebacker Khalil Mack, whom the Chargers gave up quite a bit of assets to acquire this offseason.
With Herbert in tow, the Chargers should have the advantage in this game. But Murray has the talent to outplay his counterpart, so whichever quarterback plays better will probably leave with the victory.
Rams (3-7-0) at Chiefs (8-2-0)
Sunday, November 27
1:25 p.m. PT, FOX
I
n most seasons, these two teams squaring off would be one of the games of the year. But this season that is certainly not the case.
The Chiefs are heading into this matchup atop the conference, and arguably the league, and are more than a two-touchdown favorite because of it.
The Rams will be without wide receiver Cooper Kupp and maybe even quarterback Matthew Stafford, but they probably wouldn't stand much of a chance even with those two.
Los Angeles is averaging nearly two touchdowns less per game than Kansas City, 16.8 to 30. So the idea that the Rams will be able to trade touchdowns with the Chiefs is one that probably won't be happening.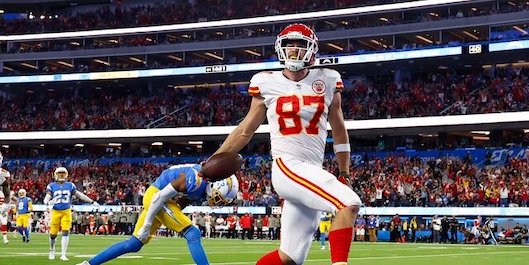 The Rams will also have a difficult time slowing down the Chiefs' offense. They aren't having their best season, giving up 22.7 points per game, which is 16th in the league.
The talent is still there, mainly defensive tackle Aaron Donald and cornerback Jalen Ramsey, but the production hasn't been.
They've given up 27 or more points in three of their last four games, and none of them were against offenses as efficient as Kansas City's.
The Chiefs, on the other hand, might have some success on defense in the matchup. They've quietly put together a pretty solid season on that side of the ball, especially lately.
Defensive tackle Chris Jones and defensive end Frank Clark will have plenty of success against the Rams' makeshift offensive line, which has allowed 35 sacks this season.
That will also make it hard for the Rams to establish a run game against the Chiefs, who are allowing the fifth-fewest yards per game.
Los Angeles surely faces an uphill challenge in the form of Kansas City, but if the Super Bowl champion version of the Rams shows up, if that version even still exists, then they may be able to keep this game close.
49ers (6-4-0) vs Saints (4-7-0)
Sunday, November 27
1:25 p.m. PT, FOX
T
he 49ers are rolling at the moment, on both sides of the ball. They've racked up three straight wins, by a combined 51 points no less.
And they're the only team that is in the top five in yards per play on both offense and defense.
The Saints are not rolling right now. They are coming off a win over the Rams but had lost the previous two games.
They're just average at best on either side of the ball, so a contest against a team that is firing on all cylinders like the 49ers may not end well.
New Orleans is allowing the eighth-most points per game, which is unusual for a defense that is usually so stout.
The 49ers will certainly stress that defense with playmakers such as running back Christian McCaffrey, wide receiver Deebo Samuel, and tight end George Kittle.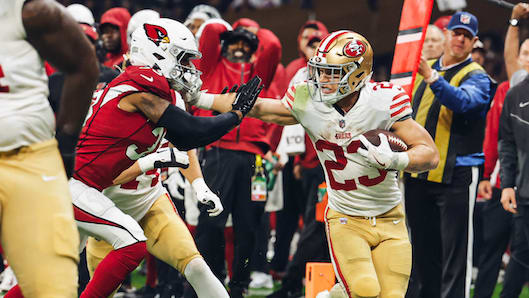 And with a defense that is tied for the fewest interceptions in the league, the Saints may also be unable to force quarterback Jimmy Garoppolo to make mistakes.
That means the Saints are going to need to put up some points to stay in the game, which is going to be tough to do against arguably the best defense in the game.
They're scoring 22.6 points per game, but hitting that mark probably won't be enough to get a win this week.
The offense runs through running back Alvin Kamara, who is New Orleans' most talented player. But with San Francisco possessing the best run defense in the league, just 81.1 rushing yards allowed per game, that may not be the recipe for success.
That would lead to quarterback Andy Dalton, who has been up and down, and rookie wide receiver Chris Olave, who has been excellent, to shoulder the load on offense, something they may not be capable of.
It will probably take a near-perfect game from the Saints for them to win, or a disastrous effort from the 49ers.
As long as San Francisco continues to do what it has been doing, it should roll to another victory this week.
---
—More from Cody Schoeler—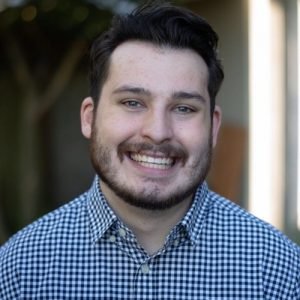 Latest posts by Cody Schoeler
(see all)