Posted on July 19, 2023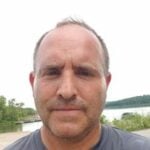 By Stephen Vilardo, SuperWest Sports
A
s we get set for conference media days and the opening of fall practices in August, we continue to bring you our preseason All-Conference, All-SuperWest, and All-America Teams.
Earlier, Jack Follman selected our 2023 Preseason All-Pac-12 Teams, and yesterday I present my selections for our 2023 Preseason All-Mountain West Teams.
Today we focus on our entire coverage area and bring you the best from among the 25 combined teams in the Pac-12 and Mountain West, plus BYU, with our 2023 Preseason All-SuperWest team.
Below you'll find First Team selections with brief summaries, followed by Second and Third Teams lists for offense, defense, and special teams.
We begin with my preseason award selections for Offensive and Defensive Players of the Year and Coach of the Year.
Offensive Player of the Year: Caleb Williams, Quarterback, USC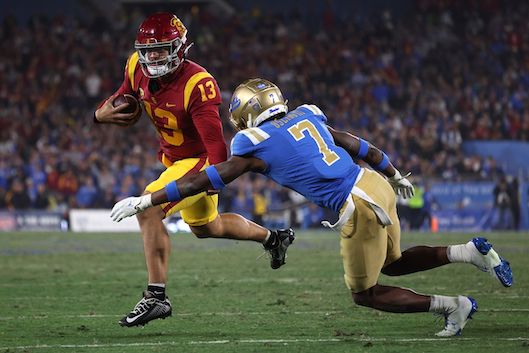 T
he reigning Heisman Trophy winner has been compared to Patrick Mahomes, only more athletic. That is quite the comparison.
In 2022, Williams was the best offensive player in the nation and led a resurgence at USC. This season, he will again be surrounded by playmakers and his numbers should see no drop-offs.
Defensive Player of the Year: Bralen Trice, Edge, Washington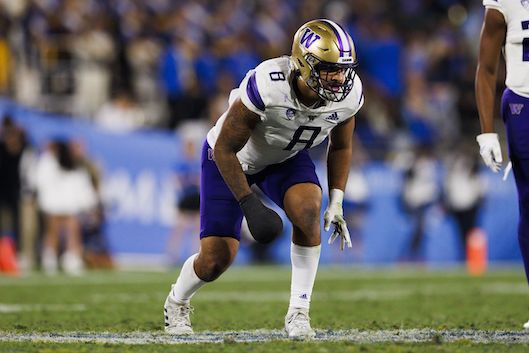 T
rice recorded an NCAA-leading 70 QB pressures in 2022. Don't look for any drop-off from the Washington defensive end in 2023.
As accomplished as he is, he does not have a lot of miles on him. He opted out of the 2020 COVID year after redshirting in 2019.
He is certainly a fresh veteran who should surpass the nine sacks he had last fall.
Coach of the Year: Lincoln Riley, USC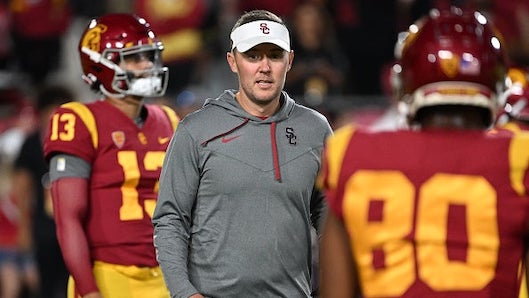 R
iley gets the nod as my choice for Preseason Coach of the Year because, when the season concludes, I think his team will have the best record of any team we cover.
But with high expectations comes a lot of pressure. And with a defending Heisman winner at his disposal, Riley should have his Trojans in a position to challenge for a spot in the playoffs.
In fact, anything less than a New Year's Six Game would count as a disappointment.
Riley enters the season with an overall 66-13 record as a head coach but is only 1-4 in bowl games and 0-3 in CFP contests. This January could be his chance to turn that part of his record around.
First Team Offense
QB: Caleb Williams, USC
In 2022, Williams completed two-thirds of his pass attempts and accounted for 52 total TDs, 42 through the air, and 10 on the ground with just five interceptions thrown.
During his Heisman-winning campaign, he produced nearly 5,000 combined yards. In big spots, he was even better, completing 71.9% of his passes on third and long and 72.2% in the fourth quarter.
He once again has a stable of weapons at his disposal and the Trojans should see no post-Heisman drop off.

RB: Damien Martinez, Oregon State
The 2022 Pac-12 Offensive Freshman of the Year got off to a slow start with just 145 yards in the first five games but then took off like a rocket ship, topping the 100-yard mark the next six in a row.
His first season in Corvallis ended with 982 yards on the ground and seven touchdowns.
Look for even more production in Year Two. The offensive line he will be running behind is one of the best in the nation.
RB: George Holani, Boise State
Holani averaged 5.2 yards per carry on the ground during his junior season. He led the Broncos last season with 1,157 yards and 10 rushing TDs.
He once again will be the featured back in an offense that should start the season with more stability at QB than it had last year.  Holani will also provide a pop on returns for the Broncos.
WR: Rome Odunze, Washington
Odunze is the best receiver on the best passing attack in the nation. He also will not see the heavy double teams, due to the talent of Jalen McMillan.
As a sophomore, Odunze was ninth in the nation with 95.4 yards per game, just behind Harrison, and averaged 6.25 receptions per game.
Look for the Husky wideout to thrive once again in Kalen DeBoer's system with Michael Penix Jr. flinging it to him.
WR: Jacob Cowing, Arizona
Cowing topped the 1,000-yard mark in 2022, finishing seventh in the nation with 7.1 receptions per game.
He enters the season with one or more receptions in 44 consecutive games, the second-longest active streak in the nation. Tetairoa McMillan will also pull some of the coverage his way, leaving Cowing more space to operate.
WR: Tory Horton, Colorado State
Horton went for 1,131 yards in 2022, which slotted him 12th nationally in receiving yards while finding paydirt sight times for the Rams.
Year Two of the Jay Norvell era in Fort Collins should see the offense clicking at a higher level and Horton's production should only increase.

TE: Benjamin Yurosek, Stanford
Yurosek's production dipped a little bit in 2022 from the numbers he put up a year earlier. But, to be fair, Stanford's production entirely dipped a bit.
He will enter his senior season as an unquestioned weapon for a Cardinal offense that may be lacking options.
Look for his numbers to increase closer to 2021 when he averaged 15.3 yards per reception, ranking ninth nationally among TEs.
OL: Joshua Grey, Oregon State
Grey will be the leader of a Beaver offensive line that should be among the best units in the nation.
Over the course of the 2022 season, Gray played a total of 781 snaps and did not allow a sack at the left tackle spot. He allowed just 11 QB hurries and six hits.
OL: Frank Crum, Wyoming
Crum has got plenty of size at 6-foot-7 and 315 pounds. Entering his sixth season this fall, Crum helped to anchor a line that saw the Cowboys rush for 181.4 yards per game at a clip of 4.9 yards per tote.
OL: Keaton Bills, Utah
Keaton Bills may not immediately offer highlights that jump out at you, but he will be consistent on a line that will churn out yards on the ground.
He spearheaded a unit in 2022 that allowed just 1.1 sacks per game and ran for 2017.6 yards per game, the 11th-highest total among FBS teams.

OL: Jarrett Kingston, USC
Kingston is versatile and can play several positions on the line. During his five-year career with Washington State, he made 16 starts at guard and 10 at tackle.
I think he will start out at RG for the Trojans, so we will slot him in here at a guard spot.
Kingston has good footwork and can be a punishing run blocker. He allowed no sacks last season, and over the past two years—spanning 1,400 snaps—he has allowed only two sacks.
OL: Justin Dedich, USC
We see another sixth-year guy on the offensive line. A guard for most of the last two seasons he will slide back to center for the Trojans this year.
During the 2022 season, Dedich saw action on 843 snaps, allowing no sacks or QB hits. Over his career, he has played 1,665 snaps and has yet to allow a sack with just four QB hits allowed.
First Team Defense
DE/Edge: Bralen Trice, Washington
Trice had a breakout season in 2022 as he tallied nine sacks on the season to lead the Huskies. At 6-4 and 269, he has the size and speed to be a dominant rush edge and offers support in the run game.
Look for Trice to again put-up big numbers and play havoc with Pac-12 passing games.

DE/Edge: Laiatu Latu, UCLA
Latu is officially listed as a linebacker on the Bruins roster but is indeed an Edge rusher on the defensive line, thus a DE or EDGE on our list.
No matter what he is labeled, the simple fact is he finds his way to the QB.
Last season he was tied for seventh in the nation with 10.5 sacks and 12.5 TFL. He created pressure on 52 plays for UCLA in 2022.
DT: Junior Tafuna, Utah
Tafuna is another player that could be in the middle or on the edge but will mostly be inside for the Utes.
Last season he had 3.5 TFL, 1.0 sacks, and a pass deflection. Tafuna was a force on a Utah defense that limited opponents to just 111.4 yards per game on the ground.
DT: James Rawls, Oregon State
James Rawls coming back to OSU was a huge win for the Beavers. The 6-2, 282-pounder led the team with 10 TFLs in 2022 getting 4 hurries, 1.5 sacks, while also forcing a fumble during his junior season.
He will headline the front of a defense that was extremely good last year but will need to retool a bit this year.
LB: Jackson Sirmon, California
Sirmon is a do-everything linebacker who just makes plays.
He was third in the Pac-12 in total tackles last season with 104. He is able to provide pressure from his middle linebacker spot as well as drop back in coverage.
Sirmon produced seven QB hurries in 2022 and found the passer to collect 4.0 sacks with 6.0 total TFLs.
In coverage, he had five passes defended with a QB rating against him of 89.8. With a nose for the football, he also picked off a pass.
LB: Mason Cobb, USC
Cobb joins the Trojans after spending his first three seasons with Oklahoma State. A Second-Team All-Big 12 honoree last season, he should make an immediate impact for USC in the middle of the field.
He was second in the Big 12 in 2022 with 13.0 TFLs. Cobb has the speed to make him a fit in coverage and pursuit in the run game.
LB: Darius Muasau, UCLA
In his first season with the Bruins last fall, the Hawai'i transfer finished with 91 tackles, had 3 TFLs, and picked off a couple of passes.
Muasau has quickness off the ball to disrupt plays at the line and has shown the ability to read the quarterback and anticipate plays on the outside.

LB: Max Tooley, BYU
Despite only playing in seven games before a season-ending injury, Tooley finished with 57 tackles and four interceptions.
Those four interceptions not only shared the BYU lead in 2022 but also shared the national lead for most in the season by a linebacker.
Tooley has the ability to make plays in the backfield and obviously has good hands in coverage.
DB: Khyree Jackson, Oregon
Jackson comes to Eugene for his senior season via Alabama and should make an immediate impact for the Ducks at corner.
The Ducks will look to Jackson to fill the void left by Christian Gonzalez, now at camp with the New England Patriots. At 6-3, Jackson can match up with any WR and has the ability to be a true star for Oregon.
DB: Jabbar Muhammad, Washington
Both corners on our First Team are transfers, and Muhammad comes to Seattle from Oklahoma State, where he had an interception and a team-high 10 passes defended in 2022 to go along with 48 tackles and a forced fumble.
Look for Muhammad to make an instant impact for a Husky defense that struggled against the pass in 2022.
DB: Calen Bullock, USC
Bullock ranked 11th in the nation in 2022 with a team-leading five interceptions with one returned the distance.
He ended his sophomore season with .71 passes defended per game and 48 total tackles. His 172 return yards on interceptions were the second-most in the country last season.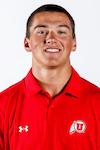 DB: Cole Bishop, Utah
Bishop is a versatile safety for the Utes, supplying help in both coverage and creating pressure.
As a sophomore in 2022, he totaled 55 tackles with 21 pressures and two sacks.
Against the pass, he was credited with three passes defended to go along with an interception. QBs had a 104.2 rating on passes when he was targeted.
First Team Specialists

K: Joshua Karty, Stanford
Karty is not just the best kicker on the west coast but the best in the nation. A Groza Award finalist in 2022, Karty connected on all 18 of his FG attempts for the Cardinal.
He was 3-for-3 on FGs of 50+ yards last season and made all 13 of his tries from 40+ yards. Karty will be a strength for a Stanford team that may need some bright spots.
P: Jack Browning, San Diego State
Last season Browning was fourth in the nation with an average of 46.30 yards per punt, and 28 of his 68 punts ended up inside the 20, while only four ended up being touchbacks.
RET: Anthony Gould, Oregon State
Gould was one of just four players in the nation with multiple punts returned for touchdowns in 2022, logging a pair.
The Beaver led the nation with an 18.57-yard return average on punts and added a kickoff return for 22 yards during his sophomore season.
RET: Christian Washington, New Mexico
Washington finished the season ninth in the nation with a kick return average of 26.69 yards per return. He also took one kick the distance as a freshman with a 104-yard return against Boise State.
AP: Travis Hunter, Colorado
During his freshman season with Jackson State, Hunter had two interceptions and eight passes defended as a cornerback while catching 18 passes for 190 yards and four touchdowns offensive.
He followed Deion Sanders to Boulder and it's safe to expect more explosive plays from him on both sides of the ball with the Buffs.
Second Team Offense
QB: Michael Penix Jr., Washington
RB: Bucky Irving, Oregon
RB: Aidan Robbins, BYU
WR: Tahj Washington, USC
WR: Jalen McMillan, Washington
WR: Terrell Vaughn, Utah State
TE: Brant Kuithe, Utah
OL: Cade Baresford, Boise State
OL: Sataoa Laumea, Utah
OL: Sioape Vatikani, California
OL: Mose Vavao, Fresno State
OL: Matthew Cindric, California
Second Team Defense
DE: Brandon Dorlus, Oregon
DE: Mohamed Kamara, Colorado State
DT: Tuli Letuligasenoa, Washington
DT: Jordan Bertagnole, Wyoming
LB: Alphonso Tuputala, Washington
LB: Cody Moon, San Diego State
LB: Karene Reid, Utah
LB: DJ Schramm, Boise State
DB: Ryan Cooper, Oregon State
DB: Cam Lockridge, Fresno State
DB: Jack Howell, Colorado State
DB: Kitan Oladapo, Oregon State
Second Team Specialists
K: John Hoyland, Wyoming
P: Eddie Czaplicki, USC
RET: Silas Bolden, Oregon State
RET: Terrell Vaughn, Utah State
AP: Jeremiah Hunter, California
Third Team Offense
QB: Bo Nix, Oregon
RB: Jaydn Ott, California
RB: Carson Steele, UCLA
WR: Troy Franklin, Oregon
WR: Justin Lockhart, San Jose State
WR: J.Michael Sturdivant, UCLA
TE: Mark Redman, San Diego State
OL: Adam Karas, Air Force
OL: Jonah Savaiimaea, Arizona
OL: Ben Dooley, Boise State
OL: Spencer Holstege, UCLA
OL: Thor Paglialong, Air Force
Third Team Defense
DE: Brennan Jackson, Washington State
DE: Ron Stone Jr., Washington State
DT: Tobin Phillips, Stanford
DT: Popo Aumavae, Oregon
LB: MJ Tafisi, Utah State
LB: Drue Watts, Nevada
LB: Easton Gibbs, Wyoming
LB: Ben Bywater, BYU
DB: Chau Smith-Wade, Washington State
DB: Travis Hunter, Colorado
DB: Evan Williams, Oregon
DB: Kenny Churchwell, UCLA
Third Team Specialists
K: Camden Lewis, Oregon
P: Kyle Ostendorp, Arizona
RET: Kris Hutson, Oregon
RET: Cole Wright, Boise State
AP: Ryan Cooper, Oregon State
---
—More from Stephen Vilardo—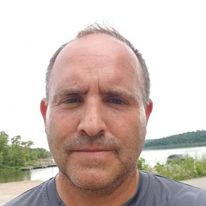 Latest posts by Stephen Vilardo
(see all)