Posted on July 18, 2023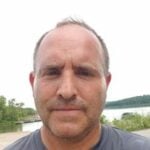 By Stephen Vilardo, SuperWest Sports

As we get set for conference media days and the opening of fall practices in August, we continue to bring you our preseason All-Conference, All-SuperWest, and All-America Teams.
Earlier, Jack Follman selected our 2023 Preseason All-Pac-12 Teams, and today I present my selections for our 2023 Preseason All-Mountain West Teams.
Below you'll find First Team selections with brief summaries, followed by Second and Third Teams lists for offense, defense, and special teams.
But first, my preseason award selections for Offensive and Defensive Players of the Year and Coach of the Year.
Offensive Player of the Year

:

Tory Horton,

WR,

Colorado State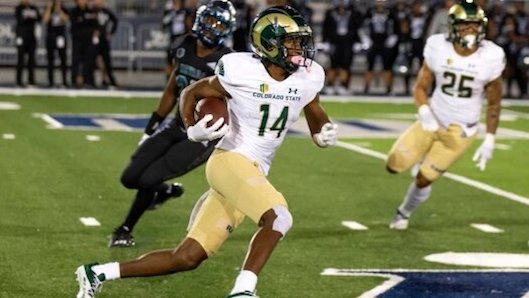 H
orton is quite simply the best offensive player in the Conference.
Now admittedly, if you had to ask me when the season ends who will win the top conference award on offense, I would put my money on Chevon Cordeiro or Taylen Green.
Quarterbacks tend to win those things and either would have been deserving of the preseason nod.
But at the end of the year, I would also be willing to bet I would be able to tell you that Horton deserved it. He is an explosive wideout that produces for the Rams on both offense and special teams.
He is an elite player and I look for him to produce at an elite level this season.
Defensive Player of the Year

:

Easton Gibbs

,

LB,

Wyoming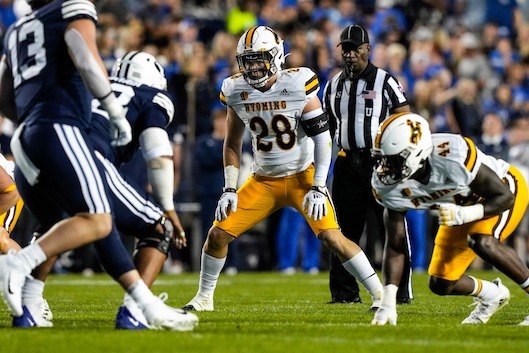 T
his was a much more difficult choice for me than the offensive selection.
The reason is quite simple: I was tempted to select Co-Players of the Year with Cam Lockridge, as I think the Fresno State DB is set for a gigantic year.
Ultimately, that would be a cop-out, so I have to go with the consistency of Gibbs.
The Cowboys have produced some top-notch defenders in recent years and Gibbs is set to be the next one. He makes plays all over the field and is sure to put up huge numbers in 2023.
Mountain West Coach of the Year

:

Andy Avalos

,  

Boise State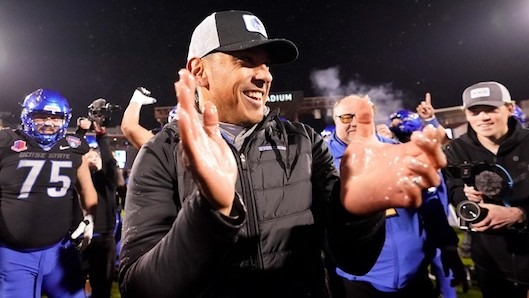 T
his was a difficult pick, to say the least.
Last season, the Broncos won the Mountain West after a slow start that included a 17-point loss at UTEP. The 2022 campaign could have been lost, if not for Avalos righting the ship.
In selecting Avalos for this preseason award, there were certainly other coaches I considered.
This season the Broncos don't have a huge talent gap compared to the rest of the Mountain West, but Avalos will again have the Broncos at the top and playing for the Conference crown.
Ultimately, that is the difference between him and the others, and why we are going with the coach who was named to the Dodd Trophy watch list as our preseason Coach of the Year.
First Team Offense 
QB: Chevan Cordeiro, San Jose State  
Cordeiro gets the first team nod just slightly ahead of Taylen Green. The Spartan senior led the conference in passing yardage and TDs in 2022.
He was responsible for 31 touchdowns in his first season with San Jose State, which was seven more than the next closest player in the Conference—which was Green with 24

RB: George Holani, Boise State
Holani averaged 5.2 yard per carry on the ground during his junior season. He led the Broncos last season with 1,157 yards and 10 rushing TDs.
He once again will be the featured back in an offense that should start the season with more stability at QB than they had last year.
RB: Dawaiian McNeely, Wyoming 
McNeely should step into the spot occupied by Titus Swen last season. Look for him to produce a similar number in the featured role as Swen went for over 1,000 yards on 5.0 yards per carry.
The junior averaged 5.7 yards per carry on 63 carries in limited action over 10 games. McNeely has big play ability, and in the feature role for the Cowboys, could put up monster numbers.
WR: Tory Horton, Colorado State
Horton went for 1,131 yards in 2022, which slotted him 12th nationally in receiving yards while finding paydirt eight times for the Rams.
Year Two of the Jay Norvell era in Fort Collins should see the offense clicking at a higher level and Horton's production should only increase.
WR: Justin Lockhart, San Jose State
Lockhart steps into the role of No. 1 receiver in the Conference's best passing attack.
Look for the 6-foot-3 playmaker to put up numbers on par with Elijah Cooks last year who had over 1,000 yards with 10 TDs. Lockhart can thrive in the Spartans system and have a special season.
WR: Terrell Vaughn, Utah State 
Vaughn is another player stepping into a bigger role this season and should thrive.
He was the second option last season and with the departure of Brian Cobbs will be the primary target in the Aggies attack. Vaughn will chew up yards on quick hitters and has the ability to stretch the field.

TE: Mark Redman, San Diego State
Redman was featured on the Mackey watch list last season at the open of the season.
The Aztec offense will feature their Tight Ends more prominently this season, similar to the way Utah utilizes their TE's.
Redman will be the featured TE in San Diego State's offense and should produce.
OL: Frank Crum, Wyoming
Crum has got plenty of size at 6'7 315 pounds. Entering his sixth season this fall, Crum helped to anchor a line that saw the Cowboys rush for 181.4 yards per game at a clip of 4.9 yards per tote.
OL: Cade Baresford, Boise State
Boise State was 10th in the nation last season, allowing just 1.0 sacks per game. Baresford was a huge part of that success on the edge of the line.
At 6-7 305, Baresford has an NFL body and should produce this season that could turn him into an NFL lineman.
OL: Mose Vavao, Fresno State
Vavao was the anchor for a BullDog team that rushed for over 135 yards per game. Vavao was a mainstay on a Fresno State line that needs to replace a lot of pieces this season.
OL: Ben Dooley, Boise State
Dooley is a big guard at 6-5, 320, and will open holes for the Bronco backs.
He missed the first eight games of the 2022 season. If he can stay on the field, he should be an incredibly special player.

OL: Thor Paglialong, Air Force
The Air Force Academy is always going to pound it out on the ground.
The Falcons have led the nation in rushing in each of the last three seasons and Paglialong is a big cog in "The Diesel" that paves the way for the runners.
First Team Defense 
DL: Mohamed Kamara, Colorado State

Kamara has 28.5 tackles for loss and 16.5 sacks in his career.
The bulk of those numbers came in 2022 when he had 16 stops behind the line and got to the quarterback 8.5 times.
Look for good numbers again as the Rams will look to him to turn up the heat on the edge.
DL: Devonne Harris, Wyoming
Harris registered 13.0 TFLs and 8.0 sacks for the Cowboys in 2022. Look for 2023 to bring more of the same. He could end up being the best edge rusher in the Mountain West.
DL: Jordan Bertagnole, Wyoming
A former walk-on from Casper, Bertagnole has become a top interior defensive lineman. In 2022, he recorded 5.5 sacks from the DT spot.
He also recorded 51 tackles and logged four QB hurries in 2022. Bertagnole will be a run stuffer in addition to creating havoc in the backfield this season.
DL: Hale Motu'apuaka, Utah State
Motu'apuaka picked up 8.0 TFL in 2022 and registered 5.0 sacks for the Aggies.
Motu'apuaka will be a super senior this year and will be looking to put together a super season, building off his 35 total tackles from a year ago.
The Hawaiian native has excellent footwork as evidenced by the fact that he is a three-time World Fireknife Champion (he was the 1st Runner-up in 2023).
LB: Cody Moon, San Diego State
Moon comes to the Aztecs from New Mexico where last season he had 105 tackles, 9.5 tackles for loss, and 4.5 sacks.
The Lobos played the same 3-3-5 scheme the Aztecs will use, so there should be an easy adjustment and his production should go up with San Diego State

LB: DJ Schramm, Boise State
Schramm led the Broncos last season in total tackles with 110 and tackles-for-loss, recording 12.0 as he earned Second-Team All-Conference honors.
Schramm also forced one fumble for Boise State in 2022. Schramm will be the defensive leader for the Broncos.
LB: MJ Tafisi, Utah State
Tafisi only played the first eight games in 2022 for the Aggies but managed to collect 8.0 TFLs and 69 total tackles. Tafisi recorded double-digit tackles in five of the eight games he played.
The senior who started his career at Washington could be a force in the Mountain West this season if he can stay healthy.
LB: Easton Gibbs, Wyoming
Gibbs was third in the conference and 22nd nationally in tackles last season with 9.3 per game. He had 121 tackles for the season a year ago, the 18th most in a single season in Wyoming history.
Gibbs had double-digit tackles in six games during the 2022 season. He makes plays all over the field and is the anchor of an unbelievably talented front seven for the Pokes.

DB: Cam Lockridge, Fresno State
Lockridge ended the 2022 season with five interceptions, ranking him tied for the MW lead and 11th in the nation.
His 14 passes defended on the season were the 22nd most in the country as he averaged 1.08 per outing.
The Conference Championship game MVP should be poised for another breakout season and could end up in the discussion for some end-of-season national lists.
DB: Donte Martin, New Mexico
Martin missed time in 2022 with a collapsed lung, he should be back and ready to produce in 2023.
Despite playing just nine games last year, he ended the season with 28 tackles and 0.5 TFLs to go along with his interception. His 25 career pass breakups are the fifth-most PBUs in New Mexico history.
DB: Jack Howell, Colorado State
Last season Howell had 108 stops with three interceptions and a forced fumble. Those numbers helped him become one of just three sophomores to appear on the MW first team.
Look for even more in his junior season. A consistent performer, he had a six-game stretch in the middle of last season in which he averaged 12.8 tackles per game.
DB: Trey Taylor, Air Force
Taylor was a Second-Team All-Conference performer in 2022.
He had two interceptions last season for the Falcons and supplied run support from the safety spot, making a lot of plays in the box. Look for even more production and development in his senior season.
First Team Specialists

K: John Hoyland, Wyoming
Hoyland has made 84.9 percent of his career field goals (45-of-53) while being perfect on extra points. He was Seventh in the nation with 1.69 made FGs per game last season.
P: Jack Browning, San Diego State
Last season Browning was fourth in the nation with an average of 46.30 yards per punt, and 28 of his 68 punts ended up inside the 20, while only four ended up being touchbacks.
RET: Christian Washington, New Mexico
Washington finished the season ninth in the nation with a kick return average of 26.69 yards per return.
Washington took one kick the distance as a freshman with a 104-yard return against Boise State.
RET: Tory Horton, Colorado State
Horton is not only an elite receiver but also a threat in the return game for Colorado State. He averaged 15.5 yards per punt return last season taking one to the house.
AP: Terrell Vaughn, Utah State
Vaughn is a speedy playmaker who averaged 26.5 yards per kick return in 2022. Vaughn returned one the distance and is a threat to break one every time he touches it.
Last season, he also added 72 rushing yards to his season total running for 5.5 yards every time he carried it with one TD.
Second Team Offense
QB: Taylen Green, Boise State
RB: Kairee Robinson, San Jose State
RB: John Lee Eldridge, Air Force
WR: Erik Brooks, Fresno State
WR: Stefan Cobbs, Boise State
WR: Eric McAlister, Boise State
TE: Dominik Mazotti, San Jose State
OL: Adam Karas, Air Force
OL: Cole Motes, Utah State
OL: Cade Bennett, San Diego State
OL: Jalen St. John, UNLV
OL: Jacob Gardner, Colorado State
Second Team Defense
DL: Garret Fountain, San Diego State
DL: Demitri Washington, Boise State
DL: Jayden Thiergood, Air Force
DL: Johnny Hudson, Fresno State
LB: Drue Watts, Nevada
LB: Levelle Bailey, Fresno State
LB: Shae Suiaunoa, Wyoming
LB: Logan Taylor, Hawai'i
DB: Cam Stone, Hawai'i
DB: Dezjohn Malone, San Diego State
DB: Ike Larson, Utah State
DB: Camby Goff, Air Force
Second Team Specialists
K: Jonah Dalmas, Boise State
P: Aaron Rodriguez, New Mexico
RET: Cole Wright, Boise State
RET/AP: George Holani, Boise State
Third Team Offense
QB: Doug Brumfield, UNLV
RB: Tylan Hines, Hawai'i
RB: Kenan Christon, San Diego State
WR: Ricky White, UNLV
WR: Justus Ross-Simmons, Colorado State
WR: Charles Ross, San Jose State
TE: Treyton Welch, Wyoming
OL: Fernando Carmona, San Jose State
OL: JC Davis, New Mexico
OL: Wesley Ndago, Air Force
OL: Garrett Curran, Boise State
OL: Anthony Pardue, San Jose State
Third Team Defense
DL: Bo Richter, Air Force
DL: Soane Toia, San Jose State
DL: Cole Godbout, Wyoming
DL: Grady Kelly, Colorado State
LB: Cooper McDonald, San Diego State
LB: Jordan Cobbs, San Jose State
LB: Malachi Langley, Fresno State
LB: Bryun Parham, San Jose State
DB: Michael Anyanwu, Utah State
DB: Michael Mack, Air Force
DB: Cedarious Barfield, San Diego State
DB: Tre Jenkins, San Jose State
Third Team Specialists
K: Jack Browning, San Diego State
P: James Ferguson-Reynolds, Boise State
RET: Cooper Jones, Utah State
RET: Jamaal Bell, Nevada
AP: Robert Briggs, Utah State
---
—More from Stephen Vilardo—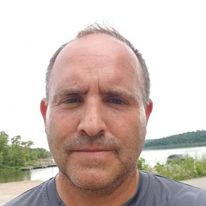 Latest posts by Stephen Vilardo
(see all)