Posted on July 15, 2021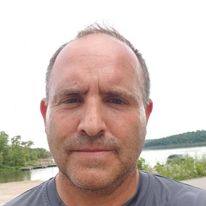 By Dane Miller & Stephen Vilardo, SuperWest Sports
E
ach Pac-12 football venue has its unique characteristics, advantages, and disadvantages, ranging from capacity to the way it's structured and its history and tradition.
In this 12-part series, we look at what makes each facility unique, considering some of the key moments and stats (provided by SERCstats.com) in the Pac-12 Era.
In this fourth installment, we scout Sun Devil Stadium.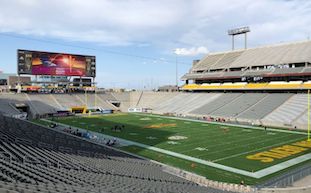 Built: 1958
Renovated: 2018
Capacity: 53,599
Elevation: 1,150
Overall Record: 45-16
Nonconference Record: 17-1
Conference Record: 28-15
S
et in the Tempe Buttes, Sun Devil Stadium is iconic. Home to the Arizona Cardinals for 17 seasons and host of the Fiesta Bowl for 35 years, the venue sits on the north end of Arizona State's campus, just a stone's throw from Tempe Town Lake.
And in the Pac-12 Era, the Sun Devils have played up to the level of the scenery.
The 12-5 record against Top 25 opponents is elite, with victories over No. 5 Washington in 2017, No. 6 Oregon in 2019, No. 8 Norte Dame in 2014, No. 15 Michigan State in 2018, and No. 20 Wisconsin in 2013.
Upsets over ranked opponents have come to be expected, especially at night.

Moreover, since the Conference expanded, ASU is 10-4 in the stadium when ranked, and only UCLA and USC have winning records in the desert confine.
Perhaps more importantly, Arizona State is 4-1 against rival Arizona, with the Wildcats' last victory coming in 2011.
Opponents from the State of Washington are a combined 1-6 in Tempe, while the Mountain programs are 2-7. Oregon State, California, and Stanford are a combined 2-5.
Midwest teams can't figure it out either, with Michigan State, Wisconsin, and Norte Dame each suffering losses at Sun Devil Stadium.
Maybe its the dry heat that causes wet-climate opponents to struggle? The stadium is, after all, in the driest and hottest city in the Conference of Champions.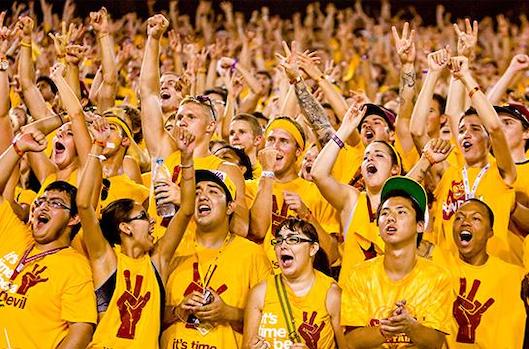 Add in a rabid following among the roughly five million people living in Phoenix—plus "The Inferno" student section—and you have a recipe for success.
At 8-3 against Pac-12 opponents when Arizona State is ranked, 9-5 against Top 25 Conference opponents, and 45-16 overall, it's clear that Sun Devil Stadium is among the most difficult places to play, not only in the Pac-12, but in the entire country.

Big 10 opponents learned the hard way, but the stadium would garner an even greater national reputation if a well-respected SEC team was served with an "L" during the 2020s.
With games over the next decade set against Mississippi State, Texas A&M, Florida, LSU, and Texas, the opportunity is there for the taking.
Records vs. Top 25
Record v. Top 25: 12-5
Record v. Top 25 Conference Opponents: 9-5
Record v. Top 25 Nonconference Opponents: 3-0
Record v. Top 25 when Ranked: 3-2
Records When Ranked
Record when Ranked: 10-4
Record v. Conference Opponents when Ranked: 8-3
Record v. Nonconference Opponents when Ranked: 2-1
Highest Ranking for Home Game: No. 11 (2014)
Ranked Opponents
Victory over Highest Ranked Team: No. 5 Washington (2017)
Loss to Highest Ranked Opponent: No. 2 Oregon (2012)
Highest Ranked Opponent: No. 2 Oregon (2012)
Highest Ranked Nonconference Opponent: No. 8 Norte Dame (2014)
Victory over Highest Ranked Nonconference Opponent: No. 8 Norte Dame (2014)
Records of Pac-12 Teams at Sun Devil Stadium
UCLA: 3-2
USC: 3-2
Oregon: 2-2
California: 1-1
Stanford: 1-1
Utah: 1-3
Washington State: 1-3
Arizona: 1-4
Colorado: 1-4
Oregon State: 0-3
Washington: 0-3
—Other Pac-12 Football Venue Scouting Reports—
Utah's Rice-Eccles Stadium
Colorado's Folsom Field
Arizona Stadium
Follow Stephen on Twitter @StephenVilardo, Dane @DaneMiller_SP12, and SERCstats.com @SERCenter. 
---
—More from Dane Miller—

Latest posts by Dane Miller
(see all)