Posted on June 23, 2021



  By Dane Miller and Stephen Vilardo, SuperWest Sports
E
ach Pac-12 football venue has its unique characteristics, advantages, and disadvantages, ranging from capacity to the way it's structured and its history and tradition.
In this 12-part series, we look at what makes each facility unique, considering some of the key moments and stats (provided by SERCstats.com) in the Pac-12 Era.
In this second installment, we scout Colorado's Folsom Field.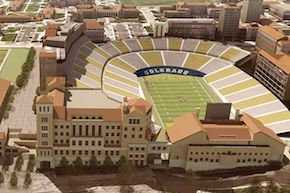 Built: 1924
Renovated: 2016
Capacity: 50,183
Elevation: 5,334
Overall Record: 26-33
Nonconference record: 13-3
Conference Record: 13-30
H
olders of one of the greatest traditions in all of college football, the Buffs have been running their live mascot Ralphie onto the field since 1966.
And in a stadium that's nearly 100 years old, the pageantry of games in Boulder matches or exceeds any other venue in the Conference of Champions.

But there's no denying the struggles the program has faced since making the jump from the Big 12 in 2011.
All but UCLA, California, and Arizona State have winning records at Folsom Field, while USC and Oregon are undefeated.
Despite the altitude advantages, CU is 2-12 against ranked Pac-12 opponents and 13-30 against conference opponents overall.
Between 2013 and 2015, Colorado lost 10-straight conference games in the stadium.
Yet, in 2016 the Buffs won the Pac-12 South while beating No. 20 Washington State and No. 21 Utah in Boulder.
That season, the team took the field ranked as high as No. 9 in the nation and secured its 2-0 record in matchups when both teams are rated in the Top 25. And when ranked, CU is 4-1 overall and 3-1 against Pac-12 opponents, displaying its strength when on top of its game.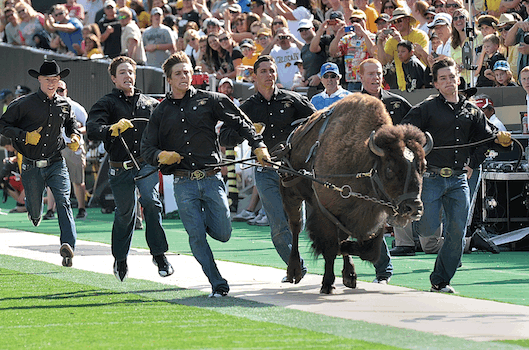 The 2019 nonconference victory over No. 25 Nebraska was an instant-classic overtime win that will live on for decades to come, while the 2016 run to the Alamo Bowl will never be forgotten.

Still, the losing record in Boulder since the Conference expanded, and the lack of a signature Pac-12 upset, are issues Karl Dorrell must deal with heading into the the 2020s.
The historically mixed bag indicates the potential Folsom Field provides to the Buffaloes, and places the onus on the staff to put it together over successive seasons.
If the recent upswing in Colorado football continues, the stadium could take on an entirely different perception over the next decade.
Records vs. Top 25
Record v. Top 25: 3-12
Record v. Top 25 Conference Opponents: 2-12
Record v. Top 25 Nonconference Opponents: 1-0
Record v. Top 25 when Ranked: 2-0
Records When Ranked
Record when Ranked: 4-1
Record v. Conference Opponents when Ranked: 3-1
Record v. Nonconference Opponents when Ranked: 1-0
Highest Ranking for Home Game: No. 9 (2016)
Ranked Opponents
Victory over Highest Ranked Team: No. 20 Washington State (2016)
Loss to Highest Ranked Opponent: No. 2 Oregon (2013)
Highest Ranked Opponent: No. 2 Oregon (2013)
Highest Ranked Nonconference Opponent: No. 25 Nebraska (2019)
Records of Pac-12 Teams at Folsom Field
USC: 5-0
Oregon: 3-0
Arizona: 4-1
Utah: 4-1
Washington: 3-1
Oregon State: 2-1
Stanford: 2-1
Washington State: 2-1
Arizona State: 2-2
UCLA: 2-3
California: 1-2
—Other Pac-12 Football Venue Scouting Reports—
Follow Stephen on Twitter @StephenVilardo, Dane @DaneMiller_SP12, and SERCstats.com @SERCenter. 
---
—More from Dane Miller—

Latest posts by Dane Miller
(see all)