Posted on July 2, 2021



  By Dane Miller and Stephen Vilardo, SuperWest Sports
E
ach Pac-12 football venue has its unique characteristics, advantages, and disadvantages, ranging from capacity to the way it's structured and its history and tradition.
In this 12-part series, we look at what makes each facility unique, considering some of the key moments and stats (provided by SERCstats.com) in the Pac-12 Era.
In this third installment, we scout Arizona Stadium.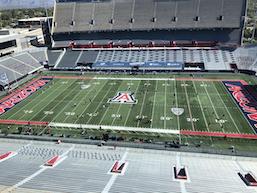 Built: 1928
Renovated: 2013
Capacity: 50,782
Elevation: 2,430
Overall Record: 37-24
Nonconference record: 17-2
Conference Record: 20-22
S
itting among the Saguaros of the Sonoran Desert a mere 70 miles north of the border, Arizona Stadium is the southern-most stadium in the Pac-12.
Known for its night games and semi-annual upsets of ranked opponents, the Wildcats have had varied success in its confines.
When at full capacity, Arizona Stadium is one of the loudest venues in the country.

Victories over No. 5 Oregon in 2013, No. 10 USC in 2012, No. 13 Arizona State in 2014, and No. 18 Oklahoma State in 2012 are among the seven wins over Top 25 opponents during the Pac-12 Era.
A 6-2 mark when taking the field as a ranked team, and a 3-2 record against Top 25 Conference opponents when ranked  are some of the highlights in the desert since 2011.
But the sub-.500 mark in Pac-12 play, and 2-3 record against Arizona State, puts a damper on the success the program has had at home.
Stanford is undefeated in its two games played in Tucson since the Conference expanded, while USC, Utah, Arizona State, and Washington State each have winning records on the artificial turf.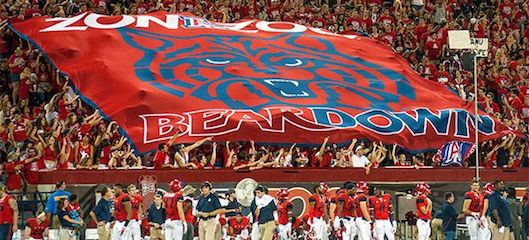 Still, those series don't detract from the blowout victories over ranked Oregon teams, the winning records against Colorado and UCLA, and the undefeated mark over California.
Although all but four Pac-12 programs are .500 or better at Arizona Stadium, the Cats have a win over a Top 25 opponent in six of the 10 seasons during the Era.
And the 2014 victory over the ranked Sun Devils secured Arizona's first-ever Pac-12 South Championship.

As the 2020s march on, the potential is there for Jedd Fisch to recapture the magic of the stadium from the height of the Mike Stoops Era and the 2014 season under Rich Rodriguez.
It's just a matter of rebuilding belief among a fan base that has become accustomed to annual disappointment and intermittent flashes in the pan.
If Fisch can bottle that belief, the sellouts and raucous environment may just return to the desert.
Records vs. Top 25
Record v. Top 25: 7-9
Record v. Top 25 Conference Opponents: 6-9
Record v. Top 25 Nonconference Opponents: 1-0
Record v. Top 25 when Ranked: 1-1
Records When Ranked
Record when Ranked: 6-2
Record v. Conference Opponents when Ranked: 3-2
Record v. Nonconference Opponents when Ranked: 3-0
Highest Ranking for Home Game: No. 10 (2014)
Ranked Opponents
Victory over Highest Ranked Team: No. 5 Oregon (2013)
Loss to Highest Ranked Opponent: No. 6 Stanford (2011)
Highest Ranked Opponent: No. 5 Oregon (2013)
Highest Ranked Nonconference Opponent: No. 18 Oklahoma State (2012)
Victory over Highest Ranked Nonconference Opponent: No. 18 Oklahoma State (2012)
Records of Pac-12 Teams at Arizona Stadium
Stanford: 2-0
USC: 4-1
Washington State: 2-1
Arizona State: 3-2
Utah: 3-2
Oregon State: 2-2
Washington: 2-2
Colorado: 2-3
UCLA: 2-3
Oregon: 1-2
California: 0-2
—Other Pac-12 Football Venue Scouting Reports—
Utah's Rice-Eccles Stadium
Colorado's Folsom Field
Follow Stephen on Twitter @StephenVilardo, Dane @DaneMiller_SP12, and SERCstats.com @SERCenter. 
---
—More from Dane Miller—

Latest posts by Dane Miller
(see all)