Posted on October 22, 2021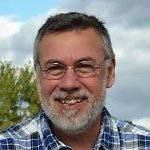 By Mik Dietlin, SuperWest Sports
L
adies and gentlemen…Commissioner George Kliavkoff…Deputy Commissioner Jamie Zaninovich…Senior Associate Commissioner of Sports Management Teresa Gould…
Head of Football Operations Merton Hanks…Conference-wide Board of Trustees, the numerous filthy rich boosters behind the scenes hiding from the NCAA…
And discontented Pac-12 fans everywhere…
As you read this our Conference is at war. The enemy?

The Conference itself, basically, coiled in an intricate mesh with a television network that frowns on increasing access to its programming, and a product that isn't good enough for increased access to programming.
And an East coast bias that has brainwashed the minds of millions of Americans, as well as an officiating crew better suited to work as Walmart greeters.
Yet, the state of football in the Pac-12 Conference has never been stronger!
(Here's where you mindlessly stand and applaud).

Since the Trojans are on vacation, and I've got nothing better to do, I'd thought I'd give a Pac-12 "State of the Union" address at the midway point of the 2021 season.
I want to make this an annual event, if I remember to do it again next year. You're dealing with a guy who needs a grocery list to remember everything, then forgets to bring the list to the store.
So don't count on it being an annual thing.
What ought to be clear from the outset is the Pac-12 is a sad, miserable, lonely conference. There's just one legitimate Top 25 team (Oregon, in case you're sweating the answer).
You could argue a few more teams are deserving, but I won't listen. Every time one of them looks like Top 25 material, eventually, out plops an egg.
Follow the bouncing ball for a second: USC rips Washington State. Stanford rips USC. Therefore, logic would dictate Stanford ripping WSU. Logic doesn't reside in the Pac-12, however, hence WSU beats Stanford.
Another brain teaser: USC rips WSU. Oregon State rips USC. WSU beats OSU.














There's also two unforgivable losses to the sub-human FCS to consider.
With three wins by seven points apiece against vastly inferior competition, Oregon is playing as if they can't wait to leave the Top 25.
In the fourth quarter against Arizona—which might want to start thinking about applying for FCS status—Oregon held a slim five point advantage.
At least Arizona is the most consistent team the Pac-12 has. You know who they are and what you'll get week after week. I didn't expect a 34-0 spanking from Colorado, but a loss is a loss, and that's what they do well. They'll never let you down.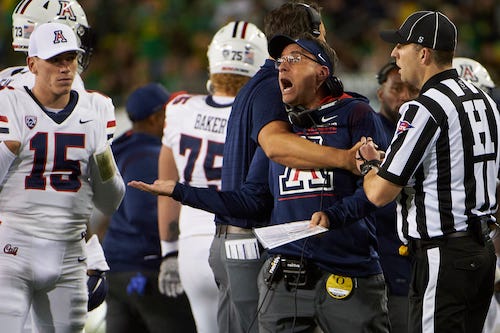 I really want to see the Wildcats losing streak end. How great would it be if they ran the table the second half? No matter what else happened across the nation the rest of the way, it would be the story of the year.
With a 5-3 record against the Conference of Champions, the Mountain West could be more solid top to bottom, which is embarrassing to mention. They have wins over two higher-end Pac-12 teams, UCLA and Utah, and lost a nail-biter against the alleged big dog, Oregon.
The only thing I know about the Pac-12, other than that Arizona is the bottom-feeder and Oregon sits at the top—momentarily—is that we have no idea who the second best team is. So we know next to nothing.
In some ways, this makes for fascinating television viewing. It's one reason I love Pac-12 football. Road underdogs usually bring enough juice to give themselves a chance to win. I enjoy the excitement of the unknown.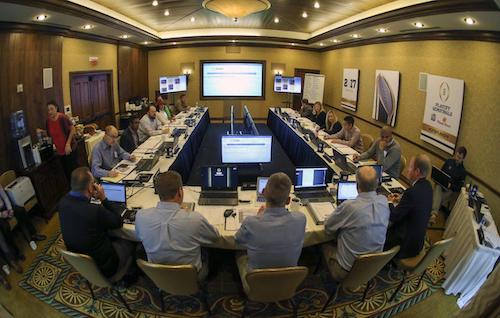 It's not as fascinating, or exciting, for the Selection Committee, though, who assemble in a few weeks. When they look beyond the Rockies, they don't see a handful of teams standing out, just a log jam of flannel shirts.
We've gone through some rough times so far this year. The Washington loss to Montana was a stinger. The fact that Oregon feels the need to play Stoney Brook is one of the great unsolved mysteries of our time.
We also lost a few coaches, and thank them for their service. Clay Helton suddenly felt like molten lava in Mike Bohn's hands and had to be let go. The Cat did a few good things during his tenure at USC.
He mostly did terrible, harmful things. He won't be easily forgotten. But I'll try.
Washington State head coach Nick Rolovich and four assistants were just fired for refusing to trust a medical professional to shoot a hypodermic needle into their arms, releasing some concoction unknown to them meant to protect their health and the health of others.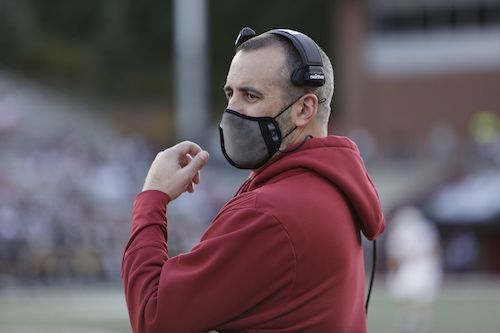 Or, as school administrators might phrase it, they were let go for non-compliance with the state of Washington's Covid-19 vaccination laws, mandatory for all state employees.
Rolovich had said he would comply, then later applied for a religious exemption. That means he had no intention of getting vaccinated.
Now he doesn't have to worry about the inconvenience, or violating whatever religious beliefs he may or may not have. And WSU doesn't have to worry about keeping a recalcitrant minding the shop for the remainder of the season.
It feels like WSU's wish has finally come true. They've been figuring out a way to take him on a long drive to a distant Palouse wheat field and dump him there since he first refused to be inoculated several months ago.
Now that they have found their "cause" for his termination, what does it mean in the search for a new Cougar head coach?
Outside of Pullman, no one cares. I think we can all agree they'll feed off the coach road kill left after LSU, USC, Miami, Florida State, Virginia Tech, and many others are satiated.
In fact, once all the dominoes have fallen, it's possible they'll end up being forced to re-hire Rolovich for lack of experienced bodies, after releasing an insincere public apology and re-wording the state employee vaccination laws.
Or maybe AD Pat Chun has another surprise up his sleeve?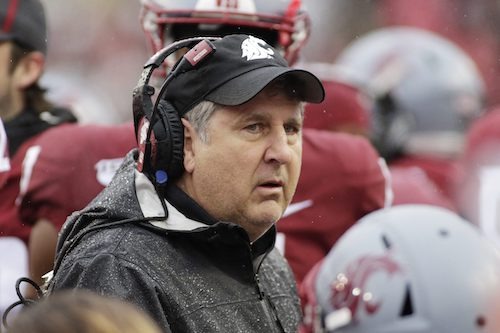 Regardless, you won't ever read several consecutive paragraphs from me regarding WSU again, so savor it.
(Another round of mindless applause…)
A long journey lies ahead before anything is decided in both divisions. Lots of chills, spills, thrills, and ills to be sure. Drake London will catch 200 passes. Avery Roberts will make 200 tackles.
Arizona will welcome 200 walk-on's to their roster after holding open tryouts October 12th. All students were eligible, except those belonging to either the chess or butterfly club. Coaches are pretty certain they won't find the help they need there.
There is strength in numbers. Especially if you lack strength in every facet of your football program.
A new study has emerged from the Pac-12 Administration of New Studies Department. Pac-12 refs stare into their replay ViewMasters 68% longer on average than other Power 5 referees.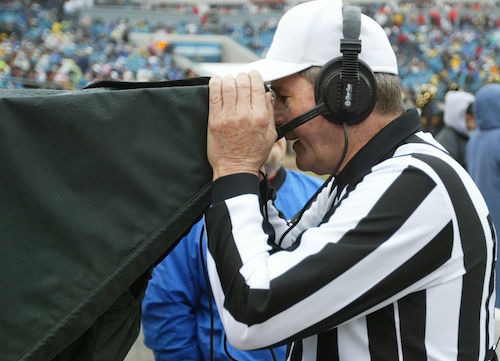 Are they being shown slides of Yellowstone National Park or The Seven Ancient Wonders of the World before the feature presentation?
Steadfast in our purpose, we now press on to the grand finale, the 2021 Pac-12 Conference Championship game held December 3rd at Allegiant Stadium in Sin City.
That's right, baby, the entertainment capital of the world, Las Vegas. If New York is the city that never sleeps, Vegas is the city too adrenaline-jacked to sleep.
It quite possibly could be the only reason to follow the remainder of the season.
This broadcast had better be an "After Dark" production taking full advantage of all the glitz and glamour this town has to offer. I want to see the endless neon skyline painted against a Raider Silver and Black night as often as I see the on-field inaction.
Give me show girls, quick snippets of the finest shows on the Strip, hokey Mid-Westerners hitting jackpots.
Throw in scattered footage of the homeless begging the black-tie crowd for money and drunk chain smokers gazing through a run-down all-night diner window for a punch of journalistic integrity.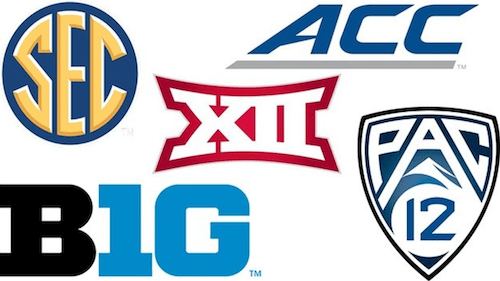 Let's not blow this chance to show the other Power Fivers what we're made of by representing ourselves during the stark, boring light of day. We might as well just shoot the entire thing in black and white.
My fellow Pac-12 fans, we now understand the price of mediocrity—neglect. We have known periods of greatness in the past, and are eager to experience them again. Maybe not today, maybe not tomorrow…
Thank you all for your patronage. May God bless you, and may God bless the Pac-12 Conference…very soon.
(You may mindlessly applaud one last time, SO GET UP EVERYBODY!)
---
—More from Mik Dietlin—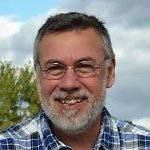 Latest posts by Mik Dietlin
(see all)