Posted on January 1, 2020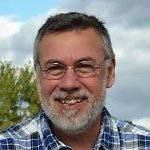 By Mik Dietlin, SuperWest Sports
D.J. Viagalelei. Bryce Young. Justin Flowe. Kendall Milton. CJ Stroud. Gary Bryant. Clark Phillips. Jay Butterfield. Jalen McMillan. Kourt Williams. Ethan Garbers. Lavon Bunkley-Shelton. Kris Hutson.
No, I didn't copy these thirteen names from the back of a milk carton. But as far as USC football recruiting is concerned, these California kids are missing and will never be found. They're among Rivals top 100 players who will make their imprint with other colleges next fall. 
Only Corona's Centennial High School receiver Gary Bryant remains a possibility for the Trojans before National Signing Day ends on February 5th. A nice pick-up, sure—if they land him—but he would hardly brighten the tumultuous dark cloud hovering Heritage Hall.
Whenever I attend one of my grandchild's grade school plays or recitals, my attention is divided once the curtain rises. Obviously my main focus is that my grand kids do well and have fun. But during the performance I inevitably scan the stage to find out who wants to be elsewhere. 
I always find a few despondent children, sometimes more than a few, almost always boys. 
You know they're dreaming of laying on the couch playing Roblox or Captain Marvel games on their tablets, wishing for some kind of transfer portal to woosh them there. 
Why?
Is there a reason behind the clear lack of interest not allowing them to reach their maximum potential on stage? Is the play's director on the hot seat, a lame duck teacher who more than likely won't be offered a one-year extension by the school board?
It all comes down to coaching. 
If the kids' voices aren't properly developed, they won't have the confidence to perform in front of a crowd. They'll lose the desire to sing, eventually sounding like disgruntled alley cats. The school's drama department will be in trouble.
Parents will flood social media and the principal's phone line demanding a change of director.
As I watched these thirteen outstanding football players drift out of California to greener pastures on Early Signing Day, I couldn't help wondering that the Trojans in almost every other year would have captured at least half of them. These kids grew up loving USC football and wouldn't think of playing at any other school, unless the unthinkable happened.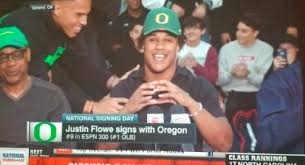 The unthinkable has happened. 
High school players have reached an unprecedented level of football sophistication. They know what's best for their budding careers, perhaps even better than high school or college coaches. 
Their awareness of how football is played around the country is impressive. 
They understand when to pull the trigger and look for another school, and how to find the best situation suiting their academic and athletic needs. Yes, they are coached in those areas as well, but in the end, it's up to them to decide what happens to them, and few make a mistake.
This increased awareness among high school football players has enabled them to smell dog poo when they hear it. If a coach can't provide the tools needed to improve a recruit's game, that recruit will falter and become insignificant. And the player knows it. If he hears the same limited white noise, a.k.a. "Coach Speak," practice after practice, game after game, he will tune out, becoming less motivated, and ineffective on the field. <
The problem with Clay Helton's coach speak is that he preaches faith first. Faith, Family, Football is the mantra thrown at us ad nauseum. 
Much like science trying to prove that the Food and Drug Administration's food pyramid needs to be inverted to include more healthy fats and protein, Helton's food chain needs to be flipped on its head.
Football must be first. 
If you look at universities with elite athletic programs, you'll see that no expense is spared in making sure their football program achieves and maintains success. It's a fierce, competitive world, and you either spend money, or you become irrelevant. 
During the Cold War, the U.S. figured out that the Soviet Union's economy had little exporting strength, and by grossly outspending the Soviet Union in military aid, they could force the Soviets to either spend as much to stay elite, or starve their people. As a result, the U.S. became the only true military power in the world.
Russia has since figured out how to level the playing field, however. USC has not.
Today should be about effort, about putting more effort into a drill than you did yesterday, even more than you thought was possible.  It should be about learning to tackle properly. Over and over and over. 
It should be about making sure you don't have two number six jerseys on the field at the same time.

It should be about lowering your shoulder pads and delivering a hit to the defense just to gain another five yards, because who knows, maybe that extra five yards helps win the game.
It should be about doing 100 yard crab crawls if you run out of bounds when another five could have been gained. When your players laugh on the sideline in the waning moments of what ought to be a tough loss, you have to find out why.

It should be about showing, not preaching, what toughness means. 
Faith is something you come to terms with in your personal life. It should be tolerated in all facets of society no matter what an individual's faith is. 
A quarterback, though, when looking with concern over the line of scrimmage at a hungry linebacker ready to tear his head off, doesn't glance to his running back and think, "I'm sure glad his faith is strong. I have faith he'll protect me." 
No. 
He evaluates his teammate's ability to protect him, and if his running back isn't up for the job, audibles out of the play.
I'm not saying kids won't go to USC because Helton expounds the virtues of faith. I'm merely suggesting that they're no longer listening. Helton's gumbo football philosophy no longer resonates with them, if it truly ever did, at least not on a wide enough scale. 
"Integrity" is the buzz word circulating liberally among President Carol Folt, AD Mike Bohn, and Helton. You can't flood your football team or university personnel with people of integrity.  
Human beings, at any moment in time, are capable of either integrity or corruption. Those warring factions are forever present in each of us whether we care to admit it or not. So the best a university can do, is not to staff a team or personnel with people with a documented history of corruption. If corruption occurs after the vetting process, it has to be dealt with immediately. 
But the word "integrity" is used by the USC hierarchy as a pacifier meant to ease the frustration of a fan base that knows better. 
In reality, integrity is just another word for nothing left to lose. Trojan football, in its present state, has nothing left to lose, so false platitudes and fumbling misdirections are all that's left. 
In fact, the press conferences of Helton, Folt, and Bohn, other than providing injury report information, have become little more than a sprinkler of useless sewage. You get explanations praising a recruiting class that's absolutely tragic by USC standards. 
Lying to the fan base in that manner shows a clear lack of integrity, normally reserved for the average politician. 
Let me take you back to a day USC would do well to remember.
August 30th, 2008, in Charlottesville, Virginia.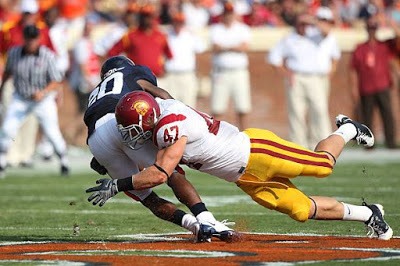 Third-ranked USC was visiting Scott Stadium to play the Cavaliers. I had moved from Charlottesville in 2004 to the Shenandoah Valley, about 30 miles west over the Blue Ridge Mountains. 
A friend of mine, a police officer for the city of Charlottesville, told me a story recently about that game. He was assigned crowd control for the weekend, which included monitoring the Friday afternoon walk-through by both teams. 
The Trojans had the first practice, followed immediately after by the Cavaliers. With about ten minutes left in their walk-through, there were about 20 Trojans remaining on the field. 
Suddenly, the Cavalier team entered the field from the opposite end. This enraged Clay Matthews Jr. Dressed only in shorts, he sprinted full speed toward them, threatening to kill every one of them if they didn't get off the field and let them finish. 
Well, the Cavaliers didn't want to mess with that kind of crazy. They scrambled off the field posthaste. 
Game over. 
The outcome was a mere afterthought: USC 52, Virginia 7.
That is what's absent in the football program right now. 
If you can find a teacher wise enough to instill in his students that level of intensity with a high level of emotional investment in the outcome, you will have taught them how to harmonize together, how to execute properly in front of a crowd. 
You will find those California kids that once were missing, and you will keep them home.
---
—More from Mik Dietlin—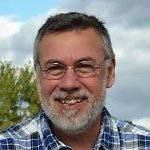 Latest posts by Mik Dietlin
(see all)