Posted on September 23, 2020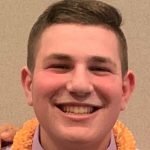 By Jason Marks of Dash Sports TV for SuperWest Sports
There is a highly touted debate that goes on between the Pac-12 schools. It's not about who's quarterback is the higher Heisman candidate or which defense is a better run stopper. The biggest debate of all may just be whose stadium is the best. 
Now, this is not really much of a debate—more of a heated discussion. It's easy for some sort of bias to seep in, but I am going to do my best to count down the top 12 stadiums in the Pac-12 with the least amount of bias possible.
12. Martin Stadium, Washington State Cougars
Pullman, WA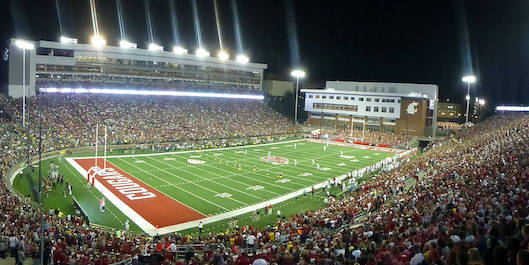 Coming in at number 12, we have Martin Stadium where the Washington State Cougars play. While those who live in Pullman or have attended a game there will tell you it's a top stadium, it just doesn't add up. It doesn't have as much history as other stadiums, it only seats a mere 40,000, which is small for a Power 5 school, and with WSU looking for a new identity post-Mike Leach, Martin Stadium will be 12 on my list.
11. Memorial Stadium, California Golden Bears
Berkeley, CA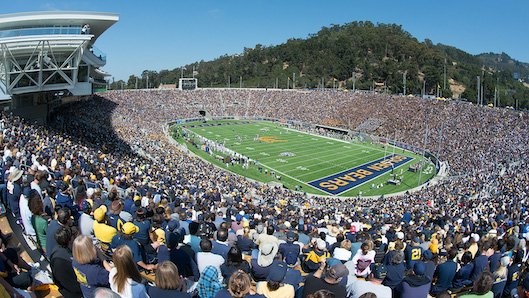 California Memorial Stadium is home to the Cal Bears, but don't get it twisted, it's not an awesome stadium. While it looks traditional and has a nice view of a hill, it's not a fun place to watch football. With the Cal football program rebounding, but not nearly as good as it used to be, Cal struggles to fill the seats. So, it lands at 11 on the list.
10. Reser Stadium, Oregon State Beavers
Corvallis, OR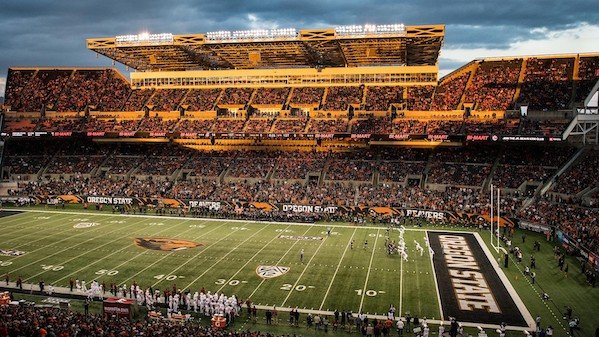 Reser Stadium of Oregon State lands at number ten on the list. While recent renovations have made the stadium look good, there is just simply no one there. There is little history in the stadium, and with OSU football nowhere close to being a contender in the Pac-12, it lands on the outside looking in for me. Start winning more and having sold-out crowds, and this stadium moves up.
9. Stanford Stadium, Stanford Cardinal
Stanford, CA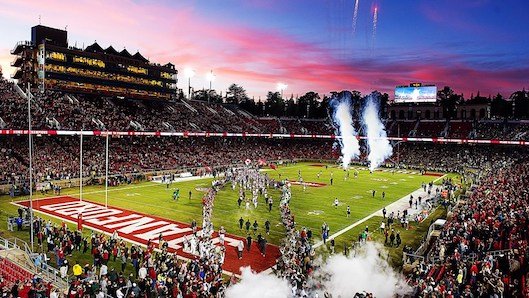 Stanford Stadium is my first stadium without two digits in its rank. While it does have some history, the stands are hardly ever full, despite a decade of excellent football under David Shaw. The Stanford football program has kind of fallen off, however, so it lands low on my list. Get a good program and fill the stands and it improves its rank.
8. Arizona Stadium, Arizona Wildcats
Tucson, AZ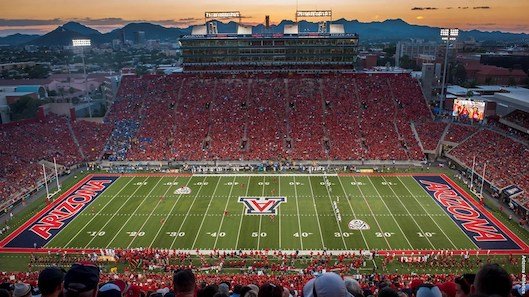 Arizona Stadium, home of the Wildcats, is No. 8 on my list. While it is a beautiful stadium and has one of the better home field advantages with the "Zona Zoo," the team doesn't perform well enough to fill its seats. U of A is nowhere close to being a good football team, and if it wasn't for its looks and student's section, it would be lower on the list.
7. Rice-Eccles Stadium, Utah Utes
Salt Lake City, UT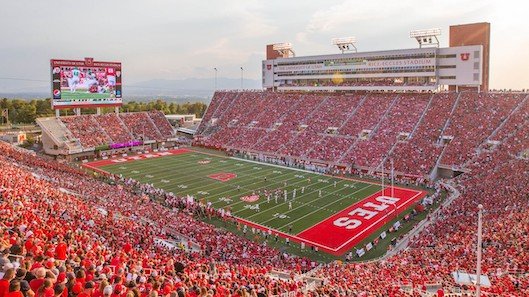 Rice-Eccles Stadium, home of the Utes, is arguably my hottest take on the list. What a beautiful stadium, backdrop and an awesome place to watch college football. It's this low on my list, because the football program's best seasons came before joining the Conference, but is only now becoming a power in the Pac-12. Give it a few miracle wins, and some more years of relevance, and this stadium shoots up.
6. Sun Devil Stadium, Arizona State Sun Devils
Tempe, AZ
Sun Devil Stadium is next on the list. While the renovated stadium looks good and the football program is on the up, there hasn't been a lot a of history since the 1997 Rose Bowl season, and the stadium is not often full. Much like Utah, some key wins and more fans put this stadium higher.
5. Husky Stadium, Washington Huskies
Seattle, WA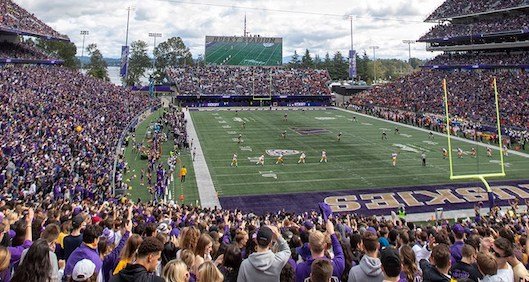 Husky Stadium begins the Top 5 part of my list. While some put the facility at No. 1 because of the setting, the football team struggled for years before its recent rebound under Chris Petersen. The history is there, the fans are there, but it lacks a consistently decent football team to show for it. Nonetheless, it's a Top 5 stadium in the Pac-12.
4. Los Angeles Memorial Coliseum, USC Trojans
Los Angeles, CA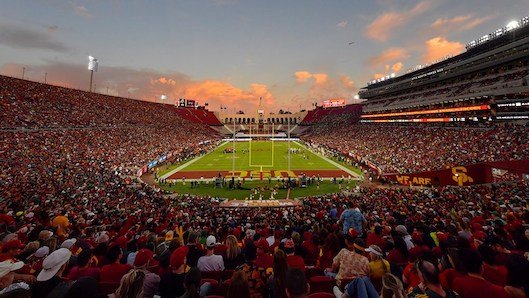 Yep, I am going to say it. The Los Angeles Memorial Coliseum is Number 4 on the list. You cannot deny the history, but it simply does not feel like a college football stadium. The place is hard to get loud—even now, with the USC program on the rise. Still, there's no denying its majesty, and that puts it just outside the Top 3.
3. Folsom Field, Colorado Buffaloes
Boulder, CO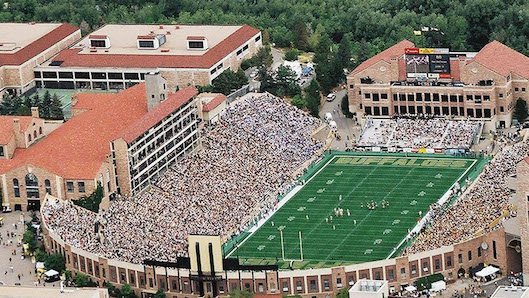 The third best stadium in the Pac-12 is Folsom Field, home of the Colorado Buffaloes. As I like to say, it is the loudest 50,000-person stadium. With an unmatched view of the Rocky Mountains and a history steeped in tradition, Folsom is an awesome place to watch college football. While the team has been very mediocre the past years, it will always be a Top 3 stadium.
2. Autzen Stadium, Oregon Ducks
Eugene, OR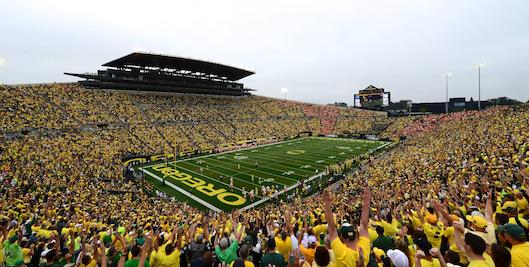 Autzen Stadium, home of the Ducks, comes in at Number 2 on the list. With a top football program, some of the best fans in college football, and an awesome stadium, it's everything you could want in a venue. Just a great place to watch college football.
1. Rose Bowl, UCLA Bruins
Pasadena, CA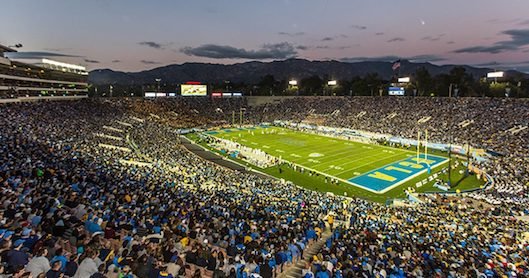 And coming in at Number 1, we have the Rose Bowl. Arguably the most historic stadium in the country, it hosts the most storied bowl game every year. While the Bruins struggle to fill the seats during the season, they are lucky to play their home games in such an historic stadium.
So, there we have it. A super, unbiased list of the Pac-12 stadiums. I am more than happy to back up my picks on Twitter or in the chat of my Dash Sports TV show, and I hope you take this list with a grain of salt. I'm looking at you, Utah.
You can watch Mark's Buffalo Dash Sports Talk Show on Dash Sports TV, and read his other sports stories and columns at the CU Independent.
---
—More from Jason Marks—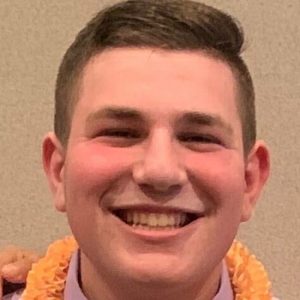 Latest posts by Jason Marks
(see all)