Posted on February 9, 2023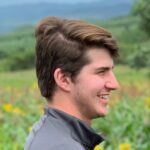 By Rowan Kent for SuperWest Sports
A
midst a polarizing season, Mark Few's Bulldogs have gone all the way from second in the AP Poll, down to 18th at their lowest, and now sitting in the 16th slot at midseason.
They haven't been the powerhouse many expected when Drew Timme and Julian Strawther returned, but they've been one of the better teams on the West Coast.
And one that could, if everything goes right, make more noise than expected come March.
That optimism, which some would call Madness, stems from the talented core that the Zags start.
• Drew Timme is one of the best offensive big men in all of college basketball.
• Julian Strawther has taken a meaningful step forward as a shot creator and shooter.
• Rasir Bolton and Nolan Hickman have established themselves as a solid backcourt.
• Anton Watson has been one of the better fifth-starters in the country due to his all-around play.
Like everything in life, however, change is inevitable.
Sometime in the future, today's Bulldogs will become Spurs, Lakers, or maybe even Rockets. Gonzaga has improved its pro pedigree as a whole as well, having a player drafted in the lottery in three of the past four NBA drafts.
As a columnist writing about the team and the NBA, it's worth looking into the future to see what some of Spokane's brightest stars could be in the pros.
And while there are not as many professional prospects as a Top 25 team usually boasts, two surefire stars and one guard could play their way into the NBA.
Julian Strawther: Mid-First Round Projection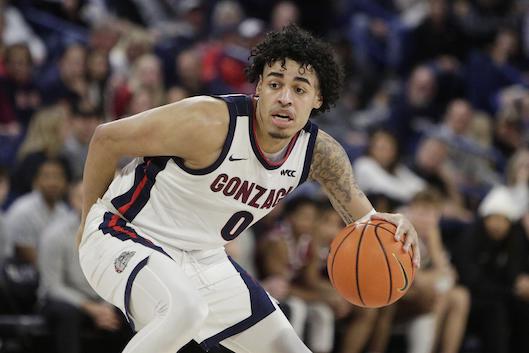 T
he Zag with the best chance of getting drafted in 2023 is not the team's leading scorer; rather, it's Strawther, who isn't the flashiest, yet may be one of the safest college prospects available in this year's draft.
He's taking more shots from all areas on the floor, all while putting up career highs in points, rebounds, and steals. With more shots, efficiency usually drops, but he's only barely seen a dip in his shooting splits.
Where Strawther will make his money in the NBA is his shooting. He's kicked up his three-point attempts to more than 5 a game, striping them at an elite clip of 43.5%.
This improved marksmanship has led to supernova performances for Strawther, including a 40-burger off of mostly catch-and-shoot bombs from deep:
Julian Strawther was in his bag tonight, dropping a 40-piece on Portland, including an onslaught from downtown (8 triples) pic.twitter.com/F12cTLSAIh

— Gonzaga Zag Up 🐶⬆️🏀 Zags Guru (@GonzagaZagUp) January 29, 2023
With such great shooting, it's easy to see what Strawther will do once he's on an NBA court. At a sturdy but not svelte 6'7", he has the positional size to play 2-4, which adds to his value on that end.
He also is a good enough defender on the wing and inside, which will keep him from being hunted on switches and isolations.
All in all, Strawther projects as a First-Round pick due to this shooting and size, two attributes of his game that will get him on the floor potentially sooner than a number of players drafted higher than him this June.
Drew Timme: Late-Second Round Projection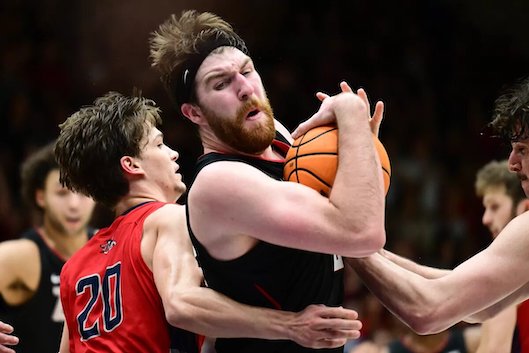 I
f he'd been born 20 years earlier, Timme would've likely been the crown jewel of Gonzaga's pro prospect platoon.
Instead, as the NBA has shifted further and further out to the perimeter, Timme has seen his role at the next level go mostly the way of the dinosaur.
That's not to say he can't bare his fangs and make an impact in the league, however. Timme's taken on a larger load on offense, with more assists and points per game than ever before.
He's the focus of every defense, but due to his deep bag of tricks, spins, and fakes, few teams this year have had any success shutting him down in the paint:
Drew Timme with a dominant stretch here pic.twitter.com/yKUnfHAG0C

— Jackson Frank (@jackfrank_jjf) November 28, 2022
Without Chet Holmgren there to mop up his messes, it's more apparent that Timme still has a way to go on defense, a fact that ultimately hurts his ceiling as a pro.
He also hasn't made any real strides as a long-range shooter, which will inhibit his ability to score on the inside once he's in the NBA.
I say once, not if because there will be teams that take a flier on Timme due to his accomplished resume in college and pre-packed scoring punch.
If guys like Luka Garza can play 13 minutes a game in his rookie year, along with three scoring showcases of greater than 14 points, Timme certainly can too.
With how hard he's worked to make himself into the player he is today, there's a faint flicker of hope that Timme can improve his shooting or defense to the point that he could earn more than spot minutes in the NBA.
But even if he can't, his interior touch and timing are just too good to let slip out of the 2023 NBA draft as a whole.
Nolan Hickman: 2024 Hopeful Projection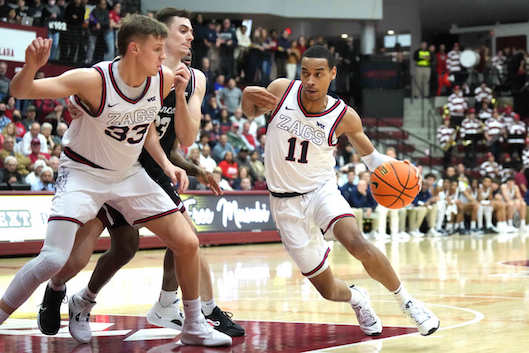 H
eading into the 2021-2022 season, there were some whispers and mock drafts that had Hickman as a potential draftee as a freshman alongside Chet Holmgren.
After last season's snoozer, alongside this season's tumultuous performance, Hickman's best shot at the NBA may be following in the footsteps of Andrew Nembhard and cutting his teeth in the college game for another year.
Hickman's presence in mock drafts was partially founded on his high placement in RSCI ratings, but being recruited by Kentucky means something.
More importantly, he's secured the starting point guard spot for the Zags and has improved as a scorer, shooter from deep, and passer this season:
A monster Hunter Sallis slam off the Nolan Hickman assist. pic.twitter.com/mq32x3ceXV

— Justin Reed (@JustinReed99) December 28, 2022
Being a plus passer is a good foundation, but Hickman will likely watch the Draft come and go without his name being called unless he can prove he won't be a liability as a shooter.
He's up to 35% from deep, but unless that creeps up on more attempts, his ceiling sits just below what teams are looking for from point guards his size.
Hickman would be best served by grinding through the rest of the season, working on his shot in the offseason, and trying to come back to Spokane as a complete point guard.
Becoming a guard who can score comfortably, command an offense, and show teams that he won't be a net minus even with his prolific passing and intangibles, should measurably raise his draft stock.
---
—More from Rowan Kent—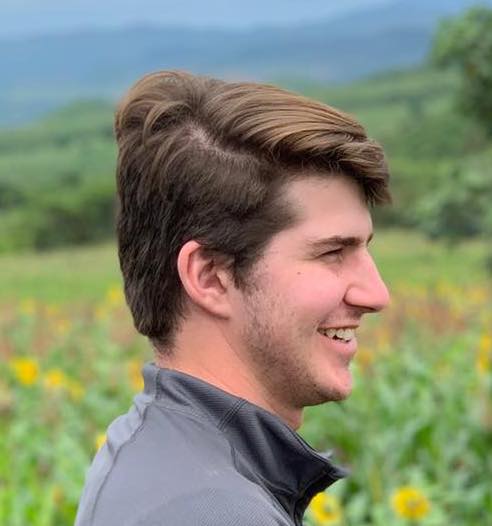 Latest posts by Rowan Kent
(see all)