Posted on October 12, 2021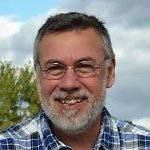 By Mik Dietlin, SuperWest Sports
T
he University of Southern California Underachievers are 3-3 midway through the 2021 season, courtesy of another Coliseum throttling, this time from Utah.

They've already played four home games, in which they're an incomprehensible 1-3. The average score of the losses, all conference foes, is 43-27—even more incomprehensible.
The opening game win against San Jose State looked lackluster, to describe it nicely.
The Spartans are not a good football team. But they've won both their home games, one more than the Trojans, so they've got that going for them.
A question popped into my head at various stages throughout the most recent laughable television experience: Is it possible this team is getting worse, or in the words of David Byrne, who also dabbles in the incomprehensible, "Same as it ever was?"
Trojan fans don't need to drown in their own analysis—they just need to keep from drowning.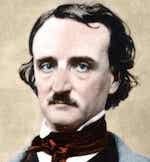 The breath of fresh oxygen initially savored after being submerged under Clay Helton for so long is disappearing. The water level is creeping under their chins again.
It'll be about seven weeks or so until we know how well this program has tread water.
The rest of this column will focus on three separate incidences from the game, oddities so weird, even supernatural, it would cause Edgar Allan Poe to raise a dark, curious eyebrow.
I will answer my own question in a way that highlights systemic issues that can only begin to be addressed next year.
1. The Case of Drake London's Relentless Flapping Jaw
O
n the field, Drake London exemplifies the rich athletic ability USC is used to acquiring. His talent is what the rest of the Conference has always tried to emulate to keep pace.
He will be a First-Team All-American at season's end, and be thought of as one of the greatest wide receivers ever to wear a Trojan uniform.
His exploits hardly need mentioning here. They're evident week in, week out. Against Utah he caught 16 passes for 162 yards and one touchdown.
He also can't stop yapping at the opposition, and it's annoying. Imagine the inner strength available to him if he learned to direct that useless emotion toward perfecting his game. He could find himself in the NFL Hall of Fame.
It can easily be verified that the less you talk to people, the less they will talk to you. There are several co-workers that will stand for hours talking to me if I allow it. It beats doing your job, that's for sure.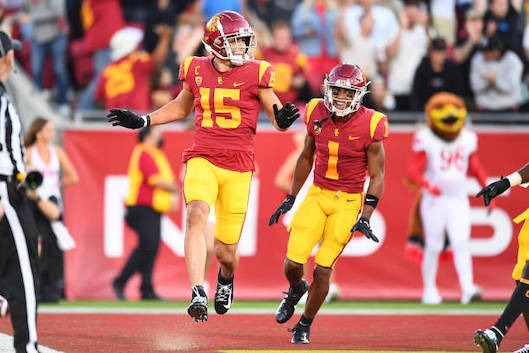 Since I don't find anything they're telling me that interesting, I'll excuse myself within a short period of time and go about my business.
As long as you think running your mouth is a good idea, you aren't working.
London isn't the only Trojan usually thinking he's got something valuable to discuss. Less bark and more focus on how to win will go a long way to changing the culture for the better.
In the second half of a game that was no longer in doubt, Kedon Slovis threw an interception. London tracked the interceptor down along the sideline, then cowardly shoved him well beyond the white line they put on the grass showing players when to stop tackling.
It drew an obvious personal foul penalty, deflating USC's defense even further, helping Utah's offense on their way to another touchdown.
How many times have we seen Trojan players over the years unwilling to exert the discipline required to win a football game? You have to assume, since we've seen it a lot, that winning isn't too much of a priority in that locker room.
Here's another question: How many times have we seen Trojan players smiling and laughing after getting their heads handed to them? Of course we see disappointment from most, thank goodness, or else it would be impossible to root for this team.
But I saw scattered joviality again Saturday night. Players participating in a winning culture, without exception, exhibit visible pain after a loss. It's a feeling they hate having. Instead they're having fun. Dark, fun, more worthy of a cringe than a smile.
A winning culture has been non-existent at SC for a long, long, time, and horseplay is no substitute.
2. The Case of Korey Foreman's Whacked-Out Coming Out Party
T
hrough the first five games of his collegiate career, Korey Foreman accumulated two unassisted tackles and one solo tackle.
You almost got the feeling he enjoyed being blocked. He doubled his output for the season against Utah, getting three tackles, two of them solo. It was his best game by far.
Hopefully he can build on this small success and continue to grow as a player as rapidly as he grew his celebration skills.
Foreman recorded his first sack in the second quarter on a third-down play. Of course there was a party immediately after, and to continue with references related to David Byrne, Foreman headed toward the sideline gyrating as if emulating an avant garde Twyla Tharp dance routine.
"Act like you've been there before," I grunted to my TV. Then I snickered. How can he act like he's been there before when he hasn't been there before?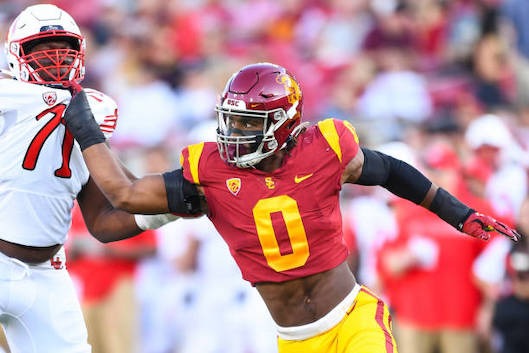 A teammate joined the party with a gentle push to Foreman's shoulder. Due to the imbalance he created for himself doing God knows what, he easily hit the ground. I thanked the unknown Trojan for doing something I wish I'd done.
I didn't want to see anymore.
Korey Foreman is beginning to understand the college game, as are a few other younger players. I have no doubt that soon he'll be difficult to single block. A fine pro career is right on his doorstep.
But if he's going to celebrate every sack like he's been electrocuted, I hope he never gets another.
There are too many acts of bravado after making simple tackles from the Trojan defense. It looks goofy, especially when you consider how bad of a tackling team they are.
The coaching staff must think it looks pretty rad, or else they'd tell them to stop.
Guys, I know getting a good hit on someone makes you feel like Spiderman or something, but can't we just get back in the huddle and concentrate on holding the edge, not committing a personal foul, not blowing your coverage, and wrapping up?
Additionally, too often, we see Trojan defenders flexing or going bonkers when their team is getting their ass kicked. It's hilarious.
The score doesn't matter in the least—it's all about being in the spotlight, and once the bright lights of L.A. are beaming on you, how can you milk the moment for it for all it's worth? Ah, more dark fun.
3. The Case of Young Donte Williams' Enrollment in the Coaching School of Kyle Whittingham
U
tah was driving for a late first half touchdown, and were facing a fourth-and-one from the Trojan 37 yard line with 17 seconds left. The Utes offense came to the line of scrimmage.
Donte Williams examined their formation, and just before the snap, called a timeout.
I don't know what potential trouble Williams saw. Maybe he just wanted to give his defense more of a breather, collect their thoughts, confirm assignments. Not a bad timeout on the surface.
But you can overthink things on occasion, as well as give your opponent time to see areas of exploitation they may not have seen with less time to think.
Utah came back out with a clearer picture of their intention. I'm also unaware if their strategy changed at all during the timeout, but perhaps they decided a flea-flicker could work. The fact it worked to perfection sums up… well, everything.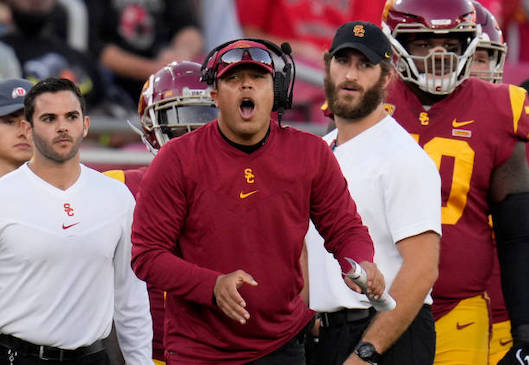 Kyle Whittingham seemed to bet on the Trojans indiscipline rearing its ugly head again, and he was right. The touchdown gave Utah a 21-10 lead at the break. And to sweeten things even more, the Utes were receiving the second half kickoff.
Their opening second-half drive resulted in a 43-yard Tavion Thomas touchdown run. As Thomas motored up the middle, it was evident no one in Cardinal and Gold was interested in touching him.
Ball game.
Toward the end, Utah had possession with about a minute left and took a knee. Up by 16, they didn't need more points. Williams decided to call a timeout, his arms seemingly folded in denial of another home whipping.
What he had in mind by stopping time is anyone's guess. In my humble opinion, it only served to prolong the agony—and grab Whittingham's attention.
Rather than taking another knee on the next play, Utah completed a long pass downfield.
"Oh, you want to keep playing?" Whittingham appeared to be saying. "We can do that."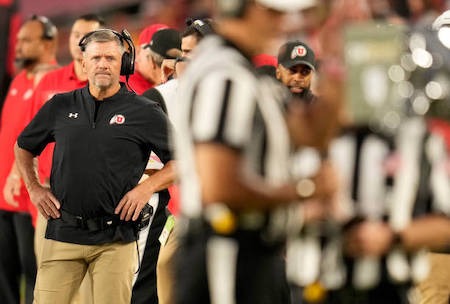 He might also have been schooling Williams: "Didn't you learn anything with that botched timeout right before halftime?"
As a head coach, Kyle Whittingham fully understands it's all about the Double-U's. Style points? That's for reality television.
* * *
What does it matter if the players all wear black socks or eat the same cornflakes at the team breakfast table if they act like Broadway stars on the field in their own one-man show?
When a teenager becomes an adult it's time to stop blaming the parents and teachers for whatever perceived roadblocks they placed in their path. It's time to motivate and discipline yourself.
For these 2021 Trojans, the grown-ups have proven incapable of providing those vital qualities necessary to winning. And if the players don't find them as a team soon, these last six games are going to be even more painful to watch.
---
—More from Mik Dietlin—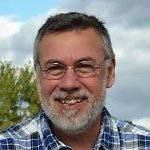 Latest posts by Mik Dietlin
(see all)