Posted on October 29, 2021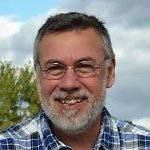 By Mik Dietlin, SuperWest Sports
Hey, did you hear the one about the football coach who lost a game because he ran out of time?
Trojan interim head coach Donte Williams' post-game comment had a surreal touch, perhaps rivaling Salvador Dali's concept of time. I just hope he wasn't serious.
Covering this 2021 edition of USC football has officially reached the mundane point. It's like powering through grilled cheese sandwiches for dinner every night trying to save money until payday.
USC plays the same game, getting the same outcome week after week. The difference between winning and losing has little to do with energy expenditure and execution, but on how bad the opponent is.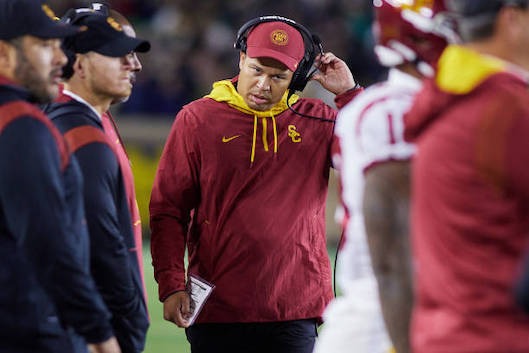 San Jose State and Colorado are easy targets. So is Arizona coming up. That's the resume USC is building this year. Squashing ants.
Washington State could have been a loss—it had all the earmarks of another Trojan calamity—until Jaxson Dart replaced an injured Kedon Slovis at quarterback. 
Saturday's 15 point loss at Notre Dame surprised no one, and that's a shame. It's also a shame there won't be any surprises this year to help us through to the off season.
This team is incapable of playing better than we've witnessed so far. There is no player development, growing cohesiveness, no next-level arriving. This is it.
Despite all the reoccurring mishaps we've come to know and love—and there were a couple of doozies in South Bend—the Trojans played hard for 60 minutes and for that I am eternally grateful. That's all any fan really wants.
They want to know that the players they root for care about it as much as they do. If their guys are getting knocked on their buttocks, they want to see them return the favor, and with ill humor.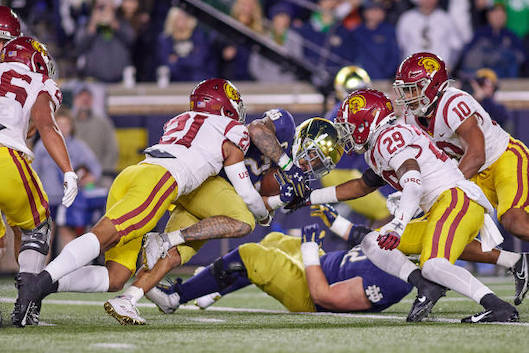 That's the beauty of football. No matter how badly you're being whipped you can still cleanly hit the players in different colored jerseys as hard as you want, as a way to exact revenge. That mentality is available every single play.
If Trojan fans could see the same effort against Notre Dame the rest of the way it would soothe  frustrations. I think that's all anyone has a right to expect.
Stability, sound fundamentals, discipline, game intelligence… those are abstractions this football program wrestles coming to terms with daily. It's evident on Saturday those qualities are not taking root Sunday through Friday.
I hate the air raid.
The Trojans ran effectively for three straight plays to start the second half, then abruptly changed course and took to the friendly skies.
Instead of practicing patience in the running game, something preached about all the time by coaches thus keeping the Irish offense off the field, they pressed the default button. Slovis continuously threw the ball until it all ended in a missed field goal.
Offensive coordinator Graham Harrell has tried to insert more balance into his play calling.
He's had more success on the ground this year than at any time during his employment at USC. Despite that fact,  the offense doesn't look balanced because the limited available plays are not complimenting each other.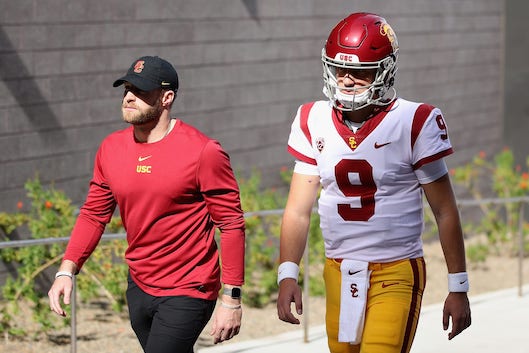 But no matter how good things are going on earth, it's as if a light bulb turns on in Harrell's mind reminding him, "Oh yeah, we should start passing the ball. They don't call this the 'Air Raid' offense for nothing."
Changing what works is the antithesis of winning. So is stubbornness. Harrell has displayed both at various times.
I wonder if he's ever correlated their eternal red zone nightmare with the impossibility of his running backs getting tough yards on the ground near the goal line.
The program has behaved the same for a number of years now.
Those who grasp Trojan football history know it's all about the running game. You find the top offensive linemen and running backs then build a tough, rugged defense that can tackle around it.
When that structure is in place, they can pick any quarterback they want.
Instead, what have we got? Finesse offensive linemen, running backs who run hard but aren't going to strike fear in defensive backs, and a soft defense that almost refuses to tackle. Is it any wonder they've reached depths so low?
I've seen enough of Kedon Slovis. I believe we've also seen his ceiling, which may have occurred at the end of his freshman year. J.T. should have stuck around longer.
It's strange to think that before the season there were whispers of Slovis as a Heisman candidate. The Stanford game pretty much took care of that.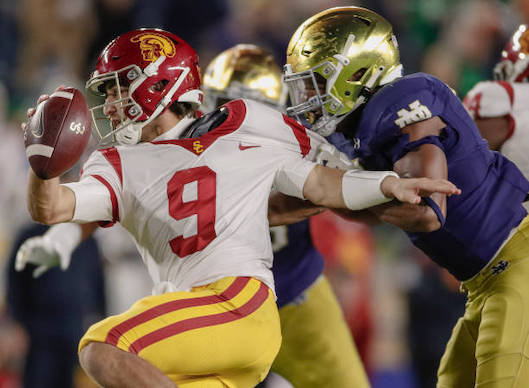 If Jaxson Dart isn't ready to go against Arizona, then let's see Miller Moss. Roll the dice, put a little excitement and drama into the last five games, because we know what's ahead if Slovis starts.
It's San Jose State and Colorado, lackluster wins against sub-par teams. But what about after Arizona? Arizona State, BYU, UCLA, promises to mirror Stanford, Oregon State, Notre Dame, and Utah.
I've already covered those games, and rather not do it again. 
Can anyone on the coaching staff honestly say Slovis gives them the best chance to win the rest of their games? Of course I'm not pinning the bulk of problems on Slovis nor am I suggesting Dart or Moss are answers.
But based on the Washington State game, something special took place that's been absent for a long, long time. Urgency. Both sides of the ball had a ton of it.
Dart was the impetus behind the team's best showing of the year. That's what it was… a show. For around 58 minutes the Trojans played lights out. It was fun to see so much enthusiasm and love for playing.
If you're on the coaching staff, why not give them another chance to recapture it? 
In a year full of turmoil, it's what the players need the most.
---
—More from Mik Dietlin—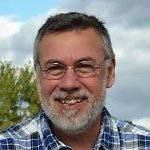 Latest posts by Mik Dietlin
(see all)