Posted on August 29, 2022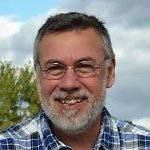 By Mik Dietlin, SuperWest Sports
"Rice remains a very small university in terms of enrollment, limited in size and so carefully planned that even the trees, which outnumber the students, are planted according to the dictates of design."

—John B. Boles, Professor of American History at Rice University (1997-2019)
W
ith a 9-2 overall record, and a No. 6 ranking in the final AP Poll, the 1953 Rice Owls fielded one of the best football teams in school history.
For those confused by that opening sentence, Rice University resides in Houston, Texas.
And for those wondering why I would begin a USC column talking about Rice, the Trojans line up against them on Saturday in Los Angeles to open the 2022 season.
The head coach for Rice during its Golden era in the 50s—and by golden I mean a pale brass-yellow shade, more of a fool's gold color—was Jess Neely.
Neely was about midway through a steady 27-year career leading the Owls.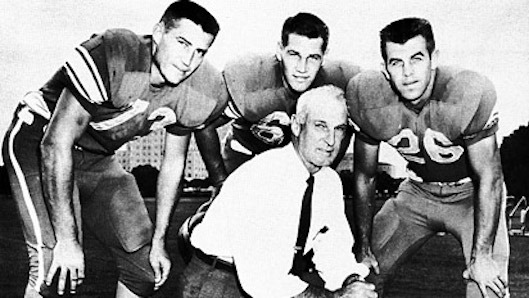 In fact, Neely's 144-121-11 record is notable considering that in the 109-year history of Rice football, only five other coaches were able to win more than seven games a season. Jimmy Kitts and David Bailiff did it twice.
Neely did it three times.
But what is of paramount interest to us is what happened in the '54 Cotton Bowl.
During the regular season Rice dispatched with relative ease Arkansas, Texas, Baylor, Texas A&M, and TCU, all members of the old Southwest Conference.
Their only conference loss came against stubborn SMU. Despite another loss to Kentucky two games later, they went on a five-game winning streak and were headed to the Cotton Bowl to face Alabama.
Not the Nick Saban Alabama, or even the Bear Bryant Alabama.
The 6-3-3 Alabama, winning just four conference games but able to reach the Cotton Bowl with the highest winning percentage in the SEC on the weakness of three conference ties.
Rice had the ball at their own 5-yard line and a 7-0 lead in the second quarter. Running back Dicky Maegle took the hand-off and followed his blockers off right tackle.
Untouched down the sideline, no crimson jersey was in sight to stop him from scoring an effortless touchdown, other than a bench-warming Tommy Lewis.
Lewis, an Alabama linebacker and fullback, who—unable to accept the torment of going down by 14—ran onto the field and tackled Maegle.
It's known as one of the strangest plays in college football lore. Maegle and Rice were awarded a touchdown, and Rice won 28-6.
Television replays were in their infancy then, but this play made the rounds. It created a shocking fascination across the country.
Not to the extent of Orson Welles War of the Worlds broadcast, but enough that both Maegle and Lewis were invited to appear on the Ed Sullivan show to discuss why Lewis would do such a dastardly thing.
Sullivan, it turned out, wasn't too interested in Maegle. The real story America had to hear was Lewis' dedication to winning and his passion to do anything to help the Tide roll.
Maegle felt Sullivan was trying to turn Lewis into a hero of sorts.
There was little sympathy for Maegle that night, even though two days earlier he had rushed for a heroic 265 yards on 11 carries with three touchdowns in one of the biggest college football games of the year.
Ironically, Lewis evolved into the victim in his passion play.
Maegle was a mere player in the drama enabling Lewis' character to shine. Since 1960, however, a period of 61 seasons, Rice has continually played the victim with only 11 winning seasons.
Alabama, with the emergence of Bear Bryant in 1958, has been the hero.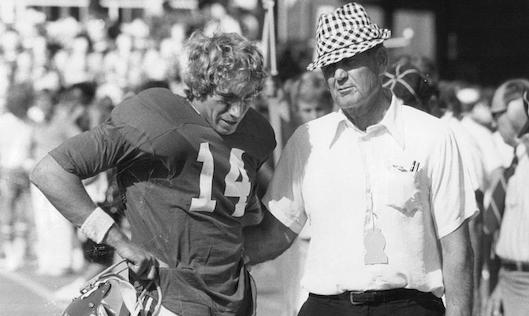 That's really all you need to know about Rice football. Do they have an offense today capable of running the ball down the USC's throats?
No, they don't.
But if Maegle and that solid Owl offensive line of '54 went up against the 2021 Trojan defense, we'd have a lot more to discuss.
So what can we expect from Rice? Not much I'm afraid, though there are positives. They can feel good about finishing 10th nationally in 2021 in time of possession.
Head coach Mike Bloomgren has said he's excited about finding ways to get receiver Luke McCaffrey (younger brother of Christian) involved in the offense.
Treshawn Chamberlain, perhaps their best linebacker, is back healthy after playing in only four games last year because of injury.
Not quite the eye-popping revelations that will make the Selection Committee revise their preliminary analysis of the upcoming season.
McCaffrey is an ex-Nebraska quarterback who transferred to Louisville, then transferred to Rice, then transferred to wide receiver.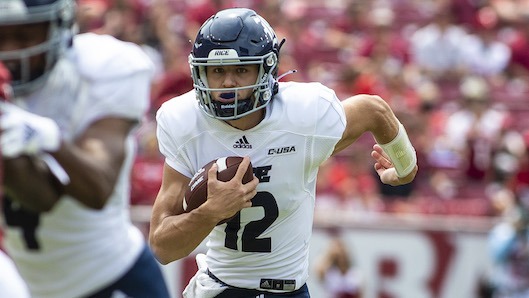 Bloomgren may be excited about getting him the ball, but I'd be excited if he'd put some roots down for longer than a few months.
Rice will test the Trojan defensive line with a run-heavy attack, to see if it's still as soft as its reputation.
When they discover it's not as cushiony as they were led to believe, they'll try to throw the ball to a trio of good wide outs—Bradley Rozner, Cedric Patterson, and the always now-you-see-him-now-you-don't shiftiness of McCaffrey.
The Owls averaged a dismal 21.5 ppg last year, giving up a whopping 36.2 ppg. It's amazing they won four games.
They're simply a bad football team, showing little indication of improving enough this year to save Bloomgren's job. But positive vibes, as always in sports, supersede reality.
"I've told these guys from experience the Coliseum is a great place to win," Bloomgren said recently.
Okay, but those kinds of hallucinations of grandeur only materialize at big schools like Stanford, where you once coached the offensive line.
These are two teams in urgent mode: USC, anxious to prove to the college football world that blue blood continues to coarse through its veins; and Rice, because Bloomgren is aware this might be his last chance to turn his 11-31 record in Houston into a few bowl appearances.
Final score: Trojans 50, Owls 13.
---
—More from Mik Dietlin—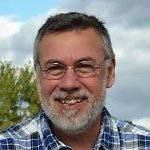 Latest posts by Mik Dietlin
(see all)