Posted on September 9, 2022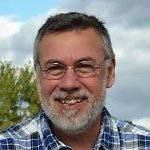 By Mik Dietlin, SuperWest Sports
I
had most thoughts of my USC-Stanford preview settled in my mind when I glanced at a headline with the shocking news that Andrew Luck was returning to Stanford.
"That's not legal," I said out loud to my computer. "They can't portal retired NFL players!"
But before I got that hook stuck in my mouth and went about the chore of rewriting, I thought it would be best to click on the story.
You never know what misdirection sits behind a headline. Sure enough, Luck isn't coming back to play football, just continuing his graduate studies.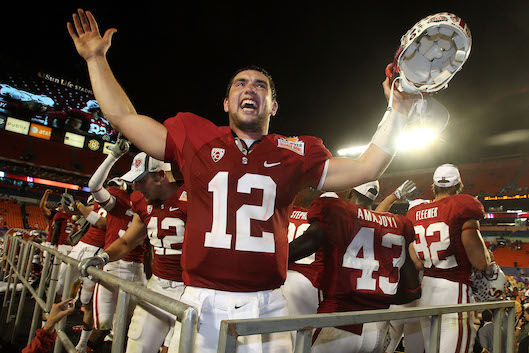 Not that it would have made a difference, maybe even when Luck was a college kid. This Stanford team has few strengths and more question marks than the Riddler's wardrobe.
It will sound surreal to suggest that head coach David Shaw's 2022 model will only go as far as the arm of red-shirt sophomore quarterback Tanner McKee will take it.
Gone are the days when the rugged Cardinal defense made opposing offenses sweat for every inch.
Their powerful running game has all but disappeared. Shaw has seen his once-Top 10 program become lost in a forest of evergreens, and he's desperately searching for clearance leading home.
Any solutions come with qualifiers. For example, all five starters on the offensive line return, usually great news for any program. But last year this group finished 126th nationally in rushing yards.
An awful lot of improvement in a short period of time has to occur if Stanford is to challenge for a Conference title in 2022.
To make things bleaker—something I really don't take pleasure in—their defense is coming off an equally horrible season in which they were fourth-worst in the country stopping the run.
DC Lance Anderson will implement a 4-3 base, dumping the 3-4 alignment the Cardinal have employed since 2010. It'll be more of a gap-shooting attack and probably suits their personnel best.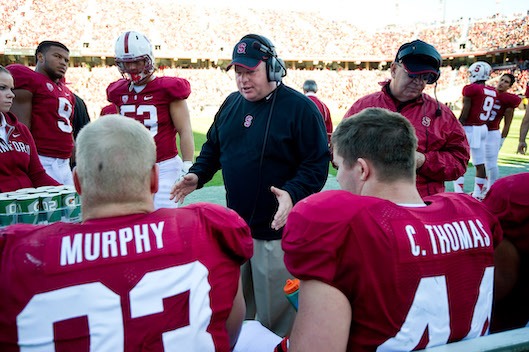 Last week, Colgate ran effectively against this new defensive configuration in their 41-10 loss.
Their 159 yards on the ground kept them from embarrassment, which you would expect Stanford capable of administering.
If Colgate could have executed in the passing game at all, they might have made it somewhat interesting.
"It's not the biggest group physically," Anderson said about the D-line during spring. "We just want those guys to play fast. We want to get off the ball. We want to get in the backfield. We want to be disruptive."
Quite a flip from lining up and daring you to run right at them as in the past. The Trojans will likely be happy to run against this undersized front.
Running back transfer Austin Jones will be anxious to show his former team what he can do in his new offense and bounce back from a disappointing stint on the Farm . . . or in The Tree.
Tanner McKee's exceptional freshman year has vaulted him into one of the top quarterbacks in the Conference. Stanford is pretty good at receiver too.
Elijah Higgins returns from injury with his team-high 45 receptions in 2021. Michael Wilson was an all-Pac-12 honorable mention in 2020. Both provide valuable senior leadership.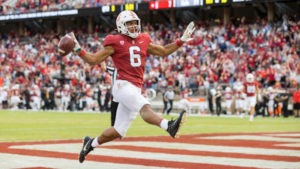 The Trojan athletic secondary will have its struggles. Covering receivers against McKee and covering them against Rice quarterbacks are different pursuits.
Getting enough quarterback pressures is a priority and if accomplished, should keep McKee in check most of the time.
There are just too many inadequacies for Stanford to overcome. What the Cardinal have usually done well since Shaw's tenure began is run the football and rely on play-action for big plays.
They aren't used to depending on quarterbacks to win games. It wasn't successful last year. I don't think it'll be this year either, even factoring in returning healthy bodies and McKee's continued development.
The advent of transfer-mania has made constructing a football team easier than ever, though with every new endeavor, difficulties arise.
I mean, it's not like coaches can dial 1-800-NEW-STUD and Amazon will ship players to your doorstep in two or three working days.
Therefore, it is easier to plug leaky cracks in the foundation than ever. Citing youth or injuries as excuses for poor performance is just lame. And lazy.
We see signs in gyms all over the place now that say, "No one cares."
I know I don't care. How's your depth? That's what teams should care about. If it's not up to snuff, then do better.
All this is to say that Shaw hasn't been shy about walking down the excuse path in the past. He made vague reference to it again recently.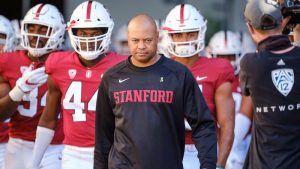 "There's a reason why they call it growing pains because sometimes it hurts," he said. "We had some growing pains last year. But I think what that taught us really is what we do well, and what we don't do well."
I don't see Stanford's defense putting up much resistance to Caleb and Company.
SC's best shot defensively is to make Stanford one-dimensional with a confusing apparatus of run blitzes designed to shut down the run and flush McKee out of the pocket.
McKee won't remind anyone of Dan Marino, or Michael Vick for that matter, but like Dan the Man, he's far more effective posing as a statue between the tackles with enough time for a bagel and cream cheese before delivering the ball.
Come to think of it, every single quarterback that's played the game is more comfortable and effective when allowed to operate as a statue, bagel and cream cheese or not. Except maybe Fran Tarkington.

The Trojans will get their second win.
It'll be more decisive than the final score will indicate. The Trojan offense will sprint, and the Cardinal offense won't be able to keep pace.
Expect a garbage touchdown and a half-empty Stanford Stadium at the end. Who names stadiums after their school in this day and age anyway?
Let's go National Tree Company—cut a deal with Stanford University and promote your fake Christmas trees! National Tree Company Stadium. Sounds good to me.
The additional advertising revenue should afford Shaw a few more 4-star or even 5-star players.
And please get a new mascot.
Your drug store Sew & Glue tree costume (Elmer's glue included), is an affront to nature.
Final score: USC 45, Stanford 31.
---
—More from Mik Dietlin—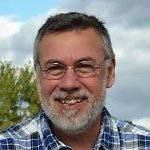 Latest posts by Mik Dietlin
(see all)