Posted on September 21, 2021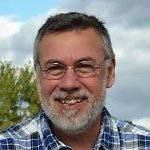 By Mik Dietlin, SuperWest Sports
N
ow that was more like it.
Nothing soothes the savage heart of a college football fan—or columnist—more than consistency, knowing exactly who your team is and what to expect on a weekly basis.
Despite the 45-14 thumping USC gave Washington State during a chilly downpour in Pullman, the jury is still out on the kind of performances Trojan fans can expect week-to-week the rest of the season.
But the jury may not be deliberating long.
Things began in typical insane fashion for the Trojans. A first down, a false start, a sack of Kedon Slovis injuring his neck and knocking him out of the game. All in the first two minutes.
Something play-by-play announcer Joe Davis said just before kickoff then came to mind, about how Slovis had never, ever played a game in the rain.
Really? Not even in his back yard as a kid? The carefully timed comment, at first listen, seemed flippant, but proved to be a curse.
The curse strengthened after WSU easily marched 89 yards on their first possession, scoring on a 12 yard Jayden de Laura pass to Travell Harris.
Then Trojan back-up Jaxson Dart entered the game, and on his first series threw an interception. I scanned the raucous crowd to see if I could find a witch sticking pins in USC quarterback dolls.
A punt and a Dart fumble bracketed another WSU score. After the first quarter it looked like nothing had changed since the previous coach had packed his bags.
Except now the Trojans were probably being controlled by evil forces, spearheaded by an unlikely source named Joe Davis. Yeah right, like that's his real name.
Thankfully, looks can be deceiving. The mind can behave like a fitful adversary. While Dart was eagerly getting himself acclimated to the challenge before him, his teammates grew accustomed to their new signal caller. Then a rarity swept both Trojan huddles.
Energy.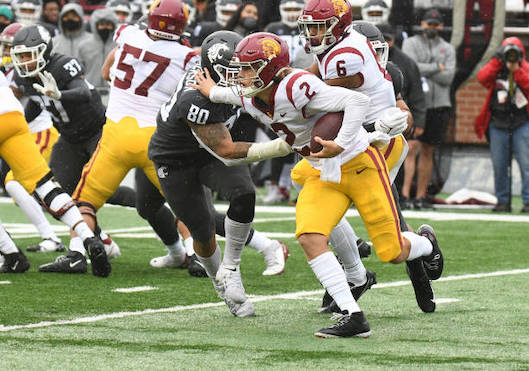 It was clearly evident in how Dart played aggressively and fearlessly while attacking the Wazzu defense, racking up a team-high 32 yards on six carries.
Most of the yards came early, before banging his knee, leaving him hobbled the remainder of the game. His grit provided more energy as he shrugged it off and continued to do his job.
Limited for the most part to throwing the ball, he relentlessly carved up the Cougar defense the entire afternoon, going 30-46 for 391 yards and four touchdowns, with two interceptions.
The second pick was basically a punt, hemming WSU deep in their own territory.
Interim head coach Donte Williams stressed all week they'd start enhancing the little things, and by the middle of the second quarter you could see that the message was well-received.
Drake London was the focal point of the offense again. Drake Jackson caused a fumble in the end zone, resulting in a Tuli Tuipulotu recovery for a touchdown. The defensive line exploded off the ball, and were rewarded with three sacks on the day.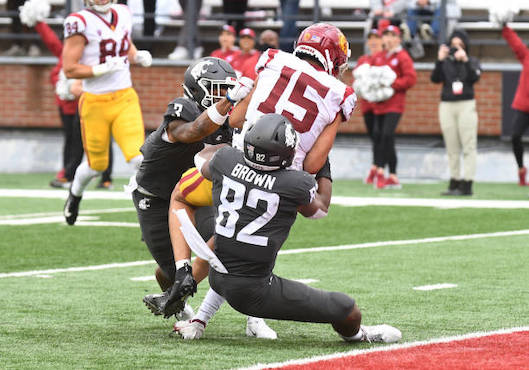 We were suddenly watching a well-oiled machine, though the running game apparently still needs an overhaul, mysteriously disappearing after two pretty good efforts. Nothing's perfect.
You know those third quarter scoring woes over the past one-and-a-half seasons, managing an unbelievable 2 touchdowns?
Remember that red zone force-field running the length of the opposition's 20 yard line rendering the offense incapable of executing?
Jaxson Dart made it a fading memory in the third quarter, throwing three touchdowns (the Trojans got a fourth on the end zone fumble). Two touchdowns came in the red zone.
Reading the players observations of the game and what transpired in the practices leading up to it told a story of actual enforced discipline, accountability, and rejuvenation.
There's a new sheriff in town, and his name is Donte Williams.
SC wasted little time shaking off the Slovis injury. Once they found their mojo, they laid waste to the Cougars hopes and confidence. This time the opposition's fans left early.
There are two problems though, but they're good problems to have. The first problem is easy to solve.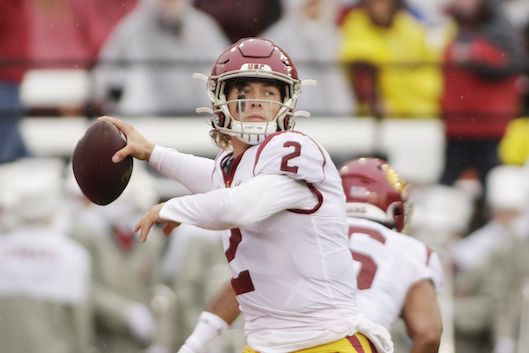 What do you do with Dart when Slovis is healthy? Nothing. Provided the true freshman can go—he's banged up and listed as day-to-day—keep him as the starter.
Williams' "take no prisoners" approach to head coaching indicates to me that Dart ought to be the man going forward.
He's more aggressive than Slovis and more decisive, a trait Slovis is struggling with. He can escape the pocket and not only pile up first downs, but is a legitimate danger to score from nearly anywhere on the field.
Slovis can move, but there really is no comparison.
Dart is already displaying a resolute doggedness for calling out receivers for breaking off routes, and for functioning superbly through pain. His fiery temperament is a perfect complement to Williams personality.
Slovis is workmanlike, precise, and frankly boring. I don't think he says one word during games other than when calling plays.
Both are leaders, but Dart has more horsepower in his engine. Slovis is steady, has the trust of his teammates, as accurate as anyone—a perfect backup.
This decision, if Williams believes Dart is the guy, is no different than the decision to keep Slovis the starter when J.T. Daniels returned from injury.
The other problem is what to do with Williams, should his team keep rolling to a Pac-12 Conference Championship win and a New Year's Day bowl game.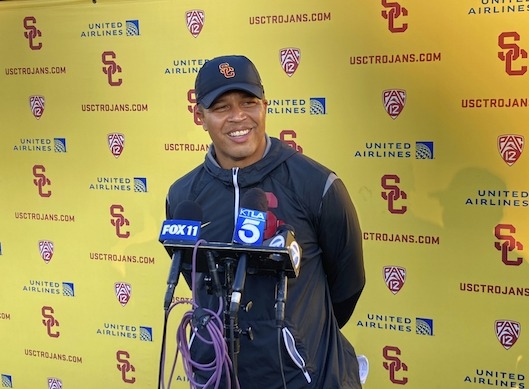 A playoff game seems unlikely given their unranked status after game three, though there's an outside chance the Selection Committee could place them in position to make a move.
The Williams solution is for another day. Also for another day is speculation on how far this team can go.
Who am I kidding? Let's hash this out right now.
The odds for SC having a much better year are considerably higher than they were before 12:30 PST last Saturday.
Eventually Mike Bohn and Co. will have to decide—assuming an amazing season is in the works—if hiring experience with ideally an NFL connection is more valuable than keeping the interim that lit up Los Angeles, and college football.
If experience wins out, and it by-golly well should, Bohn risks losing Williams. It's an awful lot to lose. But I'm not willing to slosh through another assistant hiring, as tempting as Williams may be.
Trojan fans must trust that Bohn's hiring of Luke Fickell in Cincinnati wasn't a fluke, and that he learned something about hiring the right coach after a string of bad hires at Colorado. He has time to get this right.

He can sift through who's available, who's interested, and how much it will cost, then determine the best candidate to regain USC's former glory. Williams can stay on for the ride if asked. I'd like to see him get asked.
For now, excitement is overflowing in the Trojan locker room and within the fan base. It's beautiful, but perhaps we all should just take a step back and tranquilize.
There's a whole lot of games left. Williams needs to pace himself on the sideline. I'd rather not see him tear a hamstring celebrating with his players. He's got a few months left to set the right tone for the next head coach.
You had to know there'd be some knucklehead somewhere asking for calm after the most significant Trojan win in years.
---
—More from Mik Dietlin—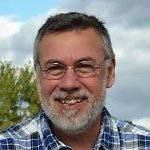 Latest posts by Mik Dietlin
(see all)