Posted on October 5, 2020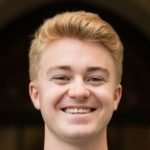 By Sam Connon of Dash Sports TV for SuperWest Sports
The Bruins' stable of running backs was well-worn in the 2010s.
Johnathan Franklin started off the decade with a bang and wrapped up his UCLA career with an iconic, throat-slashing touchdown run to beat USC in 2012.
Paul Perkins broke 1,500 yards from scrimmage in back-to-back seasons, playing in a bowl game in each of his three years in Westwood.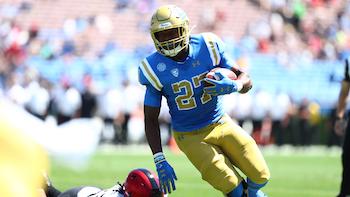 But the crown jewel of them all was the final ball-carrier to enter the picture—Joshua Kelley.
The debate of UCLA's best running back of the 2010s started on Twitter when former Daily Bruin and Bruin Report Online reporter Matt Joye asked his followers where Kelley ranked on June 25. Most responders slotted him behind Franklin. Others ranked him third behind Perkins as well.
It is true that the aggregate stats don't work in Kelley's favor. After spending two years at UC Davis and one year sitting out due to transfer eligibility rules, Kelley was only given two years to make his mark in Westwood.
Kelley was not part of the best teams UCLA had to offer over the past 10 years, as he never played in a bowl game and went 7-13 as a starter. That isn't his fault, however, as he was on two teams with bottom-of-the-barrel defenses and uncertainty at quarterback and the offensive line.
But the fact of the matter is that Kelley did almost as much in two years than Perkins and Franklin did in three and four, respectively.
After picking up 11 carries in his first two games in 2018, Kelley was a healthy scratch Week 3 against Fresno State. But over his 20 final collegiate appearances, Kelley was arguably the best running back in the Pac-12, racking up 126.1 yards per game and 25 touchdowns from scrimmage.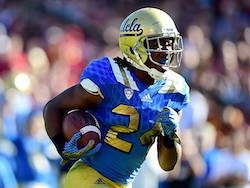 Franklin averaged 1,114 yards and eight touchdowns from scrimmage per 12 games over the course of his career. Perkins averaged 1,301 yards and 10 touchdowns per 12 games over his four years.
Kelley topped the others in both categories, averaging 1,400 yards and 14 touchdowns per 12 games in his two brief seasons as a Bruin.
His efficiency is admittedly worse than the other two, as his 5.2 yards per touch rank third between the three contenders. Kelley wasn't the receiver Perkins was, and he never had a year as dominant as Franklin's 2012 campaign.
He did, however, have the best single game out of the trio, and it was a performance that brought hope in the worst era of UCLA revenue sports.
On November 17, 2018, Kelley rushed for 289 yards—the third-most by any Bruin ever—and two touchdowns against USC, posting the most prolific rushing performance in the history of the crosstown rivalry. The Bruins upset the Trojans 34-27, with Kelley's 55-yard, go-ahead touchdown to open the fourth quarter, solidifying him as an icon on campus and beyond.
The historic performance was great in isolation, but it stands out so much more considering what kind of success the Bruin faithful had been subject to during Kelley's time in Westwood.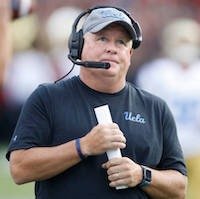 UCLA football is four years deep into a losing season streak, UCLA men's basketball hasn't won in March Madness since 2017 and Stanford passed UCLA in total NCAA championships in 2018. Kelley's steamrolling of the Trojans is one of the lone bright spots in one of the darkest times in recent UCLA history.
Still, the Kelley era was one shrouded in "What if"s.
What if he had played all four years? What if he had a more consistent offensive line? What if he had played with Josh Rosen or the defenses from early in the decade?
The questions are endless.
But the best part of Kelley's career is that you can throw out the hypotheticals, throw out the "what ifs," focus on what he brought to the table, and still come away satisfied.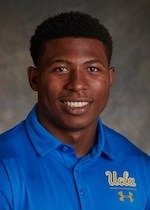 Kelley left it all on the field every time he suited up in blue and gold, and his teammates, coaches and opponents would all tell you the same. Personality doesn't show up on the stat sheets, but his smile and leadership were invaluable.
It would have been great for UCLA fans to watch Kelley from the Rose Bowl bleachers more than a mere 12 times. It would have been great to see him smile while raising a trophy—literally, any trophy—above his head at the end of a season.
Instead, fans will have to watch Kelley's NFL career play out to see him succeed on the biggest stage.
Kelley racked up 113 yards from scrimmage Week 2 against the Kansas City Chiefs for his new LA team, more than either Perkins or Franklin ever did in a single game.
The former UC Davis transfer already put together a better collegiate career than either of them, and he is on track to outpace them at the next level as well.
You can watch Connon's Bruin Dash Sports Talk Show on Dash Sports TV, and read his other stories at the Daily Bruin.

---
—More from Sam Connon—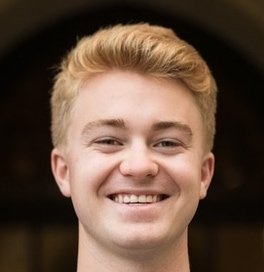 Latest posts by Sam Connon
(see all)