Posted on November 17, 2020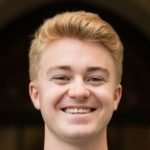 By Sam Connon of Dash Sports TV for SuperWest Sports
The Bruins may have had a great game plan in store for the Utes.
Chip Kelly might have out-schemed Kyle Wittingham, the UCLA offense might have finally pushed back against the Utah defense, and junior quarterback Dorian Thompson-Robinson might have made up for his nightmare performance in Salt Lake City last season.
But we'll never know what would have happened for real.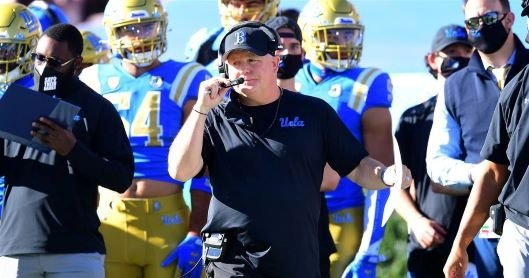 Instead, we got to see what Kelly and his staff could put together on 43 hours notice, and it was better than anything he's put on the field in the last three seasons. UCLA football's 34-10 victory over Cal Sunday morning brought the Bruins to .500 for the first time since 2017, and there was certainly a lot to feel good about for Bruin fans.
The players performed well. The defense stepped up big time and limited damage on early mistakes. Those certainly contributed to the win and cannot be overlooked.

But the offense was the standout last Sunday, and Kelly managed to whip up the game plan in less than two days.
After watching Kelly try to force a new pro-style offense on his athletic roster for multiple seasons, it was amazing to see what his team could do with an up-tempo, blur-like scheme.
It shouldn't matter who he's going up against—Kelly needs to run that type of offense every week. Seeing how well the Bruins ran and passed the ball Sunday shows that maybe Kelly has overlooked his strengths in favor of playing the matchups in the past.

If he truly trusts his offense—and given last week's performance, he should—it needs to adopt what it was running against the Golden Bears, and make that the base look for the rest of this shortened season.
Kelly shouldn't totally bail on scouting his opponents, as that would be irresponsible, to say the least.

But it isn't a coincidence that when his week of planning was thrown out the window and he had to go into a game mostly blind, the Bruin offense put up 34 points and nearly 500 yards of total offense?

Multiple backs were getting involved, the tight ends were active and even reserve receivers, such as Charles Njoku, made their mark. Thompson-Robinson ran more than he ever has, and he efficiently distributed the ball on short and intermediate passes as well.
Getting a game canceled the day before it's scheduled is not ideal. Neither is scheduling a new game against an experienced and highly-regarded conference rival on the fly.
Kelly made the most of it by trusting what worked best for him a decade ago at Oregon, and it paid off big for a UCLA team desperately in need of a win.
Now all Bruin fans can hope for is that he recognizes his past errors and sticks to this approach moving forward.
You can watch Connon's Bruin Dash Sports Talk Show on Dash Sports TV, and read his other stories at the Daily Bruin.

---
—More from Sam Connon—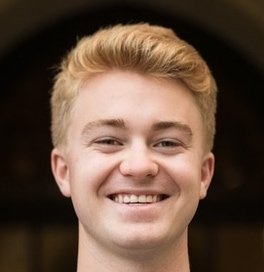 Latest posts by Sam Connon
(see all)