Posted on March 1, 2023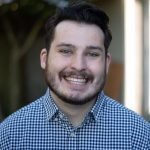 By Cody Schoeler, SuperWest Sports
T
he 49ers put together an incredible season in 2022 and although it didn't end the way they were hoping, it doesn't mean that it wasn't a success.

They weathered a crazy amount of injuries, most notably at the quarterback position, on their way to an appearance in the NFC Championship Game. Now, it's time to build on that momentum.
A good offseason from the Niners will keep them among the best of the best in the NFC. A bad offseason could see them tumble down the standings.
Fortunately for them, the Niners have done an incredible job of building the team and don't have a ton of free agents to worry about.

The most important players such as Nick Bosa, Fred Warner, Deebo Samuel, and George Kittle are comfortably under contract.
That just leaves some improving to be done on the edges, which is what separates the Super Bowl winners from the wannabe contenders.
Biggest Free Agents
Safety Jimmie Ward
O
n paper, Ward might not seem like the most important free agent for the 49ers, but that is not the truth.

Ward means a lot to this team and defense. He's been with San Francisco since he was drafted in 2014, making him the longest-tenured member of the team.
Ward's also an incredibly versatile player and has been vital to the defense with his ability to play either safety spot, nickel, or cornerback.
He is exactly the type of player that a contending team such as the 49ers needs to bring back.
He also means more to the Niners than probably any other team in the league so both sides should be able to agree that Ward's return is best for everyone involved.
Safety Tashaun Gipson
G
ipson is another safety the Niners will have to make a decision about, but it's a much murkier situation.
Gipson is an 11-year veteran who has played for five different teams, yet had a ton of success in his first season with the 49ers. He started all 17 games while leading the defense in snaps played and interceptions.

It's clear that Gipson plays well in this system, but it's not clear whether he is going to return. There are two ways of looking at it.
Gipson could attempt to capitalize on his productive season and turn it into a nice contract, possibly the last big one of his career.
The 49ers could also look at the situation and realize they have Ward, who they probably would like to bring back, and Talanoa Hufanga, who had a breakout season last year, and think they are set at the safety position without Gipson and let him walk.
Either way, it would appear unlikely that Gipson returns to San Francisco unless he is willing to give them a discount.
Tackle Mike McGlinchey
M
cGlinchey is another member of the Niners that has been very valuable over the years. He's been with the 49ers for five years and has started every game during that time that he was healthy.

The right tackle market is interesting because the position isn't as valued as its counterpart on the other side of the line.
That works in the favor of the 49ers because they should be able to resign McGlinchey to a solid contract without breaking the bank.
He's been a good player for them over the years but hasn't played well enough to demand top-of-the-market money. That should lead to both sides negotiating a deal that is a win-win.
McGlinchey gets paid well and gets to play for a winning team while the Niners solidify a spot on the offensive line for the next handful of years.
Linebacker Azeez Al-Shaair
O
n the other hand, Al-Shaair seems like someone that the Niners are ready to move on from. It has nothing to do with the linebacker's play, it's just the situation the team finds itself in.

San Francisco already has Warner, one of the best players in the game at the position, locked up.
The Niners may not want to commit to two off-ball linebackers since they aren't typically the most valued position.
There is also the fact that Al-Shaair is 25 years old and has a lot of upside and the linebacker group in free agency isn't particularly strong.
If several other teams think Al-Shaair would be a worthy addition to their roster, then the 49ers will probably end up looking elsewhere to fill his role.
Defensive Ends Charles Omenihu and Samson Ebukam
T
here is absolutely no way that the 49ers bring back both of these players, despite how well they played last year.

It's also likely that neither of them return to San Francisco.
The 49ers are already absorbing a huge cap hit with Bosa's fifth-year option this season and will have to sign him to a massive deal next offseason if they don't agree to an extension beforehand.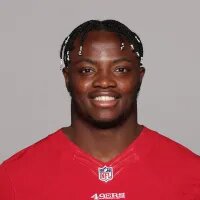 That combined with Arik Armstead's large deal makes it incredibly unlikely that the 49ers spend any extra money on the defensive line unless it's a very cheap deal.
And both Omenihu and Ebukam won't be looking for cheap deals because they will want to capitalize on the momentum they have from last year and get paid.
Center Jake Brendel
A
nytime a starter is set to become a free agent, it's a big deal for a team.
That is the case here with Brendel, despite the fact that he isn't a big name. He did play the most snaps on the Niners' offense this season, though.

It's possible that Brendel gets a lot of attention on the open market because he was a 17-game starter for a very good team.
If that is the case, the Niners may choose to let him walk, especially if it comes down to resigning either him or McGlinchey.
But there's also a distinct possibility that the two sides can hammer out a deal.
It's clearly a mutually beneficial relationship because Brendel had the best season of his career last year, which was his second with San Francisco since coming over from Miami.
If Brendel wants to remain a Niner then there's little doubt that the Niners won't share the same desire.
Biggest Needs
Cornerback
T
he 49ers don't have a ton of pressing needs this offseason, especially on defense where they field arguably the best unit in the league.
But if there is one area where the Niners can possibly improve, it would be cornerback.
They have a decent number-one corner in Charvarius Ward but are vulnerable behind him.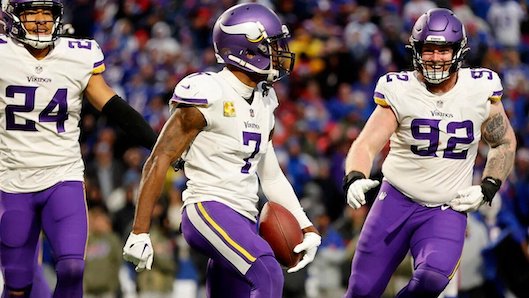 It's even more important to find a solid corner who can produce on the field because both Emmanuel Moseley and Jason Verrett are upcoming free agents and there's a possibility that neither return.
In that case, the Niners would be well served to find another cheap veteran to come in, like they did with Verrett.
Patrick Peterson could be an option if he's willing to take less money to chase a ring. Mike Hughes, Terrance Mitchell, and Fabian Moreau are also possibilities.
Offensive Line Depth
I
n the event that the Niners resign both McGlinchey and Brendel this isn't as big of a need, but they still need to add some depth.
Daniel Brunskill was a solid swing player for them up front and is slated to be a free agent. Not only that, but left tackle Trent Williams is also getting up there in age.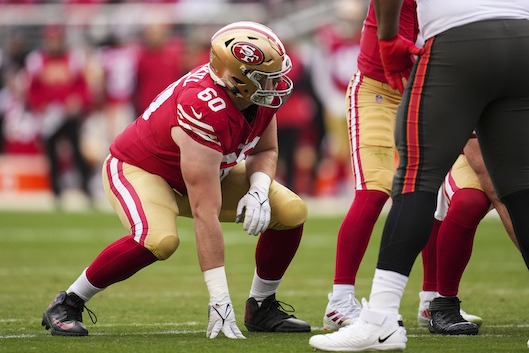 Williams is still one of the best tackles in the game, but he missed time last year with an injury so it would be a good idea for San Francisco to add some depth to cover for that again.
This is probably a need that is best addressed in the Draft where the 49ers can add some backup linemen on very cheap deals, but free agency isn't completely ruled out.
Greg Little, Josh Wells, or Justin McCray could also fill that need.
Tight End
A
gain, the Niners don't have a ton of needs, which is why they can focus on a position like tight end where they already have a very good starter in Kittle.
But Kittle is injury-prone so having a solid backup is imperative.
Both Ross Dwelley and Tyler Kroft are free agents, and losing Dwelley would be a big hit because he's filled in well when Kittle has missed time.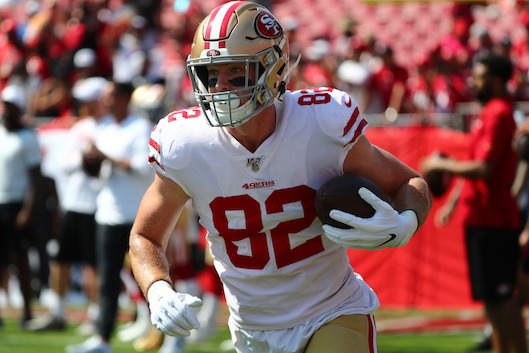 The Niners will still have Charlie Woerner, who's a young player with some upside, but likely not ready to step up into a bigger role.
If the Niners don't resign Dwelley, they'll almost certainly have to find a replacement on the open market.
If San Francisco doesn't want to go that route, it could look for a tight end it really likes in the draft, but without a ton of draft capital that may not be the best idea.
---
—More from Cody Schoeler—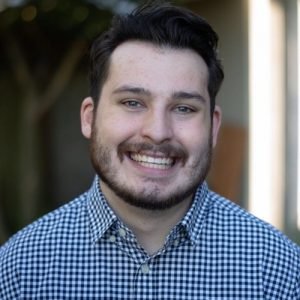 Latest posts by Cody Schoeler
(see all)