Posted on October 9, 2022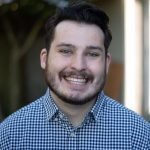 By Cody Schoeler, SuperWest Sports

The west teams finally got some momentum this season, as the six teams that played teams outside the two divisions all got wins.
There is a chance to do even better this week with seven teams playing teams not in the west.
Earning a win this week is important for each team, especially in the NFC West where all four teams have 2-2 records.
Now that we are past the first month of the season (and what used to be the 25-percent mark in the old 16-game season) teams are going to start pulling away or lagging behind.
These are the performances that can define a season and with each win more important than the next win, this is the biggest week yet.
As all eight teams look to notch another victory, here are some quick previews for the seven matchups featuring west teams this week.
Seahawks (2-2-0) vs Saints (1-3-0)
Sunday, October 9
10:00 a.m., FOX
S
eattle is riding high after its big win against the Lions. Or at least, the offense is riding high.
The Seahawks' defense has been one of the worst in the entire league and they are hoping the Saints don't expose them too much on that side of the ball.
New Orleans may be able to do that if quarterback Jameis Winston is playing this week. The Saints actually have a pretty good passing attack, ninth in the league in yards, but they are obviously much less dangerous through the air with backup quarterback Andy Dalton.
There will be a matchup of youth on the outside, with rookie wide receiver Chris Olave of the Saints taking on a Seahawks' secondary that features two rookies, cornerbacks Tariq Woolen and Coby Bryant.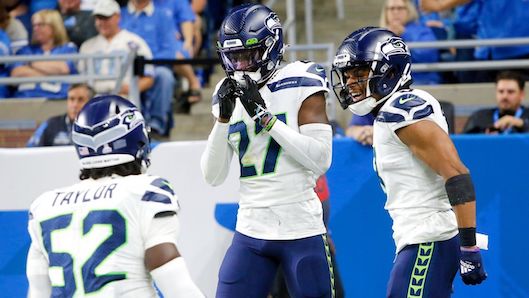 If Seattle's offense can play the way they did on offense on Sunday then a New Orleans defense that is actually pretty good may not be able to stop them.
The key to that is quarterback Geno Smith. At his best, Smith is an efficient operator of the offense that uses all his weapons effectively, he is leading the league with a staggering 77.3 percent completion percentage for a reason. But at his worst, he can look completely lost out there.
The Seahawks have the right idea of pairing him with a good rushing attack led by running back Rashaad Penny, who ran for 151 yards last week.
But Penny and the rest of the rushing attack have struggled against good defenses, especially up front. That is the threat that New Orleans presents, with defensive end Cameron Jordan and linebacker DeMario Davis leading a very stout front seven.
Seattle does come into this game playing better and has more momentum, so if they can carry that over to this week then another win, one that would get them to a winning record, is possible.
Chargers (2-2-0) vs Browns (2-2-0)
Sunday, October 9
10:00 a.m., CBS
T
his game could go many different ways depending on which version of each team shows up.
The Chargers have looked like a top-tier team with the ability to hang with elite squads like the Chiefs. But they have also been a team that gets destroyed by the Jaguars.
The Browns have been a team that can dominate on the ground with running back Nick Chubb. But they have also been a team that was on the wrong end of an epic collapse against the Jets.
In the event that both teams show up playing their best, it will make for an interesting matchup when Los Angeles is on offense.
Quarterback Justin Herbert is clearly a rising star in the league but he will be up against a tough foe in the Browns' secondary.
Cleveland has allowed opponents to complete just 56/9 percent of their passes this season, which is the second-lowest in the league. With cornerback Denzel Ward and safety John Johnson leading the way, the Browns may be able to give the Chargers a tough time.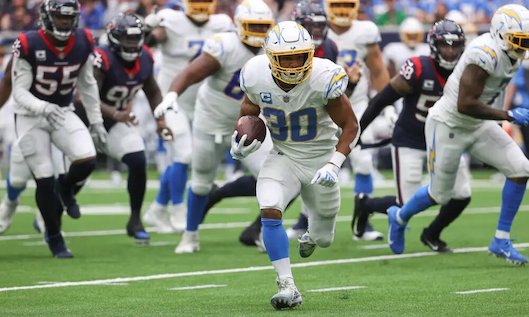 But Herbert, who is leading the league in passing yards, will be up for the challenge. The Chargers got running back Austin Ekeler and wide receiver Mike Williams more involved last week and the offense looked much better because of it.
The Chargers won't be tested as much on defense. The Browns' offense, outside of Chubb, hasn't been that great this year.
Quarterback Jacoby Brissett is perfectly solid at the position but he is not the type of quarterback that will carry a team.
If Los Angeles can put him under pressure, which they certainly can with outside linebacker Khalil Mack, and play good coverage on wide receiver Amari Cooper, then Brissett should be a non-factor.
It seems like a simple gameplan for the Chargers defense but after giving up 131 yards on the ground to Dameon Pierce last week, Chubb may have a field day on Sunday.
49ers (2-2-0) vs Panthers (1-3-0)
Sunday, October 9
1:05 p.m., CBS
I
f this game was played last week there would be concerns about the 49ers' offense after scoring just 10 points against the Broncos.
But after beating the Rams on Monday and scoring 24 points in the process, there is much less concern about the offense.
Quarterback Jimmy Garoppolo and company should have even more success in this matchup with a Panthers team that has been unimpressive this season.
Carolina will likely have no answer for wide receiver Deebo Samuel or even running back Jeff Wilson, who has played well since stepping into the starting role.
It may be even worse for Carolina on offense, though.
The Panthers scored 16 points against the Cardinals last week, and one of those scores was a defensive touchdown.
Now they have to play a 49ers team that has allowed the fewest points in the league, and a whopping 57 fewer points than the Cardinals.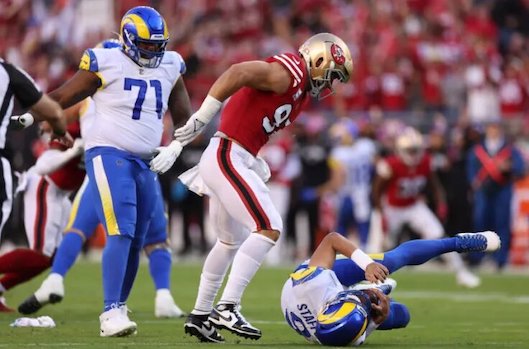 San Francisco should be able to bother quarterback Baker Mayfield all game. Defensive end Nick Bosa will have a great matchup against rookie left tackle Ikem Ekwonu and should spend considerable time in the backfield.
The 49ers are a bit more vulnerable against the pass than the run, but the Panthers may not be able to threaten them through the air. Carolina has thrown for the third-fewest yards in the league and will now be facing its toughest test.
Their best weapon on offense is running back Christian McCaffrey, who will probably be guarded by an athletic group of San Francisco linebackers led by Fred Warner.
If the 49ers look as good offensively as they did on Monday, then they should have no problem winning this game. But the uncertainty of Garoppolo still looms, so anything can happen.
Cardinals (2-2-0) vs Eagles (4-0-0)
Sunday, October 9
1:25 p.m., FOX
W
hat a stroke of bad luck for Arizona.
After looking the most competent it has all season and playing its first complete game, it now has to face the undefeated Eagles.
This should at least be fun for those of us watching, with both quarterbacks Kyler Murray and Jalen Hurts capable of making incredible plays at any moment.
But the difference is that Murray's incredible plays seem to be the plan on offense, while Hurts' plays are just one wrinkle of a well-oiled machine.
It may be a tough day for Murray, who hasn't gotten much help from the rest of his offense outside wide receiver Marquise Brown.
Philadelphia may have the best defense in the league right now. They are an absolutely disruptive unit, leading the league in turnovers and sacks.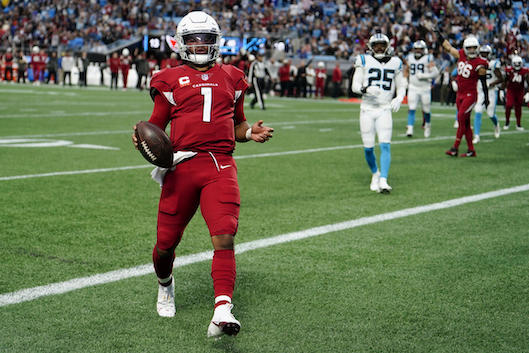 It certainly seems like Murray will have his work cut out for him, especially since he will likely need to score plenty of points to keep his team in the game.
The Cardinals have not played particularly well on defense this season. They have given up the fifth-most points in the league and have recorded the fewest sacks, averaging just one per game.
The Eagles have been incredibly impressive on offense and have players at the top of their game at each position.
Hurts has an excellent group of weapons at his disposal with running back Miles Sanders, tight end Dallas Goedert, and wide receivers A.J. Brown and Devonta Smith.
Add in the fact that they are playing behind arguably the best offensive line in football, and you have the makings of a dominant unit.
That has certainly been the case with Philadelphia scoring the fifth-most points and racking up the second-most yards.
Yes, it is technically possible that the Cardinals pull off the upset and give the Eagles their first loss but it would take a near-perfect game from Arizona, which it hasn't shown it is capable of so far.
Rams (2-2-0) vs Cowboys (3-1-0)
Sunday, October 9
1:25 p.m., FOX
O
f all the west teams, the Rams may need a win the most this week.
They are coming off of a terrible loss to the 49ers on Monday Night Football in which they failed to score a single touchdown.
That makes a bounce-back game a must for Los Angeles, although it is far from a guarantee.
The Cowboys have played surprisingly well this season despite quarterback Dak Prescott suffering an injury in week one and missing every game since.
But backup quarterback Cooper Rush has stepped in and has played well, leading Dallas to three straight victories.
This will certainly be Rush and the Cowboys' toughest test as their three wins have come against lesser competition.
The Rams have plenty of stars that will find themselves in crucial matchups on Sunday.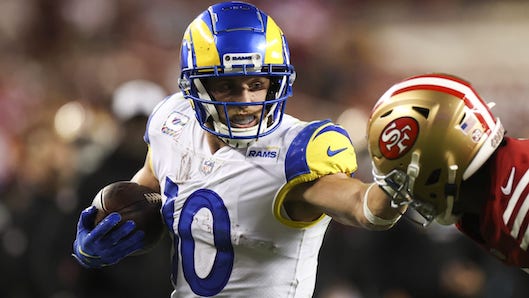 Wide receiver Cooper Kupp, who is once again tearing up the league, will spend a lot of time being guarded by cornerback Trevon Diggs, one of the best playmakers in the secondary in the entire league.
The Rams are always good at moving Kupp around the formation and getting him open, so expect more of that this week as they get him away from Diggs so he doesn't pick off quarterback Matthew Stafford, which would be the seventh interception he's thrown this year.
Defensive tackle Aaron Donald is also one of the premier players in the sport and he will find himself in a difficult matchup against guard Zack Martin and the rest of the Cowboys' offensive line.
Slowing down Donald, which is far easier said than done, should be the primary goal for Dallas since Rush is not the kind of quarterback that can handle pressure from one of the best defensive players in the league.
Elsewhere in the matchup will feature cornerback Jalen Ramsey going up against wide receiver CeeDee Lamb, and linebacker Micah Parsons facing off against whichever poor soul from the Rams has to attempt to block him on the edge.
This certainly is a star-studded game that should make for some great football. But if the Rams play close to the way they did against the 49ers then they probably won't stand a chance against a surging Cowboys squad.
Chiefs (3-1-0) vs Raiders (1-3-0)
Monday, October 10
5:15 p.m., ESPN
T
he Raiders finally got a win last week against the Broncos, making them no longer the lone winless team in the league.
Unfortunately, they have a very daunting foe standing in the way of them getting to two wins in a row.
The Chiefs swept the Raiders last year, winning both games by a combined score of 89-23. There is just something about this matchup that seems to bring out the best in Kansas City.
That thing might be a bad Las Vegas defense, which is the case once again this year. The Raiders haven't really been able to stop anybody this year, allowing 25 points per game.
They are particularly bad at defending the pass where they are allowing 7.3 yards per passing attempt, which is the third-most in the league.
They also are failing to get any pressure on quarterbacks, notching the second-fewest sacks (5) in the league.
Luckily for them, they don't have to go up against a great offense or anything. They're only facing Patrick freaking Mahomes.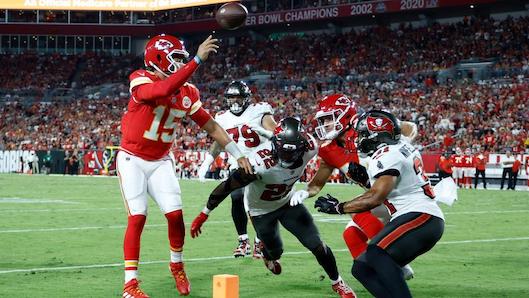 The Kansas City quarterback has been as good as usual this year but is doing it without the same caliber of weapons around him.
He is coming off an amazing performance against the Buccaneers last week, where he looked unstoppable against a defense that is much better than the ones the Raiders will have on the field on Monday.
All signs are pointing toward another big win for the Chiefs, considering the Raiders probably won't be able to stop them at all.
The one chance that Las Vegas has is to control the time of possession by dominating on the ground.
Running back Josh Jacobs is coming off an impressive 144-yard, two-score performance last week and since that was also the Raiders' first win of the season, they should probably lean on Jacobs as much as possible.
Final Score: Colts 12, Broncos 9
Thursday, October 6
5:15 p.m., Prime Video
T
his game is certainly not what the league expected it to be when it was selected for a primetime television slot.
Both teams have been wildly underperforming this season and it may get even worse with the injuries that each team has been racking up.
For Denver, running back Javonte Williams is already out for the season with a knee injury and outside linebacker Randy was just placed on the IR with an injury to his knee.
The Colts will be without their own star running back in Jonathan Taylor and their best player on the other side of the ball, linebacker Shaquille Leonard.
The attention will be on the quarterbacks for both teams considering each has been playing poorly with their new team.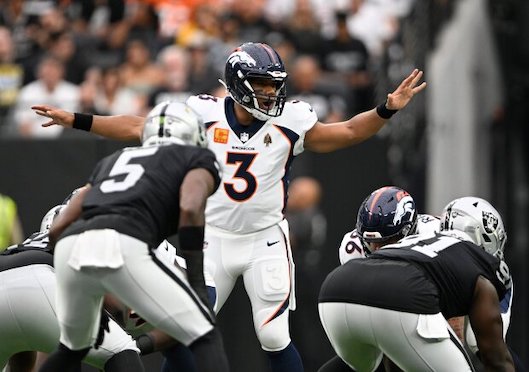 The Broncos' Russell Wilson and the Colts' Matt Ryan are in similar positions right now. Each have talented receivers, Courtland Sutton for Wilson and Michael Pittman for Ryan, and were supposedly joining better teams in the offseason.
Whichever signal-caller has the better game will probably be victorious. And with an Indianapolis line that has struggled this year and a Denver pass rush that is tied with the sixth-most sacks, it doesn't appear that Ryan will be too effective.
The Broncos' defense will probably be enough to win them this game, even without Gregory, but don't underestimate the offense's inability to score points, which can always prevent problems.
---
—More from Cody Schoeler—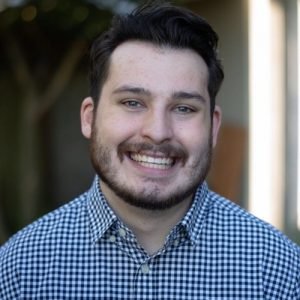 Latest posts by Cody Schoeler
(see all)