Editor's Note: Our Senior Writers have selected the inaugural All-SportsPac12 team based on their collective votes on their all-region teams. For the player and coach of the year awards, they expanded their consideration beyond the regional selections. The writers agreed unanimously on 19 selections—you'll find their respective votes tabulated at the bottom of the page—and split on three, prompting revotes. Below the selections, you'll find breakdowns by program and by region.
---
By Dane Miller, Mik Dietlin, and Nick Bartlett, SportsPac12 Senior Writers
---
COACH AND PLAYERS OF THE YEAR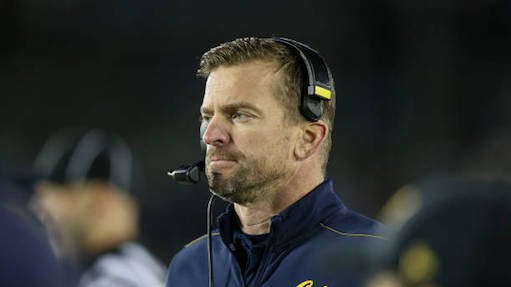 Coach of the Year, Justin Wilcox, Cal
Wilcox has done a fantastic job since taking over at Cal, building one of the best defenses in the conference. Adding OC Bill Musgrave's abilities to the mix for 2020 will make Cal a legitimate contender for the Pac-12 title.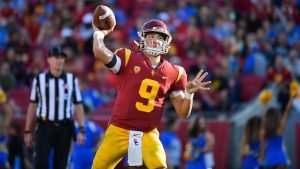 Offensive Player of the Year, Kedon Slovis, Quarterback, USC
In year two of Graham Harrell's system, Slovis will pretty much be working with all his buddies from a year ago. The offensive line will improve in the running game for a terrific stable of backs.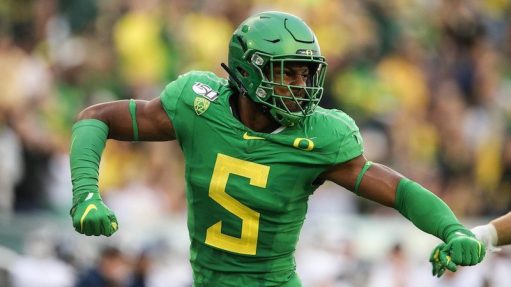 Defensive Player of the Year, Kayvon Thibodeaux, Oregon
There is no better complement to an elite secondary than a dominate pass rusher. With quarterbacks holding the ball that extra second, Thibodeaux should take full advantage. Expect big numbers.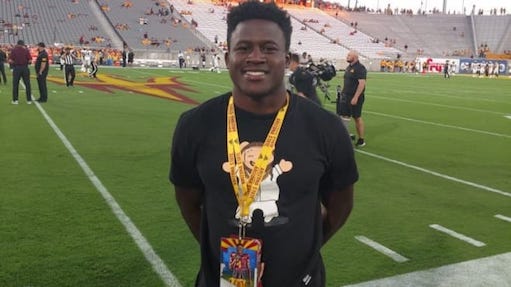 Freshman of the Year, Daniyel Ngata, Arizona State
The four-star running back for the Sun Devils enrolled early and projects to be the No. 1 back in Tempe after the departure of Eno Benjamin to the NFL. Look for Ngata to approach 1,000 yards rushing and five or more touchdowns on the ground.
OFFENSE
Quarterback, Kedon Slovis, USC
If you thought Slovis had a coming out party in 2019, wait till you get a load of 2020. Poise, toughness, pocket awareness, accuracy finding receivers downfield while scrambling—he's nearly impossible for defenses to handle. A Downtown Athletic Club invitation is a strong possibility.
Running Back, CJ Verdell, Oregon

On offense, Oregon should be expected to lean heavily on Verdell early in the season. He is the biggest returning threat on the Ducks firing squad, and his explosiveness could lead to big plays.
Running Back, Max Borghi, Washington State
With a new quarterback, head coach, and offensive system in the Palouse, Borghi will likely be the beneficiary. His dual-threat ability as a receiver and halfback, teamed with more touches could lead to eye-popping numbers.
Wide Receiver, Amon-Ra St. Brown, USC

The best possession receiver in the Conference, perhaps the nation, with enough horsepower to take it to the house. Hands like Spiderman—but doesn't possess radioactive blood.
Wide Receiver, Frank Darby, Arizona State
Darby's eight receiving touchdowns and 19.87 yards per catch in 2019 make him the leading returning wideout in the region. Last year, his average yards per catch was the second-best in the Conference and 10th highest in the nation. Darby's numbers should climb even higher this season.
Tight End, Brant Kuithe, Utah
Arguably one of the best tight-ends in the nation, Kuithe enters his junior season at Utah after leading the Utes in receptions and receiving touchdowns in 2019. His 17.71 yards per catch was the second-highest in the nation among tight-ends and fourth in the Pac-12 among all players.
Offensive Line, Penei Sewell, Oregon

It is widely understood that Sewell is going to be the best all-around player in the Conference this year. He's a once-in-a-decade type talent, and on-paper, a perfect left tackle.
Offensive Lineman, Drew Dalman, Stanford
How Stanford's offensive line goes, so goes Stanford, and they usually go very well. With Dalman returning as the reigning All-Conference center anchoring the offense one more time, The Cardinal's fortunes should improve.
Offensive Lineman, Alijah Vera-Tucker, USC
Tucker's ceiling is still above him, which is bad news for Pac-12 defenses. Already an outstanding pass blocker, his run blocking is improving dramatically, and by extension, so will the Trojan ground game in 2020.
Offensive Line, Abraham Lucas, Washington State

Lucas should prove to be the most important piece in protecting the Cougs' new quarterback this season. In 2019, he was rated the best pass-blocking OT in the country by PFF.
Offensive Line, Jaxson Kirkland, Washington
With coach Jimmy Lake gearing towards a physical brand of offense, Kirkland could prove the cornerstone of the new era. Last year he was named to the Pro Football Focus and Associated Press All-Pac-12 second teams.
DEFENSE
Defensive Line, Kayvon Thibodeaux, Oregon
While the Ducks should be led by their secondary this year, their front seven is undoubtedly fueled by Thibodeaux. After a slow start in 2019, he ended the season on a tear and is probably the most-feared pass rusher in the Conference.
Defensive Line, Levi Onwuzurike, Washington

The Huskies are looking to get back to their physically dominant defenses of previous years, and Onwuzurike is their most complete player in the trenches.
Defensive Lineman, Jay Tufele, USC
Thanks to Tufele, opposing teams generally don't run the ball well up the middle. An imposing figure with perfect size, strength, and talent. A first round draft pick lock.
Defensive Lineman, Drake Jackson, USC
Jackson is listed as a defensive lineman, though he'll be used in a hybrid role in the Trojans new defensive scheme. One of three Trojans on the Bednarik Award watch list as the nation's best defender, and he's only a sophomore.
Linebacker, Hamilcar Rashed Jr., Oregon State
No single player was more important to their respective unit last year than Rashed Jr. He finished the 2019 campaign with 22.5 tackles for loss, 14 sacks, and two forced fumbles.
Linebacker, Nate Landman, Colorado

As a senior, Landman enters his final year at CU with 277 career tackles, 25 tackles-for-loss, and six sacks. His 24 starts make him the most experienced starter on Colorado's roster, having exerted his presence in 35 games.
Linebacker, Joe Tryon, Washington
At the outside linebacker position, he has proven a thorn in the side of opposing quarterbacks. Last year he led the Huskies with eight sacks and 12.5 tackles for loss.
Defensive Back, Jevon Holland, Oregon
While other UO players may have a cooler highlight reel, Holland is likely the most important piece on their defense. He's a big hitter, forces turnovers, and a dangerous punt returner.
Defensive Back, Elijah Molden, Washington
The senior defensive back is a versatile weapon, has a knack for being around the ball, and can play any position in the secondary. He is the Huskies' unspoken leader.
Defensive Back, Thomas Graham Jr., Oregon
Entering the 2020 campaign the senior cornerback leads the FBS in passes defended and pass breakups. Step for step, he could prove to be the best pure coverage guy in the Conference.
Defensive Back, Paulson Adebo, Stanford

If Adebo has more of a 2018 kind of year in 2020 than a 2019 kind of year, he'll be a first team All-Conference choice come season's end. His talent is through the roof, but a season-ending injury curtailed his production.
SPECIAL TEAMS
Kicker, Blake Mazza, Washington State
Not many college kickers come as clutch as Mazza. He was 20-of-21 on field goal attempts, which was good for the highest field goal percentage in WSU history. He was one of three candidates to be named as a Lou Groza Award Finalist.
Punter, Michael Turk, Arizona State
After going unsigned in this year's NFL Draft, the NCAA granted Turk eligibility to return to ASU. During his single season with the Sun Devils, he averaged 46.0 yards per punt with a long of 75. Turk's average led the Pac-12 and was the 11th highest mark in the country.
Returner, Mykael Wright, Oregon

While the Ducks have speedsters all over the field, no one may be as dangerous with the ball in their hands as Wright. He averaged a blistering 38.0 yards per kickoff return including two touchdowns.
—Players/Coach by Program—
| | |
| --- | --- |
| Program | Players/Coach |
| Oregon | 6 |
| USC | 5 |
| Washington | 4 |
| ASU | 3 |
| WSU | 3 |
| Stanford | 2 |
| Cal | 1 |
| Colorado | 1 |
| OSU | 1 |
| Utah | 1 |
| Arizona | 0 |
| UCLA | 0 |
—By Region—
| | |
| --- | --- |
| Region | Players/Coach |
| Northwest | 14 |
| California | 8 |
| Southwest/Mountain | 5 |
—How the Writers Voted—
| | | | |
| --- | --- | --- | --- |
| | Dane Miller | Mik Dietlin | Nick Bartlett |
| COY | Herm Edwards, ASU | Justin Wilcox, Cal | Justin Wilcox, Cal |
| OPY | Kedon Slovis, USC | Kedon Slovis, USC | Kedon Slovis, USC |
| DPY | Kayvon Thibodeaux, UO | Hamilcar Rashed Jr., OSU | Kayvon Thibodeaux, UO |
| FOY | Daniyel Ngata, ASU | Daniyel Ngata, ASU | E.J. Smith, Stan |
| QB | Kedon Slovis, USC | Kedon Slovis, USC | Kedon Slovis, USC |
| RB | CJ Verdell, UO | CJ Verdell, UO | CJ Verdell, UO |
| RB | Max Borghi, WSU | Max Borghi, WSU | Max Borghi, WSU |
| WR | Frank Darby, ASU | Frank Darby, ASU | Tyler Vaughns, USC |
| WR | Amon Ra St. Brown, USC | Amon Ra St. Brown, USC | Amon Ra St. Brown, USC |
| TE | Brant Kuithe, Utah | Brant Kuithe, Utah | Brant Kuithe, Utah |
| OL | Penei Sewell, UO | Penei Sewell, UO | Penei Sewell, UO |
| OL | Abraham Lucas, WSU | Abraham Lucas, WSU | Abraham Lucas, WSU |
| OL | Drew Dalman, Stan | Foster Sarrell, Stan | Drew Dalman, Stan |
| OL | Alijah Vera-Tucker, USC | Alijah Vera-Tucker, USC | Alijah Vera-Tucker, USC |
| OL | Jaxson Kirkland, UW | Jaxson Kirkland, UW | Jaxson Kirkland, UW |
| DL | Jay Tufele, USC | Jay Tufele, USC | Jermayne Lole, ASU |
| DL | Kayvon Thibodeaux, UO | Kayvon Thibodeaux, UO | Kayvon Thibodeaux, UO |
| DL | Levi Onwuzurike, UW | Levi Onwuzurike, UW | Levi Onwuzurike, UW |
| DL | Drake Jackson, USC | Mustafa Johnson, CU | Drake Jackson, USC |
| LB | Hamilcar Rashed Jr., OSU | Hamilcar Rashed Jr., OSU | Hamilcar Rashed Jr., OSU |
| LB | Nate Landman, CU | Nate Landman, CU | Nate Landman, CU |
| LB | Joe Tryon, UW | Jahad Woods, WSU | Joe Tryon, UW |
| DB | Jevon Holland, UO | Jevon Holland, UO | Jevon Holland, UO |
| DB | Elijah Molden, UW | Elijah Molden, UW | Elijah Molden, UW |
| DB | Thomas Graham Jr., UO | Camryn Bynum, Cal | Thomas Graham Jr., UO |
| DB | Paulson Adebo, Stan | Paulson Adebo, Stan | Paulson Adebo, Stan |
| K | Blake Mazza, WSU | Blake Mazza, WSU | Blake Mazza, WSU |
| P | Michael Turk, ASU | Michael Turk, ASU | Michael Turk, ASU |
| R | Mykael Wright, UO | Mykael Wright, UO | Mykael Wright, UO |
COY = Coach of the Year
OPY = Offensive Player of the Year
DPY = Defensive Player of the Year
FOY = Freshman of the Year
---
—More from Mik Dietlin—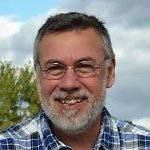 Latest posts by Mik Dietlin
(see all)