Posted on October 18, 2021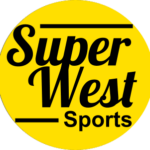 By SuperWest Sports Staff

Each week our senior football writers—Dane Miller, Nick Bartlett, Stephen Vilardo, Mark Shmor, and Mik Dietlin—select an Offensive, Defensive, and Freshman Player of the Week throughout the 2021 football season.
They submit their selections before the official Pac-12 Players of the Week are released to keep their choices independent. Six different players received votes in Week Seven.
You'll find a tabulation of their choices and a cumulative listing of all weekly SportsPac12 Players of the Week at the bottom of the page.
— Offensive Player of the Week —
Travis Dye, Junior Running Back,

Oregon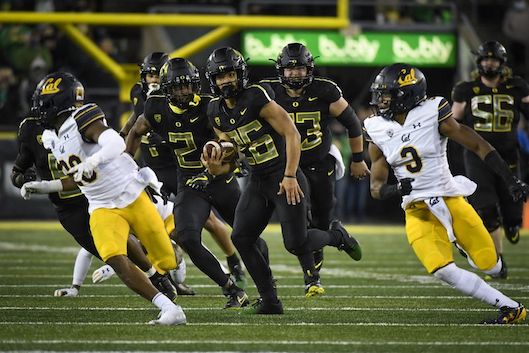 Travis Dye led the Ducks in both rushing and receiving, running the ball for 145 yards on 19 carries with one touchdown to go with his 73 yards receiving on seven receptions in Oregon's 24-17 victory over Cal.
The junior running back has gained 527 rushing yards on the season—third-best in the Pac-12—with four touchdowns, and has 15 passes for 153 yards.
— Defensive Player of the Week —
Devin Lloyd,

Junior Linebacker,

Utah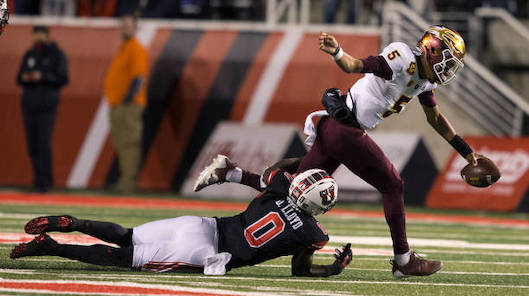 Devin Lloyd recorded eight total tackles, seven solo, with four tackles for loss, three sacks, and a pass broken up in Utah's 35-21 win over Arizona State.
The junior linebacker has logged 62 total tackles on the season—tied for first in the Pac-12—with 13 tackles for loss and five sacks.
— Freshman Player of the Week —
Noah Sewell,

Freshman Linebacker,

Oregon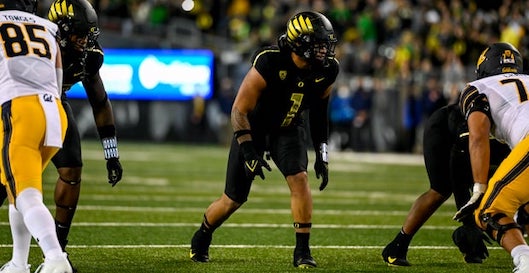 Noah Sewell recored 12 total tackles, six solo, with 1.5 tackles for loss, one sack, and one pass broken up in Oregon's 24-17 win over Cal.
The freshman linebacker has logged 54 total tackles—second-most in the Pac-12—on the season, 21 solo, with 4.5 tackles for loss and three sacks.
How Our Writers Voted
Dane
Miller
Nick
Bartlett
Stephen
Vilardo
Mark
Schmor
Mik
Dietlin
OFF
Dorian
Thompson-Robinson
UCLA
Dorian
Thompson-Robinson
UCLA
Travis
Dye
Oregon
Travis
Dye
Oregon
Travis
Dye
Oregon
DEF
Devin
Lloyd
Utah
Devin
Lloyd
Utah
Devin
Lloyd
Utah
Noah
Sewell
Oregon
Carson
Wells
Colorado

FR
Brenden
Rice
Colorado
Brenden
Rice
Colorado
Noah
Sewell
Oregon
Noah
Sewell
Oregon
Noah
Sewell
Oregon
Compiled List of SportsPac12 Players of the Week
Offensive
Defensive
Freshman
Week 1
Zach Charbonnet
UCLA
Devin Lloyd
Utah
Justin Flowe
Oregon
Week 2
CJ Verdell
Oregon
Verone McKinley
Oregon
Anthony Gould
Oregon State
Week 3
Drake London
USC
Brendan Radley-Hiles
Washington
Jaxson Dart
USC
Week 4
DTR
UCLA
Karene Reid
Utah
De'Zhaun Stribling
WSU
Week 5
Jayden Daniels
ASU
Avery Roberts
OSU
Tanner McKee
Stanford
Week 6
Jayden de Laura
WSU
Tyler Johnson
ASU
Devaughn Vele
Utah
Week 7
Travis Dye
Oregon
Devin Lloyd
Utah
Noah Sewell
Oregon
Week 8
B.J. Baylor
Oregon State
Kayvon Thibodeaux
Oregon
Noah Sewell
Oregon
Week 9
Tavion Thomas
Utah
Nephi Sewell
Utah
Carson Bruener
Washington
Week 10
Travis Dye
Oregon
Devin Lloyd
Utah
Brendon Lewis
Colorado
Week 11
Rachaad White
Arizona State
Carson Bruener
Washington
Will Plummer
Arizona
Week 12
Dorian Thompson-
Robinson
UCLA
Jahad Woods
Washington St.
Cole Bishop
Utah
Week 13
Anthony Brown
Oregon
Jack Jones
ASU
Jaxson Dart
USC
---
—More from Staff—