Posted on January 17, 2020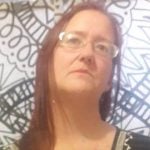 By Kim Doss, SuperWest Sports
Two months into the season, things were humming right along. Teams were winning the games they were supposed to win. Losing the games they were expected to lose. The only upsets were out-of-conference when the Oregon Ducks visited Louisville and the Stanford Cardinal went to Texas. The Arizona State Sun Devils weren't satisfied with that. 
On the Court

The biggest story in women's college basketball came out of
Tempe
this weekend. The unranked Sun Devils knocked off not one but two top-five teams when the Oregon schools came to town. It was unprecedented in
Division I
women's basketball for an unranked team to defeat two top-five teams back-to-back. It nabbed
national
and
conference
player of the week honors for
Ja'Tavia Tapley
and
NCAA National Team of the Week
honors for ASU.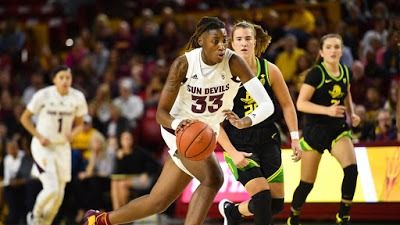 On Friday, the then-No. 2 Oregon Ducks came to town. Through the first three quarters, everything was proceeding as expected. Oregon headed into the final 10 minutes with a 52-42 lead.


Considering ASU's history as a defensive-minded team and UO's ability to find offense against anyone, it looked like a foregone conclusion. Then, the Sun Devils exploded with a 30-point quarter for a 72-66 victory. It was enough to send the Ducks away with their second loss of the season, this time to an unranked team.
Two days later, ASU was able to build on their success. Then-No. 3 Oregon State arrived at Desert Financial Arena. In a low-scoring affair, the Sun Devils took a second top-five win by a score of 55-47.
In the Rankings

The upsets in Tempe vaulted ASU back into the rankings giving the league six ranked teams. The AP voters placed them at No. 18. It also knocked Oregon and Oregon State down several spots. The Ducks fell from No. 2 to No. 6. The Beavers took a bigger hit, likely because they also needed a last-second shot to defeat Arizona on Friday. They fell to No. 8 from their high of No. 3 last week.
The losses by the Oregon schools allowed two other Pac-12 schools to move up. Stanford moved from No. 5 last week to No. 3 this week. UCLA went from No. 8 to No. 7 this week.
The other drop of the week was Arizona, which lost to the two Oregon schools by a total of nine points. The Wildcats moved from No. 18 to No. 21.
The USA Today/WBCA voters also had half the conference in their rankings. Stanford was voted third, while Oregon and Oregon State each fell four spots to No. 6 and No. 7, respectively. UCLA  moved up one spot to No. 8 to round out the top-10 teams in the league. ASU came in at No. 19 and Arizona at No. 22, each one spot lower than they were voted by the media. 
Players of the Week
Tapley led ASU in scoring against the Beavers and was second on her team against the Ducks, earning the nod as Pac-12 Player of the Week. The grad transfer from USC was one of four Sun Devils in double digits on Friday. She put up 16 points and six rebounds in 22 minutes against Oregon while going 5 for 12 from the floor.


Two days later, Tapley was just as efficient against the Beavers. She had 14 points and six rebounds against OSU. She played just 21 minutes and went 7 for 13 shooting. The two games were enough to also get the nod from espnW and the USBWA as national player of the week. The three honors were firsts for Tapley.
Stanford's Haley Jones took Pac-12 Freshman of the Week honors after the Cardinal's two wins over rival California. It was her third honor this season, matching Oregon State freshman Taylor Jones.
On Friday, the Cardinal played every player after taking a 58-18 lead through three quarters. As a result, Jones was one of only two players to reach double figures. She led the game with 17 points on 70 percent shooting. She also had three rebounds, two assists and a block in 26 minutes.
Two days later, it was a more competitive game, but it was no different for Jones. She went 9-for-15 while tying for the game high with 21 points. She added four rebounds, four assists and a block.
—Up Next—
This week has been circled on the calendars of women's college basketball fans since the beginning of the year. It's the week Stanford travels to face Oregon and Oregon State. They will be the only games between ranked opponents.
No. 3 Stanford Cardinal (15-1) at No. 6 Oregon Ducks (13-2)
When: Thursday, Jan. 16 at 6 p.m. PT/7 p.m. MT
TV: ESPN
The Oregon Ducks are coming off a tough week. They opened it by losing to ASU, then let Arizona get within three late in the game before beating the Wildcats by seven. As a team that swept the Sun Devils in two games last season and blew out the Wildcats three times, it's certainly not what they are used to.
On the other side, Stanford just dominated their cross-Bay rivals twice. They didn't have to play their starters much. 
Last year, Oregon dominated Stanford in Palo Alto when they had their only regular season meeting. In the conference tournament title game, the Cardinal exacted revenge and grabbed the automatic qualifying spot for the Pac-12.
Oregon's best wins this season are against Mississippi State, Syracuse and Arizona. In the abstract, the ASU loss is a bad loss to many because the Sun Devils were unranked. That doesn't consider that the Sun Devils spent much of the early season nursing injuries, and were probably top-25 caliber despite their record.
Stanford has wins over the same Syracuse and Mississippi State teams, and they also beat a ranked Tennessee. They struggled against Gonzaga, who is now ranked in the top 20. More concerning, they struggled against California Baptist, and they lost to Texas.
The biggest differences between the two teams is experience. The Ducks have seniors Sabrina Ionescu and Ruthy Hebard, two of the best at their positions. They also have junior Satou Sabally, who is also one of the best at her positions. USC grad transfer Minyon Moore is another experienced contributor, as is Erin Boley.
Without DiJonai Carrington, who hasn't played since Nov. 24, Stanford is relying on a lot of  minutes from sophomores and freshmen. They are extremely talented sophomores and freshman, but they are still underclassmen. Kiana Williams and Nadia Fingall are providing senior leadership and production, but the Cardinal will still need their younger players to step up against the Ducks. Can they get it done on the road?
No. 3 Stanford (15-1) at No. 8 Oregon State (15-1)
When: Sunday, Jan. 19 at 12 p.m. PT/1 p.m. MT
TV: Pac-12 Networks
Last weekend was Oregon State's first true road games. They weren't exactly what the Beavers were looking for. After pulling out a two-point win against Arizona in the final seconds of the game in Tucson, they lost in Tempe to ASU. 
Fortunately for OSU, they get to return home this week and they've been very good there. Unlike Oregon, Oregon State has a similar combination of experience and new talent in their starting lineup. Everything starts with senior Mikayla Pivec, but junior Destiny Slocum and senior Aleah Goodman can't be ignored, either.
Their freshman big, Taylor Jones, was the first freshman to be named Pac-12 Freshman of the Week three times this season. Fellow freshman Kennedy Brown had a rough week scoring against the Arizona schools, but she is No. 2 in the conference in blocks per game right behind Jones. Between the two of them, they average 3.8 blocks per game.
Oregon State has generally been the more vulnerable of the two schools in the Beaver State, but they are also very experienced in pulling out close games. The problem last season was that they couldn't keep it close at Stanford. In the only meeting between the two teams, the Cardinal won 61-44. Do the Beavers have the pieces to change that this season? 
---
—More from Kim Doss—