Posted on December 18, 2020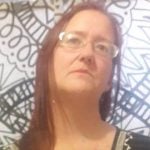 By Kim Doss, SuperWest Sports
Rivalry week wound up, but it wasn't why the world of women's college basketball had its eyes trained on the Pac-12. Instead, a great coach leading the nation's No. 1 team was the focus.
On the Court

It was an historic week. On Sunday, Stanford head coach Tara VanDerveer tied the great Pat Summitt for the all-time wins record in women's college basketball as her team handily beat their rivals across the Bay for win 1,098.
The game against the California Golden Bears was not expected to be competitive, and it wasn't. The Bears were held to a mere 38 points as they started freshmen and a walk-on in a season already lost to injuries.
Historically speaking, the most important basketball play that night was the dunk by Cardinal forward Fran Belibi. The 6-foot-1 sophomore became just the eighth woman to dunk in a college basketball game when she drove down the court to slam it home in transition.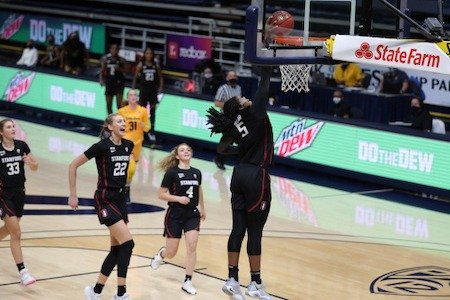 "It was a great dunk," VanDerveer said. "I'll remember this night for the rest of my life and I'll remember the dunk. It's exciting and I think it gets our team going. And it's really fun to see the players on our team be so excited for her."
On Tuesday, the legendary leader of West Coast basketball was crowned Queen T-Dawg by her players, as they battled the Pacific Tigers to give their coach the record all to herself. The Stanford Cardinal defeated Pacific 104-61 to give their coach her 1,099th victory.
The Pacific Tigers tried to battle the supremely talented Cardinal, but it wasn't long before Stanford had taken the double-digit lead. The hometown Tigers played them close in the second quarter, but their visitors outscored them by 11, 14 and 21 points in the other three periods.

When all was said and done, Stanford secured the victory and VanDerveer's team was handing her an oversized sweatshirt with the name "T-Dawg"—a nickname bestowed on her by senior guard Kiana Williams—printed on the back.
"I don't think they would be saying that probably when I'm yelling at them about their defense or their rebounding, but I take it as a very nice nickname," VanDerveer said. "It's affectionate, so I don't mind it at all. So anybody wants to say it, I'm fine with that."
That affection between players and coach came up throughout the week—from the coach, her current players, and the scores of extraordinarily successful former players. Her drive all these years wasn't for the number of wins, which she said she never even dreamed she would have.
"I want to be a coach that our players want as a coach," VanDerveer said. "I want to be someone that they want to play hard for, that they want to work hard for, and they want to please."

It wasn't just a night for Stanford, though. VanDerveer wanted it to be about more than her and basketball. She pledged $10 for every win to her local food bank.
As for what she hoped young women and girls would take from the accomplishment, it was the same lesson she's tried to impart to her own players.
"I would just say have confidence and be passionate about whatever you do," VanDerveer said. "Whatever it is. And if it's basketball, more power to you. Come on."
In the Pandemic
Travel has been a topic of discussion since the pandemic was declared. How safe are airplanes? How safe are airports? What's the risk of having to make multiple connecting flights and spend long hours in airports, especially when you need to find a way to eat on trips that can take nine or ten hours?

Travel is a challenge for female athletes at all levels, but there is an extra level of concern with COVID-19 numbers being what they are. It's not just a matter of fatigue this year, and many of Pac-12 road trips are not easy in the best of times.
The trip to the Mountain schools requires flying between states. There are challenges traveling to the Washington schools, as well.
For some programs, that is not as much of an issue. Some Pac-12 schools provide their women's basketball teams the same travel advantages that they provide their men's teams, specifically chartered flights.

"We're really fortunate," said UCLA head coach Cori Close before the Bruins took their road trip to Arizona. "We're one of the few teams in our conference that our administration, we charter everywhere we go. The plane rides are really not your biggest risks, or even bus rides, because the filtration systems are pretty good and we can control social distancing. The travel risk come more in terminals and things where you can't control that environment, and we don't have to deal with that at all."
Other programs are not as fortunate. Although Arizona has chartered flights for their men's program for years, their women's program rarely gets that benefit.
Despite having three players who have risk factors for COVID-19 complications, Wildcats head coach Adia Barnes did not know until very recently that her team would get to charter for their first road trip of the season. She still does not know if they will have the option on future road trips.
Barnes has been lobbying for charters since before the season. In her weekly media availability on Wednesday, she took to asking the media to help her in the effort.

"If you can help us out, that's great," Barnes said. "Go ahead and send that tweet out or something. I want to throw it out because we can use some help on that. Charters are a huge financial obligation for the program and the school. So, I just appreciate (Athletic Director) Dave (Heeke) so much for valuing our team and understanding what's going on and giving us the best chance to play."
Arizona has said it is in dire financial straits due to the financial losses caused by the pandemic, but somehow is finding the money to pay the entirety of fired football coach Kevin Sumlin's contract. That includes a buyout of $7.29 million according to the Arizona Daily Star.
In a time when the state of Arizona leads the nation in the rate of viral spread, not going the extra mile to protect the 14 young women and their coaches wouldn't reflect well on the department. The group has been one of the few truly bright spots in a troubled department over the past several years.
In the Polls

The league's top two teams stayed put in the AP poll this week. The Cardinal remained the No. 1 team in the country, and the Wildcats stayed put at No. 6.
The Oregon Ducks made a tiny bit of movement after their huge victory over rival Oregon State. Last week's eighth-ranked team was able to move into a tie with Baylor for seventh.
UCLA's win over USC allowed them to remain stable at No. 11.

Oregon State's loss in their rivalry game caused them to go tumbling down the rankings. The Beavers lost six spots and landed at No. 21.
Arizona State is still receiving a vote or two, but they lost ground in the number of points they garnered.

The coaches are essentially in agreement with the media. They had the top four teams remaining stable: No. 1 Stanford, No. 6 Arizona, No. 8 Oregon and No. 11 UCLA all stayed in their previous spots.
As with the media, the coaches dropped Oregon State five spots to No. 21.

Arizona State is still receiving considerable support from the coaches. The Sun Devils landed just outside the Top 25, earning just two fewer points than No. 25 Gonzaga.
Players of the Week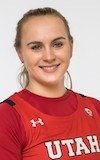 Utah shooting guard Brynna Maxwell took the Pac-12 Player of the Week honors for being key to the Utes' defeat of then-No. 15 Oregon State. Maxwell put up a career-high 34 points on 10-for-15 from the field in Corvallis.
Washington State came out strong in its first game of the year. It just happened to be against their rival Washington Huskies.
Another first? It was the debut of Cougars' freshman Charlisse Leger-Walker. The guard out of New Zealand tied the best debut in Washington State history by scoring 20 against the Huskies.
Later, she would score 29 against Idaho, which is favored to win the Big Sky this season. That is the fourth most by a freshman in WSU history.
Up Next

Now that she has the record, VanDerveer can return to answering questions about her top-ranked Cardinal. This week, they head to Los Angeles to face the No. 11 UCLA Bruins. It's the only Top 25 match-up in the Conference this week.
Stanford has the depth to scare any team. And it's not just any depth. It's high-quality depth.
At 5-0, the Cardinal has looked superb in the early going. They have scored over 100 points in three of their games and more than 80 in the other two.
The question is how they will perform against a quality opponent. So far, they have had a rather easy go of it. UCLA will be the first real test.

At 4-1, UCLA has been tested to a much greater degree. The Bruins have already faced the No. 6 Arizona Wildcats, who handed them their only loss. They have also faced a tough Arizona State team.
Will the Bruins' short bench haunt them against a Cardinal roster that sports 13 players and hasn't had a recruiting class ranked outside the top 10 in years? It's highly likely that it will. That doesn't mean there is not a good chance that the game will be competitive and entertaining.
The game will air on the Pac-12 Networks at noon PST/1 p.m. MST on Monday, Dec. 21.
---
—More from Kim Doss—