Posted on October 6, 2021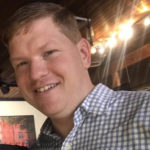 By Mark Schmor, SuperWest Sports
I
f you came here by following the link from my
Week 6 Top 25 column
, you know I just wanted an excuse to share some additional thoughts about Oregon's heartbreaking loss to the Cardinal.
If you found this column on your own and you're looking for a more objective view of  the game, my Top 25 column might be a better bet, as I'm going to let my Duck bias show a bit here.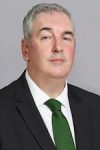 First, while I've pulled for teams missing key playmakers before, I've never pulled for a team missing its play-caller before.
Offensive Coordinator Joe Moorhead made the trip to Palo Alto, but didn't make it to the game because of a "non-Covid illness."
That's all we knew at the time, but on Sunday it was disclosed that Moorhead had undergone surgery and remained in the hospital. We certainly hope for his speedy recovery and return.
Running backs coach Jim Mastro (who has been coaching for 30+ years) seemed to do an adequate job calling plays against Stanford, especially in the second half when Oregon rallied from a 17-7 deficit to take a 24-17 lead.
I just have to wonder if Moorhead's presence would have given the offense a little more cohesion when it was struggling to find a rhythm in the first half—especially on the ill conceived goal-line sequence in which Oregon failed to convert on 4th-and-goal from the half-yard line.
Second, I can't remember more questionable officiating on a single drive than there was on the final drive of regulation.
To be clear, Oregon can't blame the officials for this loss.
They were dominated on both sides of the ball for the entire first half. They could have salted the game away by picking up one more first down and instead got back-to-back penalties which forced them to punt.
They also could have put the game away on the final drive of regulation when the Oregon defense had Stanford in a 2nd-and-19 from their own 4-yard line before giving up a 23-yard reception.
The Ducks can't blame the officials for any of that, and they can't blame the officials for how thoroughly Stanford outplayed them in overtime.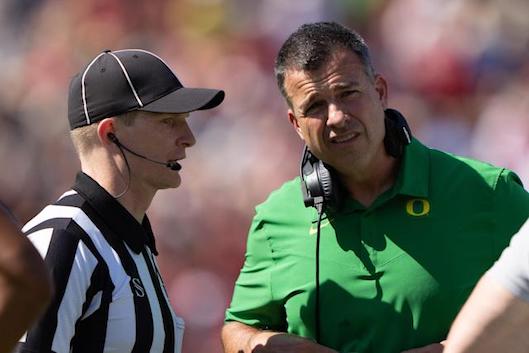 With that said, that final drive was maddening if you were an Oregon fan. Maddening. For those who didn't see the game, I'll offer a brief summary.
Early in the drive there was a targeting call on Kayvon Thibodeaux that was questionable at best. His hands were outstretched and made contact with quarterback Tanner McKee's shoulder before there was any contact between their helmets.
It wasn't a case of leaning with the crown of the helmet, it was leading with two outstretched hands.
After the play (in which Mase Funa also crushed McKee from the opposite side), as McKee was being tended to by the officials, the ref was overheard on a hot mic being asked if it was to the head, and he said "No, it was all low."
But McKee was laying on the ground like he was in some serious pain. I actually thought he might have experienced a season-ending injury.
When he stood up, he was shaking his head gently side to side and I thought he might have experienced a concussion.
There was actually a brief moment where I genuinely felt bad for McKee and thought to myself "if he just got knocked out of the game with a serious injury, maybe it did deserve a penalty."
Tanner McKee was back on the field after missing one play. Tanner McKee deserves an Academy Award nomination. (Kayvon Thibodeaux will now be suspended for the first half of Oregon's next game against Cal.)
(NOTE: In overtime, Oregon receiver Jaylon Redd appeared to get hit in the head on a play that was called targeting on the field and then reversed.
After that play, Redd immediately jumped to his feet and tapped his helmet, signaling to the referee that he took a shot to the head.
But by jumping to his feet and returning immediately to the huddle, Redd clearly made it easier for the call—which was questionable—to be overturned.
Had Redd continued to lay on the ground and receive medical treatment until the review was completed, I have no doubt the call would have stood.)
Had that targeting call early in the drive been the only call against the Ducks, I wouldn't be writing about it. But there was more.
Later in the drive there was a really questionable roughing the passer penalty on Brandon Dorlus. It was not roughing the passer. It was giving the passer a love tap as he released the ball, even if the rules technically say otherwise.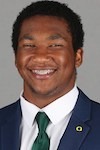 It's the type of play that happens a dozen times a game. Dorlus didn't come close to taking McKee to the ground. If anything, he held himself back from making more contact with McKee.
Had the targeting call early in the drive and that mythical roughing the passer call been the only calls against the Ducks, I probably wouldn't be writing about it. But there was more.
Later in the drive, there was a play in which a Stanford lineman appeared to move before the snap. Some Oregon defenders stopped playing assuming a penalty had been called.
Some Stanford linemen stopped playing, assuming a penalty had been called. The umpire in the middle of the field pulled his flag out, assuming a penalty had been committed, but didn't actually throw it.
Academy Award nominee Tanner McKee pretended nothing was awry and calmly fired a pass over the middle, giving Stanford a first-and-goal inside the 5-yard line.
Had the targeting call early in the drive and the mythical roughing the passer call and the mysterious penalty that wasn't called been the only officiating that went against the Ducks, I probably wouldn't be writing about it. But there was more.

After stopping Stanford on first-and-goal, second-and-goal, and third-and-goal; the Oregon defense stopped Stanford on 4th-and-goal as the final seconds ticked off.
Then another yellow flag appeared. Defensive holding. Half the distance to the goal. Automatic first down. Stanford scored on the next play.
Had defensive holding occurred, one would have expected the flag to be thrown before the ball was in the air. By the time the ball was in the air, the intended receiver was not being touched by an Oregon defender (that's why it wasn't called pass interference).
The receiver literally had the ball go through his hands. It was hard to see what made this play in the secondary any different from the two previous plays in which Oregon defenders had forced goal-line incompletions.
Am I making too much of these calls? Probably.
As I mentioned, Oregon can't blame this game on the officials. But let me share the first text message I received after the game was over.
This came from one of my best friends, a Washington Husky fan who lives in Oregon. In other words, the type of person conditioned to hate the Ducks:
'Sorry about that game buddy. There were a lot of really questionable calls on that last drive. As somebody who was not exactly pulling for the Ducks to win, I thought they got hosed on a lot of calls on the final drive in regulation."

That text at least confirmed to me that I wasn't going crazy. But to lose a game with some questionable calls is only one of the myriad of ways in which Oregon has lost to Stanford over the years.
I went back to 1995 and I counted at least seven times that Stanford has dealt Oregon an ultimate gut punch.
There have been other fourth quarter collapses. There have been other overtime losses. There have been other examples of Stanford giving an undefeated Oregon their first loss.
There have been other examples of an unranked Stanford taking down a top five Oregon team. I'm not kidding when I say Stanford has delivered more misery to Oregon fans in my lifetime than every other Pac-12 school combined.
And I don't even hate them for it. David Shaw is a great coach and seems like an even better person. I like that Stanford is physical and fundamentally sound and doesn't have a roster made of blue chippers.
Oregon fans have just grown tired of Stanford breaking their collective football hearts.
This column also appears at MarksMoments.com and is syndicated with permission. Follow Mark on Twitter @MarkSchmor.
---
—More from Mark Schmor—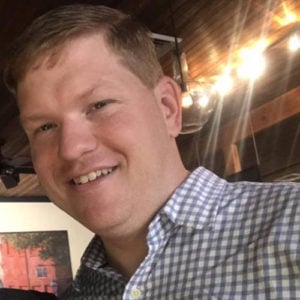 Latest posts by Mark Schmor
(see all)