Posted on September 3, 2021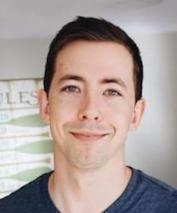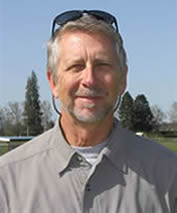 By Steve Ritchie and Eli Ritchie, SuperWest Sports
H
aving transitioned through four head coaches in the past 10 years, Oregon football is still fine-tuning its identity, despite stockpiling elite talent and sporting a national brand.

Given the advantages accrued under fourth-year coach Mario Cristobal, how high can the Ducks can fly?
We attempt to answer five related questions and take a quick look at Saturday's game with Fresno State.
1. Can Cristobal maximize the talent he has recruited?
Over the past three years Mario Cristobal has turned Oregon into a top destination for elite recruits at a level never seen before in Eugene, consistently landing classes ranked alongside traditional powerhouses.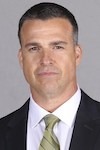 In some ways, Cristobal has been the opposite of his predecessors Mark Helfrich and Chip Kelly, who were noted for cultivating less-heralded recruits, such as LaMichael James, Kenjon Barner, and Marcus Mariota.
While Oregon fans and analysts have been excited and impressed by the recruiting success, many have been puzzled by the inconsistent performance on the field.
Last year's team was as talented as any past Oregon roster, but the Ducks couldn't seem to shake their Willie Taggart-era tendency to look great one week, then fall apart in losses to less talented teams the following week.
(See the 2018 blowout loss to Arizona, the 2019 loss to ASU, close losses to Cal and OSU last year, and the Fiesta Bowl debacle, in which they were dominated by Iowa State even more than the 34-17 final score indicated.)
Now possessing a roster filled with players Cristobal recruited either as head coach or coordinator, he will be judged by his ability to turn top recruiting classes into dominant wins and a return to the postseason Top 10, if not the College Football Playoff.
2. What will Oregon's identity be under OC Joe Moorehead?

Oregon has built a reputation for offensive innovation since the arrival of Mike Bellotti's West Coast scheme. This reputation only grew under the supercharged, no-huddle spread employed by Chip Kelly.
The concept aligns well with the strong Oregon brand, the flashy uniforms, and the close connection with Nike. Yet, three years into the Cristobal Era, and a year after hiring OC Joe Moorehead from Mississippi State, the Ducks don't seem to have a clear offensive identity.
Duck fans were understandably frustrated with former OC Marcus Arroyo, whose conservative approach didn't maximize a generational talent at quarterback in Justin Herbert.
If you had any reservations about Herbert's ability after his final two years at Oregon, you wouldn't have been alone.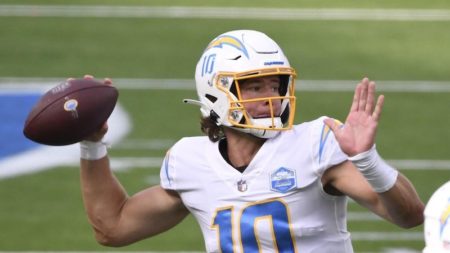 The fact that Herbert went on to put together the greatest statistical season for a rookie quarterback in NFL history speaks volumes about the way he was under-utilized at Oregon.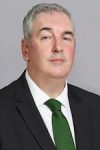 How much of last year's struggles were due to the lack of a spring and fall camp? How much was the nature of a year played under the cloud of COVID? How much was inconsistent quarterback play? 
And will the Ducks stick with a power running attack that flourished with Penei Sewell and other studs on the line? All of these questions remain to be answered.
While young, the 2021 Ducks have experience and talent at every offensive position. It will likely be deemed a major disappointment if Oregon does not fully realize its offensive potential week-in and week-out.
3. How do position battles go between top freshmen and seniors?
Last year, the NCAA adjusted eligibility policies in the wake of COVID-19 to add a year for seniors. As a result, Oregon gets an extra season from several key contributors, including wide receivers Johnny Johnson III and Jaylon Redd.
Yet, the first depth chart has Redd sharing a starter designation with sophomore Mycah Pittman, while true freshman Troy Franklin has secured a spot all to himself.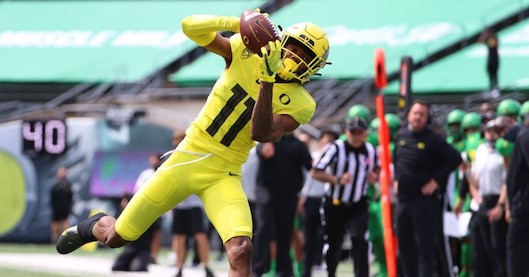 At tight end, Cam McCormick has an extra year and is healthy for the first time in his career, but is listed as even on the depth chart with true frosh Moliki Matavao, and last year's top TE, converted defensive end D.J. Johnson.
Raw talent vs. experience. True freshmen vs. Super Seniors. It will be interesting to see who emerges with playing time in this unique football season.
4. How much did the Ducks miss the fans at Autzen Stadium?
It's safe to say that Oregon wasn't the same without home fans. The Ducks had just two home games in an empty Autzen last season, beating the short-handed Stanford Cardinal and struggling with a UCLA team that finished with a losing record.
But even before COVID kept fans home, Autzen hasn't been the same.
Oregon's 23-home game winning streak under Bellotti (1997-2001) hasn't been challenged, despite increased talent on the Duck roster and a Conference that has arguably been weaker of late.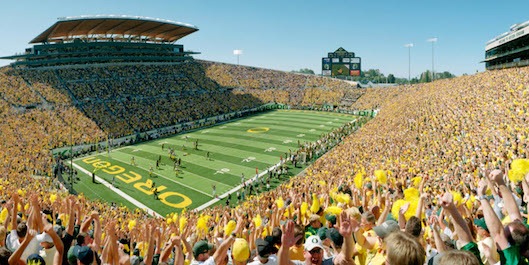 Has Autzen lost some of its magic after the peak of the Kelly years, when fans grew used to first-half blowouts? Long-time fans have complained about the student section being half-full at kickoff, and emptying out well before the final whistle.
For at least this first game on Saturday, fans will be required to show proof of vaccination or a negative COVID test to get in, and will have to wear a mask (except when eating or drinking) while in the stadium. This limitation may keep some fans away.
Regardless, the result remains to be seen: Will a renewed enthusiasm for a joyous outlet in the midst of a pandemic inject new energy into a stadium and crowd known for its noise and intimidation? 
5. Did Fresno State do Oregon a favor?
With the fearsome Ohio State Buckeyes looming in Week Two, it would be natural for a young Oregon team to overlook their Week One opponent, especially if that opponent had struggled in their previous outing.
But Fresno State absolutely pasted UConn 45-0 last Saturday, putting the Ducks on notice that this Saturday's game might not be a cakewalk.
The game stats were totally one-sided.
Fresno State gave up 72 yards passing and just 1.1 yards per rushing attempt for a total of 35 rushing yards, while the Bulldogs gained 538 yards with a balanced attack—382 yards through the air and 156 yards on the ground.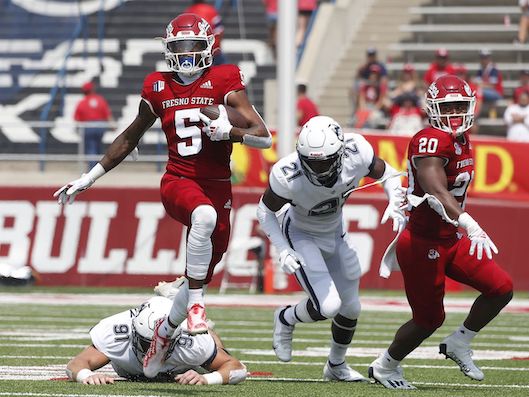 Bulldog QB Jake Haener was impressive, going 20-26 for 331 yards and three TDs before his exit following a cramp in garbage time. Fresno also picked up 25 first downs and gave up just nine.
The Bulldogs weren't fazed by the heat, either; the on-field temperature at game time was more than 120 degrees.
No doubt, the Oregon coaching staff has highlighted Fresno's strengths more than a few times this week.
If the Ducks were to become complacent as 20-point favorites, or get caught thinking about their trip to Columbus, they could get gashed by the Bulldogs.
But not to worry, Fresno State's complete destruction of Connecticut should have Oregon's full attention.
[Sign up for the FREE superwestsports.com newsletter and get Pac-12 news and features sent to your email inbox daily.]
---
—More from Eli Ritchie—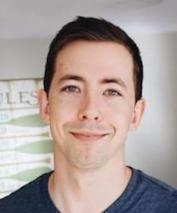 Latest posts by Eli Ritchie
(see all)