Posted on March 23, 2023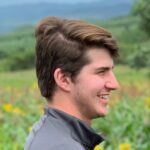 By Rowan Kent, SuperWest Sports
D
espite some minor scares, the Gonzaga Bulldogs are through to another consecutive Sweet 16 appearance.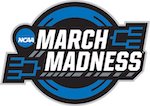 Although the final scoreline of both games seems closer than it was in actuality, it's still a testament to the program as a whole.
The Zags maintained their standard of excellence during a tournament when other favorites have already crashed out.
Purdue, Kansas, Virginia, and Arizona are all already gone, having been dispatched by some of this year's Cinderella teams.
That makes Gonzaga's eighth straight Sweet 16 appearance not only historic overall but also important for their chances of shocking the world and winning the whole thing.
On Sunday, Gonzaga secured its 8th consecutive Sweet 16 appearance. That breaks a tie with 1986-92 Duke for the 3rd-longest streak in NCAA Tournament history. pic.twitter.com/aRccgrk8E5

— ESPN Stats & Info (@ESPNStatsInfo) March 20, 2023
The road won't be easy, as the West region still has three other formidable opponents in UCLA, Connecticut, and Arkansas.
But the Zags are already positioned better for a deep run than many thought possible when the initial draw came out.

To get to another Final Four, the team will have to beat at least two other strong candidates full of NBA prospects.
While they prep for their upcoming duel against the Bruins, the Zags should be mindful of some important lessons to take away from the upset trends that have plagued other March Madness hopefuls this year.
David has Upset Goliath
T
his year in college basketball has been labeled "the year of the big man," but so far in March Madness, that hasn't seemed to matter.
Neither of the Naismith Player of the Year Finalists Zach Edey and Trayce Jackson-Davis made it to the Sweet 16, nor did Arizona's tandem of Azuolas Tubelis and Oumar Ballo.
The size advantage that teams like Purdue, Kentucky, and Arizona wanted to use on their supposedly weaker opponents either didn't pan out or didn't matter when it came down to winning.
Per Bart Torvik, Kentucky and Duke ranked in the top 20 for offensive rebounding percentage, while Purdue ranked in the top 15 for both offensive and defensive rebounding.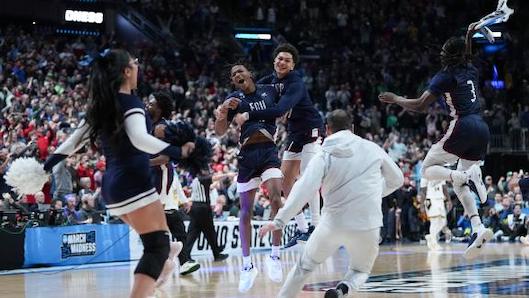 The Princeton Tigers outrebounded Arizona while only shooting 40% from the field. Both Kentucky and Purdue crushed Farleigh-Dickinson and Kansas State on the glass, but neither could close the deal.
Even when they flexed their season-long advantage, the random breaks of March combined with different playstyles ended up dooming their teams.
While Gonzaga is a more perimeter-focused team due to their roster, Drew Timme and Anton Watson's rebounding and interior scoring efforts are still key to their success.
Instead of trying to lean more into those, however, the team should focus on their offense and not get caught up in thinking that their talented bigs can be the only thing that gets them a win.
Offensive Eruptions Powering Runs
S
o far, the old adage of "defense wins championships" is either being put to the test, or the goalposts of "good defense" need to be reframed.
Teams are finding themselves sprinting scoring marathons against each other, with scores easily touching the 70s or 80s.
That works in Gonzaga's favor, as they're a team that was already blowing the doors off of most opponents with their pristine offensive machine.
The Zags are averaging 83 points per game as a whole, which gives them an advantage over the less-potent teams still in the field.
That won't be easy, however, given the next string of opponents.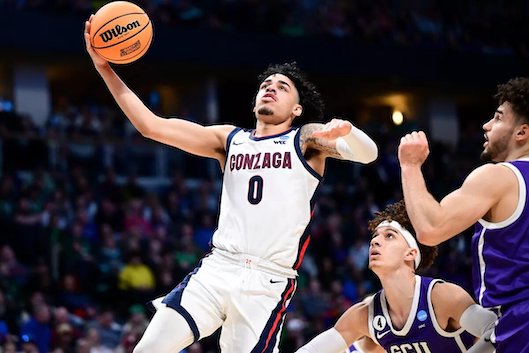 UCLA is one of the top defenses in the country, even without Jaylen Clark, and if the Zags get by them, they'll have to face similarly stingy teams in either the Razorbacks or the Huskies.
For Gonzaga to win those, they'll have to lean into what's worked so far for them and this past season and not diverge from that gameplan.
That means continuing to hit enough threes, taking care of the ball, and limiting the chances opponents have at getting easy points at the free throw line.
If they do that, the Zags could be able to launch themselves on a trip to Houston.
Injuries haven't Hobbled Contenders
O
ne of the most unfortunate parts of playing sports is getting injured.
At the NCAA level, a major injury late in the season can not only change a team's seeding heading into March Madness but can also rightfully rob them of momentum and championship-contending expectations.
Just make sure not to tell Houston, Tennessee, or UCLA about that.
Houston came in the most unscathed, but Marcus Sasser tweaked his groin in the AAC championship game. He hobbled his way through the first round before breaking out against Auburn and looking like he was back to his old self.
Both the Volunteers and the Bruins had a worse outcome: They lost arguably their best player just before March Madness.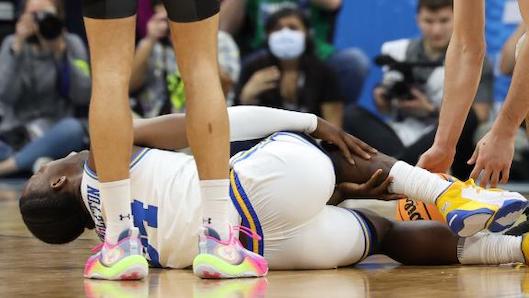 Tennessee's Zakai Zeigler and UCLA's Jaylen Clark both suffered major injuries that will leave them on the mend for months and after these injuries, both became popular upset picks in the tournament.
Ho hum to that. The Vols throttled both the Cajuns and the Blue Devils on their way to their first spot in the Sweet 16 since 2019.
UCLA shook off both Clark and Adem Bona's injuries to best UNC-Asheville and Northwestern, also putting both teams in the defensive torture chamber.
The Zags shouldn't feel extra confident against a Clark-less UCLA, given they've weathered the storm of his, Bona's, and even David Singleton's late injuries.
Often the best teams overlook the hobbled opponents on their schedule, but especially in March, there should be no questions about how good the Bruins still are and the high level of play needed to beat them on Thursday night.
---
—More from Rowan Kent—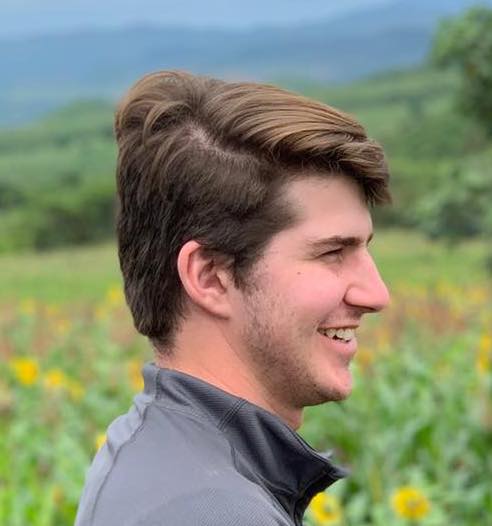 Latest posts by Rowan Kent
(see all)