Posted on March 9, 2023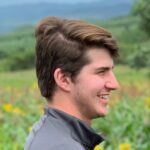 By Rowan Kent, SuperWest Sports
A
fter decimating Saint Mary's on the way to the WCC title, Gonzaga's roaring on its way back to March Madness.
Thus, it's time to start taking stock of where the team could end up bracket-wise.
According to ESPN's Joe Lunardi, the Zags are in line to be the 3 seed in the West region. That'd match them up against teams like UCLA, Virginia, and Kentucky, all of which would be difficult opponents for any other team.
With so much still left to change, however, it's worth exploring the dark side of March for the Bulldogs.
There are a handful of teams, ranked or otherwise, that could present serious problems for the team and send them packing in an early exit.
Which teams could give the Zags more trouble than others and potentially spell the end of their 2022-2023 season?
San Diego State Aztecs: Projected 6 Seed
T
he Aztecs are back in business in the Mountain West, having returned to their perch atop the Conference and flirting with the AP Top 25 poll all season long.
They're one of the more potent defensive teams in the country, ranking in the Top 50 in points allowed per game and in defensive rating. They have great players on the inside and outside on D that could test the Zags' ability to outlast their opponents offensively.
What makes SDSU a particularly dangerous fit is that they're not just a grind-it-out defensive team without players who can carry their squad in march.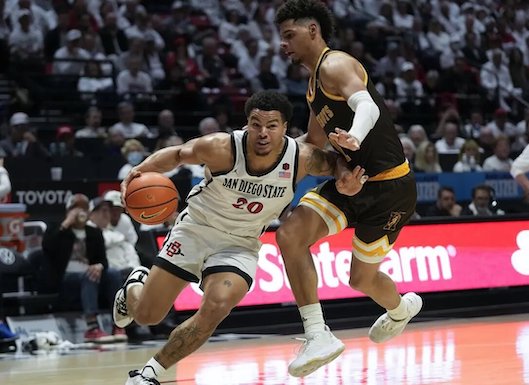 The Aztecs boast two guards—Matt Bradley and Darion Trammell—who are great shot-creators for their team. Either guy is fully capable of taking over a game and could potentially lead the team on a Sweet Sixteen run.
Gonzaga would have to put on their best offensive performance of the season and clamp down on the perimeter defensively, something they've struggled with all year, to have a good chance of beating the Aztecs.
Otherwise, the Zags could be usurped by another mid-major school on the West Coast that's consistently underrated.
Xavier Musketeers: Projected 4 Seed
T
he Musketeers have had a resurgent season, blasting all the way up to second in the Big East this year.
Sean Miller's return to the team has sparked a monstrous flip-of-the-script on offense, as the team is one of the highest-scoring squads in the country.
They've built that offense off of great symmetry between their back and front court.
Souley Boum, a UTEP transfer, and returner Colby Jones have paced the team's offense from the perimeter, while the big man combo of Zach Freemantle and Jack Nunge have given Xavier a gruff punch of scoring in the paint.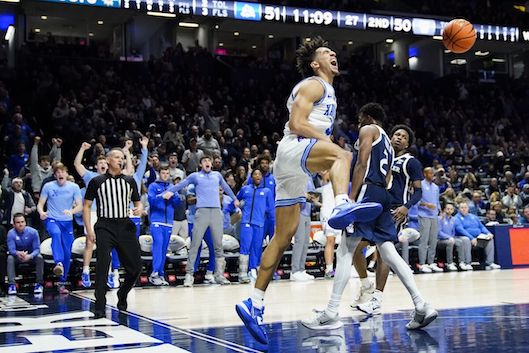 In some ways, due to their well-balanced roster and offensive talents, the Musketeers aren't too different from the Zags as a team. That makes them a dangerous team for Gonzaga to play, as the Zags, too, are susceptible to a smoking-hot offensive group.
It would likely be a race to 100 (or 150) if the two teams matched up in the NCAA tournament, and that's a risky way for the Zags to play, due to Xavier's key advantage from deep.
The Musketeers rank third in three-point percentage across all of Division I, which gives them an X-Factor that Mark Few's team frankly can't match with their current personnel.
That deep shooting difference could be what changes a Gonzaga win to a hard-fought shootout loss. If so, the Zags would have to watch from their couches as another offensively-minded team jets through March Madness instead of them.
NC State Wolfpack: Projected 10 Seed
A
lthough they're built to withstand hot shooting nights from Cinderella teams, due to their transcendent offense, there are a few other sweet-shooting squads that could upset the Zags early in the tournament.
The Wolfpack have majorly rebounded from a 15th-place finish in the ACC last year, topping 20 wins and beating UNC and Duke this season. They've done so through an offensive renaissance, going from 125th in offensive rating last year to 31st this year.
Their success comes from having one of the least mistake-ridden offenses this year, averaging under 10 turnovers a game, while relying on a core four of scoring stars to lead them to victory.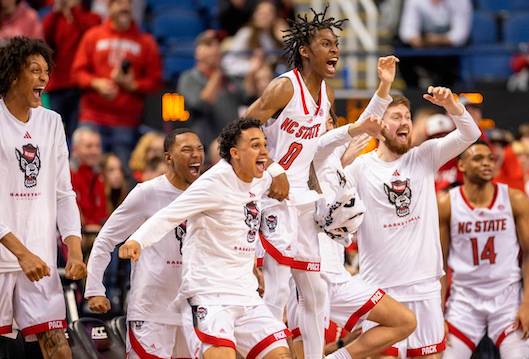 The two main engines of their offense are Terquavion Smith, a potential lottery pick last year who came back to the team to make a tourney run, and Jarkel Joiner, a transfer from Ole Miss who's blown up in a way that few outside of the team likely expected.
That perimeter duo might be enough on some nights to end the March run of any team, but for a group like Gonzaga that has a perimeter defense problem, there could be trouble in store.
It would take a major outlier effort for Nolan Hickman, Rasir Bolton, and Malachi Smith to contain Joiner and Smith, much less for Timme to play at the level enough to keep the duo from bombing from deep.
If they end up matched up in the second round, the Zags would do well to ready themselves for a scoring onslaught that may be good enough to rival their own.
Furman Paladins: Projected 14 Seed
I
f you haven't been watching the Furman Paladins this year… you're probably like most of the country's college basketball fans.
Due to playing in the Southern Conference, the Paladins don't get a lot of mainstream shine. That doesn't change the fact that they're one of the most dangerous teams seeded in the double digits in this year's March Madness, pending a successful conference tourney run.
Furman is ranked 6th in offensive rating in the country due to the best two-point efficiency in all of Division I. They run a free-flowing, fast-cutting offense that spaces their big men out to the perimeter and dices up teams that can't keep up with their motion plays.
The team also has two-star players in its own right in Mike Bothwell and Jalen Slawson.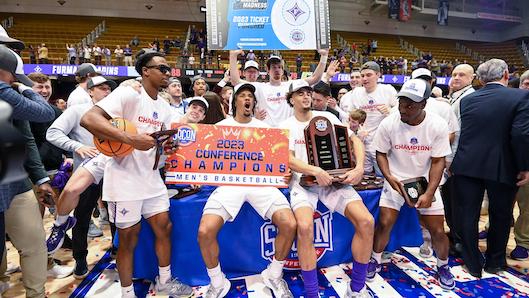 Bothwell is a guard gunner who could follow in the steps of Jimmer Fredette and Max Abmas, amongst others, to shock a higher-seeded team.
Their other star, Jalen Slawson, has some outlier NBA draft buzz due to his all-around jack-of-all-trades game at 6-foot-9. Slawson is one of the few players in the country who could make Timme work on offense and tire him out on defense.
This would be the most frightening First-Round matchup for Gonzaga, as they'd find themselves sprinting a marathon of scoring against a team that's built to do so.
The cuts and motion from the Paladins would hunt the Zags guard and leave them on an island to succeed, which is the last thing Mark Few wants.
Although it's unknown whether Furman would end up in the West Region as a 14 seed, the slim possibility should spook Gonzaga and would be one of the most fascinating Cinderella stories to track before the games began.
---
—More from Rowan Kent—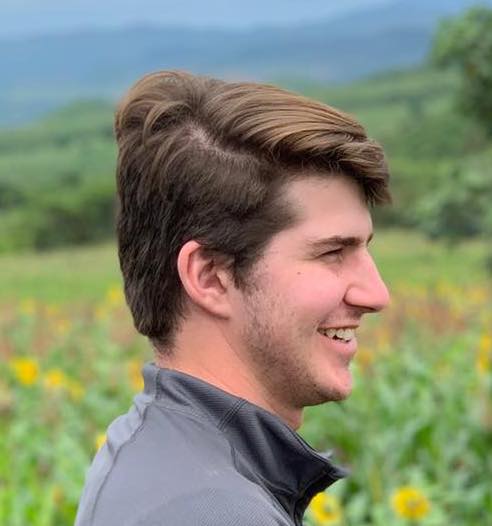 Latest posts by Rowan Kent
(see all)