Posted on August 3, 2020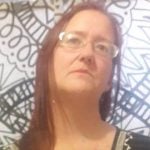 By Kim Doss, SuperWest Sports
As we expand our coverage of women's sports across the Conference, we're doing our first mailbag, touching on women's basketball, softball and volleyball. With this first set of questions, we look back at last season and ahead to next season in the Pac-12. As always, your questions are much-appreciated. (You can ask them here.)
---
Who do you think would have won the 2020 Pac-12 softball title if they had played the season?
—Sandi, Covina, CA
When Arizona snagged the commitment of Oklahoma transfer Mariah Lopez and UCLA lost Rachel Garcia to Team USA, I thought the Wildcats had a good shot. They had an amazing senior class coming back. The only weakness was a true Pac-12 No. 1 pitcher, which I thought Lopez would be. I was even more secure in that when it looked like Washington might lose Gabbie Plain to the Australian national team.

Then, Megan Faraimo, Lexi Sosa and Holly Azevedo showed that the Bruins still had a three-headed monster in the circle even without the top player in the college game.
Australia opted to keep Plain in the NCAA in the run-up to the postponed Olympic Games. She did a fine job for Washington along with their two freshman pitchers and Pat Moore.
Meanwhile, Arizona's senior tandem of Lopez and Alyssa Denham struggled with walks, dropping my confidence in the Wiladcats winning the league.
That was enough to convince me that the fight would come down to UCLA vs. Washington with the Bruins taking it. Everything starts in the circle, and they had the best pitchers.
I believe that UCLA, Washington and Arizona all would have made their way back to Oklahoma City and that the top two Pac-12 squads had a good shot at the title.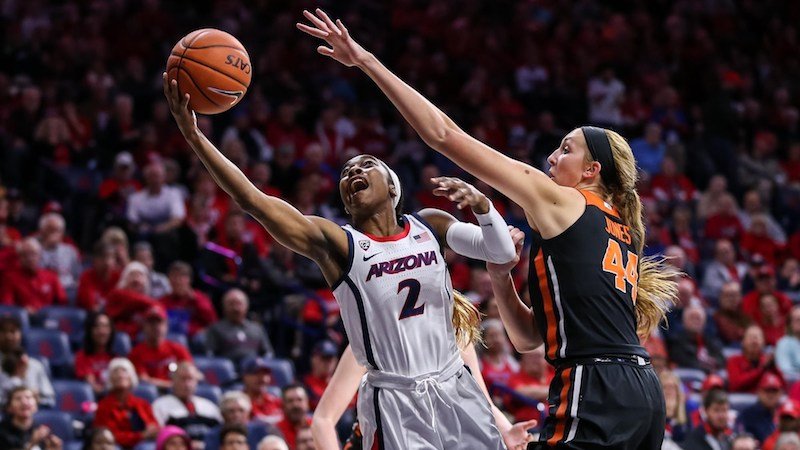 I get that Oregon recruited really well again in women's basketball, but the Wildcats seem ready to take the next step. Any chance that Arizona will be better than the Ducks next season?
—Melissa, Sahuarita, AZ
There's no doubt that the Wildcats will have the best player in the Pac-12 next year. The league is full of talent, but none can touch Aari McDonald. The league's leading scorer for two straight years, and last season's Defensive Player of the Year. She was also voted the best shooting guard in the country—even if she's actually a point guard—and an All-American.
What's not to love?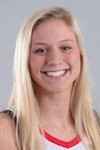 Cate Reese has been overlooked because McDonald is so dominant, but she's been one of the best rebounders in the league for the past two years. As a freshman, she led her class in both scoring and rebounding, and was the 13th best rebounder in the league as a whole. Last season, she jumped to No. 6 on the boards while coming in at No. 14 in scoring.
The problem for Arizona is having a consistent third scorer. Over McDonald's two seasons, the Wildcats have been caught "Aari-watching" too often.
It's not that they don't have the talent. In addition to being one of the top defenders in the Pac-12, Sam Thomas has shown what she can do on offense when she pulls the trigger. Helena Pueyo has a beautiful shot from distance.
Arizona finally gets to see what transfer Shaina Pellington can do alongside McDoinald. The former Big XII Freshman of the Year for Oklahoma had a strong showing helping Team Canada qualify for the Olympics during her redshirt season. Then, they added Virginia Tech grad transfer Trinity Baptiste and possibly get the immediate services of Indiana transfer Bendu Yeaney.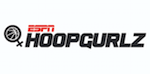 It certainly doesn't compare to the recruiting class that Oregon signed, but the Wildcats did some things on the recruiting trail, as well. Freshman post Lauren Ware, who will also play for the Arizona volleyball team, was the No. 26 player and No. 3 post according to ESPN HoopGurlz.
Adia Barnes and her staff made another raid overseas, as well. Arizona dipped back into Turkey this season getting a backup point guard in Derin Erdogan. Late in the recruiting cycle, they reeled in Spain's Marta Garcia, a talented young forward who has played alongside current Wildcat Pueyo in both club and international ball.
They have what they need.
As for the Ducks, they lost a lot. When three players go in the top eight of the WNBA draft, you have a lot of holes to fill. Fortunately for them, the recruiting class is more than impressive. All five newcomers were ranked in the top 100, led by No. 8 Sydney Parrish.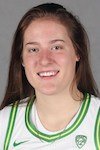 It's not only freshmen who will be stepping in to fill those holes, either. Kelly Graves and company are also getting some good pieces from the transfer market.
Sedona Prince, who was the No. 8 player and No. 3 post in the 2018 class, is finally eligible after transferring from Texas last year.
Point guard Taylor Mikesell, a sharpshooter who just transferred in from Maryland, was granted immediate eligibility by the NCAA at the end of July. Mikesell was the No. 33 player in the 2018 recruiting class and the Big Ten Freshman of the Year in 2019.
Arizona's returners are better than Oregon's returners, and the Wildcats have one of the best in college basketball. Oregon has the better freshman class. The question is whether the combination of solid returners and stellar freshmen can tip it back towards the Ducks.
It's close, but I think McDonald gives the edge to the Wildcats.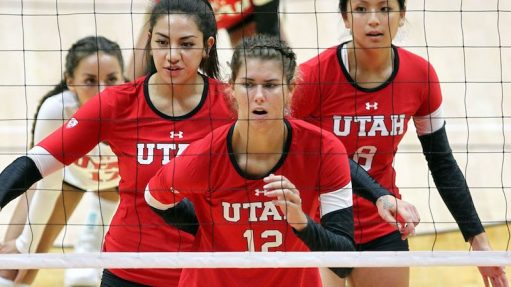 Don't know if you guys cover women's volleyball, but which Pac-12 team do you like this season (assuming they play)?
—Deb, Santa Clara, CA
Deb, we are expanding our coverage here at SportsPac12 to include women's volleyball this season. I have been covering Arizona women's volleyball for a couple of seasons for various outlets, so I'm excited about finally getting to look at the entire Conference here.
As for who I like, I am really excited to see what Utah does this season because I think they have the hitters. It starts with Dani Drews and Kenzie Koerber, but I also liked Zoe Weatherington when I watched them last year. She was especially impressive for a freshman. They also brought in BYU transfer Madelyn Robinson, which helps with depth.

Saige Ka'aha'aina-Torres did a fine job of holding down the fort at setter for the Utes last year. I wouldn't expect anything less this season.
The question is how they replace Berkeley Oblad in the middle, but I think they have the arms to be dangerous this season.
There's a logjam at the top, though, because UCLA and Washington are solid picks, and no one should ever discount Stanford.
A returning Player of the Year like Mac May is always a good thing to have, and the Bruins have some solid transfers coming in, as well.
Can the Huskies replace Kara Bajema? Difficult task, but they should still be strong.
Stanford will have to put a lot of faith into youngsters. It's a good thing that those youngsters were part of the No. 1 and No. 5 recruiting classes from the past two years. Their development could shake things up.
On July 31, Pac-12 Commissioner Larry Scott said that the fall sports would have a "very robust" schedule, so I don't expect to see the kind of 10-match travesty the ACC is running with.
Fingers crossed that the conditions off campus allow that schedule to be played.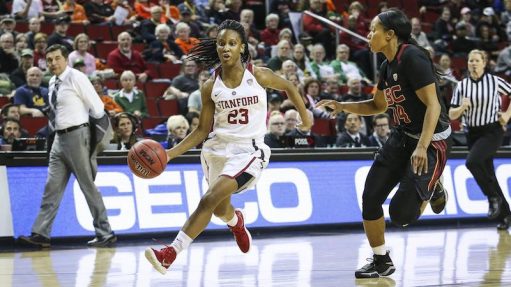 Hey Kim, I've enjoyed your work at azdesertswarm. It's good to see you writing for SportsPac12 as well. Which Pac-12 women's team has the best chance of winning the conference title in both basketball and softball?
—Ellen, Tucson, AZ
Thanks, Ellen. I appreciate the compliment and the readership!
Softball is an easy pick. I have to go with my pick for who would have won last season: UCLA. The Bruins showed how dangerous they were even without Rachel Garcia and Bubba Nickles. With Garcia back, there's no stopping them.
Arizona might give them a run, especially when considering that they will add a class that some consider No. 1 to a group of seniors that have been top-notch for four (or more) years. Washington, which had a great group of freshman last season, should also make it difficult.

I just do not believe that either team has enough to overcome the group UCLA will be running out there. It is impossible to overstate how important pitching is, and the Bruins have the best pitching.
Women's basketball is a bit more difficult to pick. I think any one of four teams could take the league: Arizona, Oregon, Stanford or UCLA.

Arizona and UCLA have the two most dynamic players in the league in McDonald and Michaela Onyenwere. I think they are the favorites to battle for Player of the Year.
Neither team is a one-woman show, either. Both McDonald and Onyenwere are surrounded by enough talent that opposing defenses shouldn't be able to key in on the stars alone.
Stanford always has a great group of recruits joining a strong group of vets. Kiana Williams, Lexie Hull and Lacie Hull are the core of the veterans, but the talented group of five who joined the Cardinal last season are pushing to be given their due as well.

That group has everything they need to take a title, including championship experience.
The Ducks also have championship experience, just not as much as in previous years. I definitely wouldn't discount them. Between their incoming class, their transfers and their returners, Graves still has the pieces he needs.
Whoever takes the title will have a difficult fight. The league is more wide open at the top than it has been in a while now that Sabrina Ionescu and Co. are gone.
---
—More from Kim Doss—